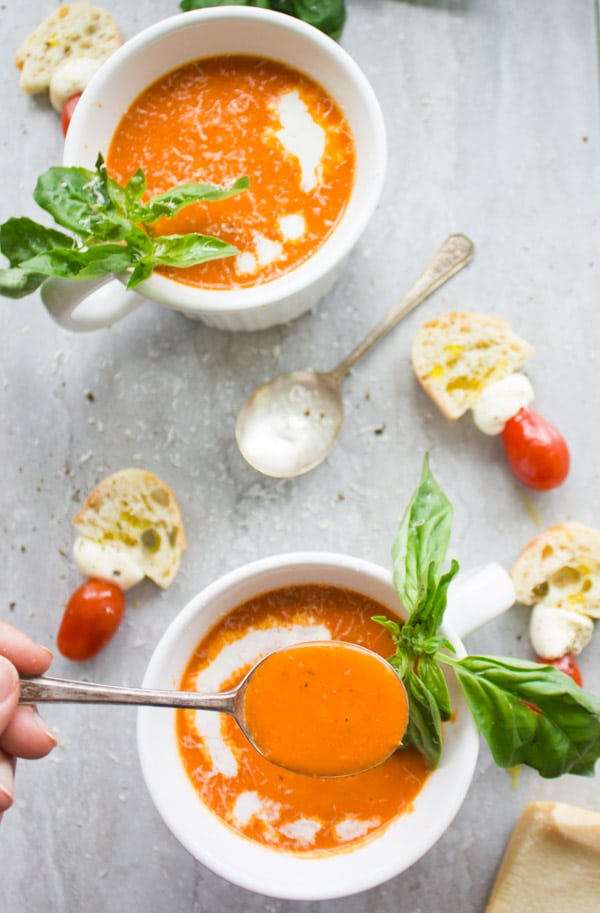 Happy Christmas Eve, Friends! I've got a quick and sweet recipe today, perfect for your Holiday table or just anytime you crave comfort in a bowl. It's a Luscious Carrot Tomato Basil Soup recipe that's made by roasting sweet carrots, tomatoes, shallots, garlic and herbs, then simply blended till smooth perfection. As simple as it sounds, this soup is just as luscious and comforting as can be. It's the kind of soup you'll be making again and again! 
Oh my I can't believe it's already Christmas Eve!! It felt so far away a few weeks ago when I was running around preparing for the Holidays and catching up on everyday kids drama. And now it's HERE! And I couldn't be more excited! I've managed to finish off all my Holiday to-do list two days ago–for the first time ever!! I'm usually running around till the last minute, but this year for some reason I wasn't–and this feels SO GOOD. Good for me since I had the last couple of days just relaxing and waiting around for the big day without stressing about it. Good for the kids. And best of all, good for the Mr. who always accuses me of bad time management! lol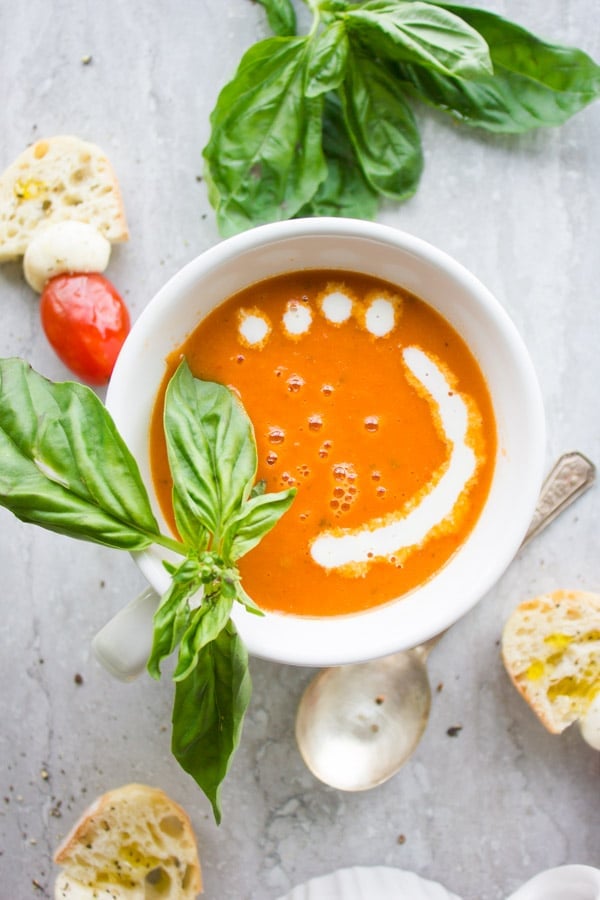 I know when it comes to food right now, soup wouldn't be the first thing that crosses your mind. But for us, soup has always been a part of our Holiday table! You know how I've lived in so many places and have endless memories and stories here and there..And when it comes to this time of the year, no matter where we were, we used to adapt to whatever the culture was. Not too long ago when we still lived in Vienna, we used to spend all our days at the Christmas Markets. It's a whole new level of Joy that you feel when you're walking around there–you can't ever get bored of it, even if you go daily! Stunning decorations, freshly baked sweets, breads, hot fruit punch, homemade candies, beautiful ornaments and antiques to buy..
We used to come back every night from the Christmas Market and have soup for dinner. Nearly every single night. Since there would be so much to eat and drink at the market, we just needed to come home and warm up from walking in the cold with a nice bowl of soup. And better yet, we paired the soup with different types of freshly baked bread from the market everyday. I miss Vienna. Terribly.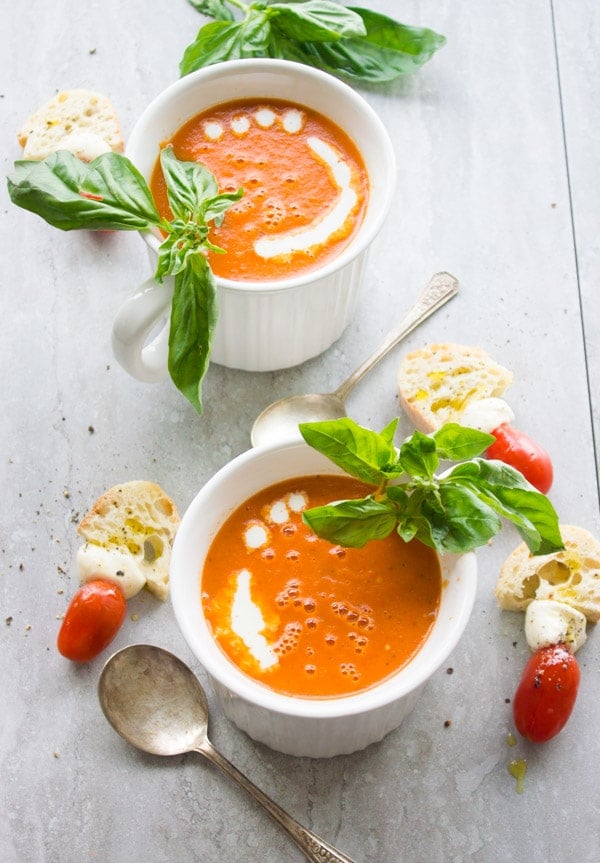 Ok back to happy and Joy, I'm making this tomato basil soup today! It's the best way to start off your Holiday meal. Best way to start off any meal, really. The carrots add an incredible load of sweetness to the soup, so please don't try to skip it if you're not a carrot-ish person. You won't taste a single note or hint of carrot, in fact no one can guess it has carrots. However you'll really appreciate them once you taste a sweet tomato soup rather than a salty tangy marinara tasting tomato soup! 🙂 In case you missed that, I was trying to stress how much I don't appreciate marinara tasting tomato soups.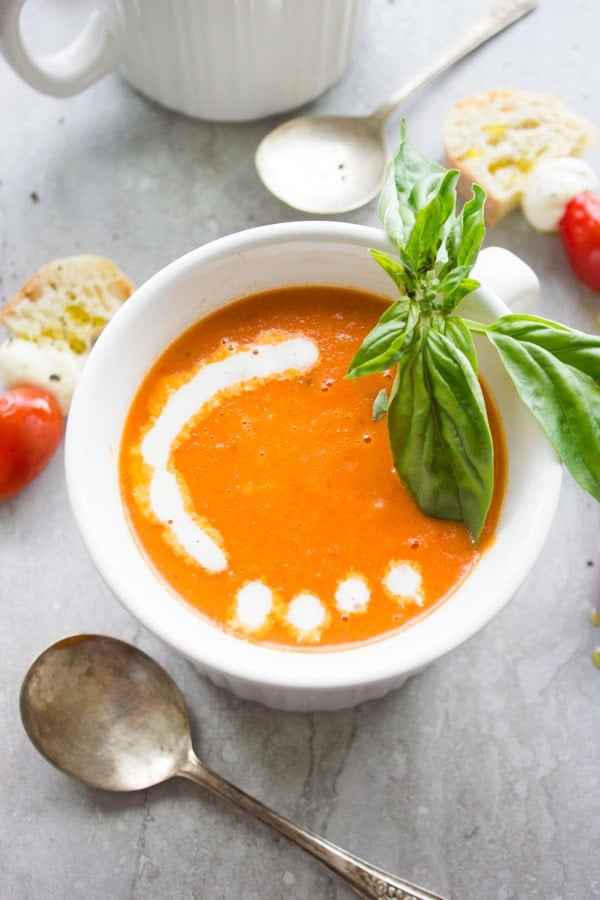 This tomato basil soup is NOTHING like that. It's just a burst of sweet creamy tomato basil taste. It's got a nice thick velvety smooth and silky texture–which you can totally adjust to your taste. In our family, my dad, my sister and my hubby love thick soups ,and I mean thick. Something like a stew or a pudding. I love thick soups too, but just not as thick. With this soup, the carrots, tomatoes, a bell pepper, garlic, shallots are roasted with olive oil and herbs and then pureed with plenty of fresh basil (or basil pesto) till smooth. To get the perfect texture, you'll be adding some vegetable stock to help pureeing and turning it into a soup. If you're in an indulging mood, you'll add half stock and half cream to puree this tomato basil soup. My mom would add exclusively cream and skip the stock–she's where my indulging genes come from lol 🙂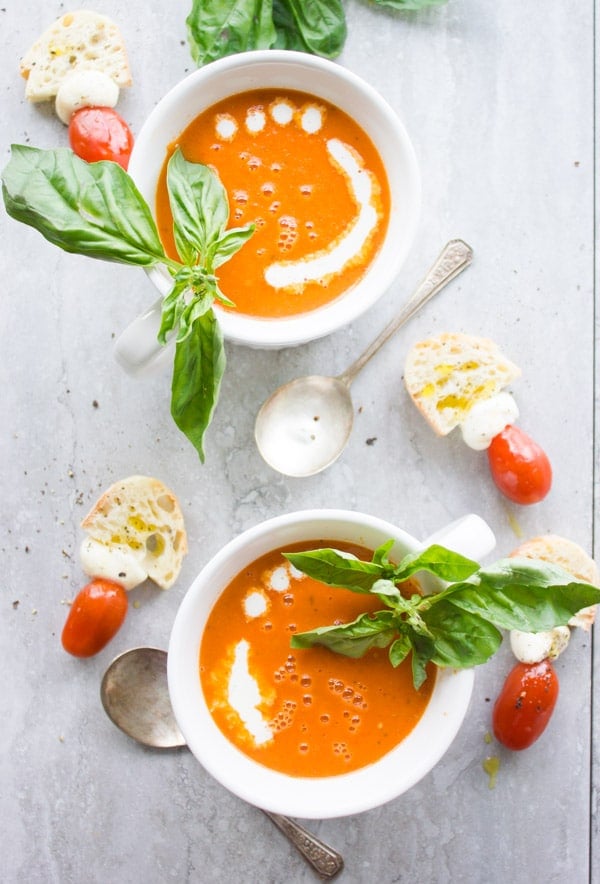 If you're making the soup vegan friendly or light, use just the vegetable stock for pureeing. If you're in an indulging sort of mood–go for the 50 50 cream stock option, or the entirely cream option if you can't get enough indulging in life 🙂 Either way, the tomato basil soup is just as DELICIOUS and luscious so try it and enjoy! 🙂 Have yourself a Happy Holiday!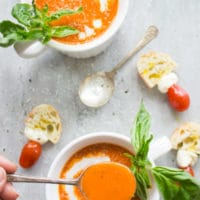 Luscious Carrot Tomato Basil Soup
Ingredients
10

ripe tomatoes on the vine

, washed and cut in half

1

red bell pepper

, dissuaded and cut up into 1 inch pieces

4

carrots

, peeled and sliced into an inch chunk pieces

4

shalots

, peel and cut in half

6

slices

of garlic

, crushed

1/4

teaspoon

of salt

1/4

teaspoon

of black pepper

2

teaspoons

of oregano

6

sprigs of fresh thyme leaves

2

tablespoons

of olive oil

1/2

cup

of packed fresh basil leaves

(or 1/4 cup of basil pesto)

3

cups

of liquid in total--either vegetable stock or cream

, or a mixture of both

1/4

teaspoon

of salt

1/4

teaspoon

of pepper

1/4

teaspoon

of oregano
Instructions
Preheat the oven to 375 degrees.

Line a baking sheet with parchment paper pr foil.

Place the tomatoes, carrots, shallot and garlic cloves on the baking sheet.

Season them withs alt, pepper, oregano and fresh thyme sprigs. Drizzle the olive oil over that and toss the veggies very well to swirl the seasonings and olive oil evenly to coat.

Roast the veggies for 35-40 minutes until tender and slightly caramelized.

Transfer the veggies in to a blender along with the basil and add half the liquid you're using.

Carefully blend the soup and puree till smooth. season the soup and blend it some more.

Check the seasoning and consistency of the soup (add more liquid to thin it out).