This heartwarming White Bean Soup Recipe is loaded with tomatoes, kale, mushrooms and barley. It's like a Tuscan white bean soup, but with a twist. Don't miss this soup recipe, it's vegan, filling, hearty and super delicious!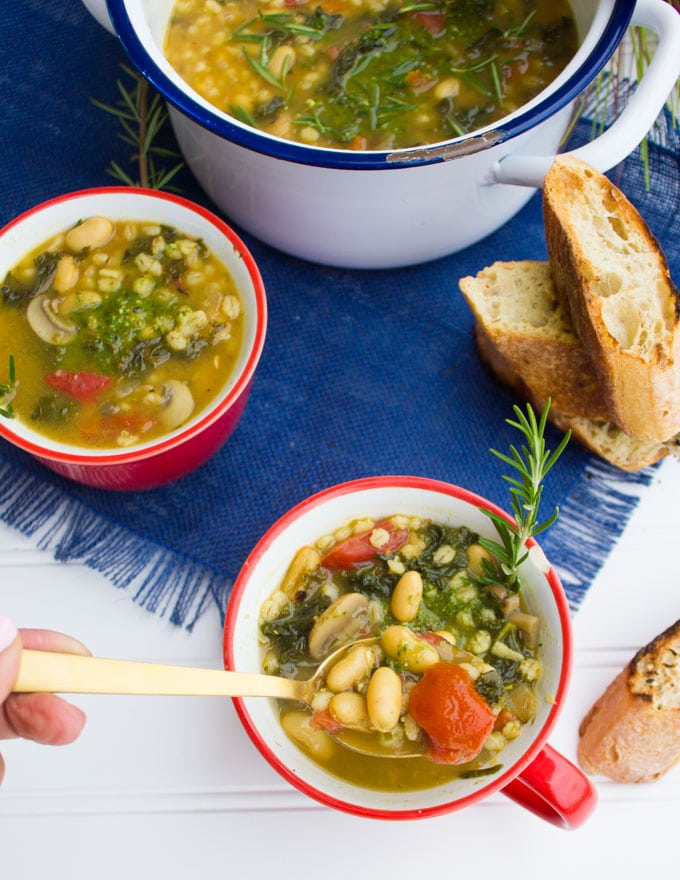 It feels like soup. Soup season, soup recipes, soup meals, just soup everything. I'm probably one of those who can eat soup for dinner. And while most of my soups here are filling, not all of them are a meal on its own. This white bean soup however is.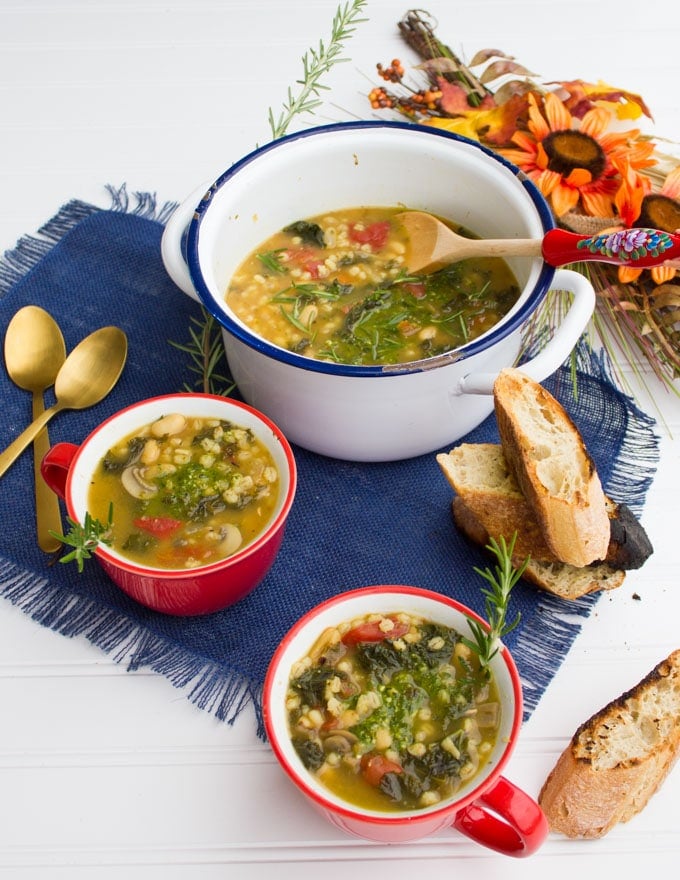 On a side note–if it wasn't for soups, I don't know how I would survive you January! Is it just me? I dislike the idea of settling into a new year, new resolutions/plans, new everything. Thank Goodness for good food to get me through!
Why Kale and White Bean Soup
There's something incredible about kale. I'm one of the very first people who hopped on the kale wagon and I'm loving it. There's also plenty of Kale recipes here on the blog in case you're skeptical (just search the word kale in my search bar). Finally, try to read this Kale Salad with Spicy Lentils post where I write so much about massaging kale and more!
In this white bean soup, the contrast of creamy white beans and bitterness of kale is so delicious! You can definitely use spinach rather than the kale if you prefer.
The other ingredients like chopped tomatoes, chewy barley and mushrooms just add the perfect flavor and texture for a hearty soup.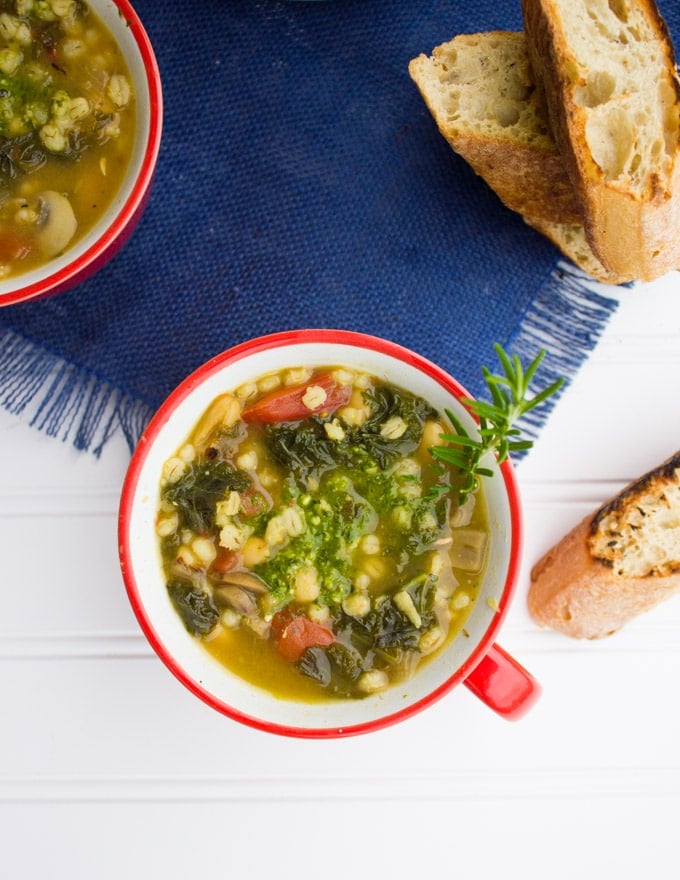 How to Make White Bean Soup
Like all soup recipes, this one starts with sautéing onions, garlic and mushrooms. Then you'll add in the chopped tomatoes, broth, barley, white beans and let the soup cook well.
What you're looking for is for the barley to cook, because everything else is pretty much cooked. If you choose to start with uncooked white beans, then you'll add it with the broth and let it cook for over an hour until it's soft. At that point you'll continue with the barley and remaining ingredients.
The kale goes towards the end of the soup, just add in a bunch of kale leaves. Make sure the stems are removed because they can be really bitter and tough to chew.
Garnish this heartwarming white bean soup with some kale pesto (ok maybe I took it too far with kale lol). Basil pesto is a great alternative, and sprinkle some Parmesan cheese on top if you like (vegan or regular).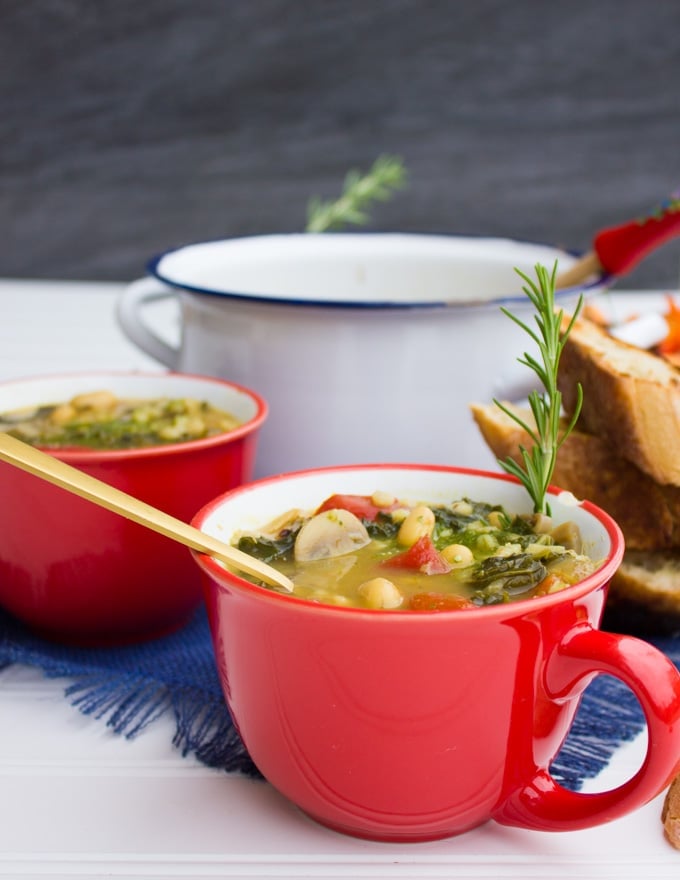 Tips for Best Soup Recipes
Make sure you sauté the onion well before proceeding with the remaining ingredients in your soup because you don't want your soup to taste like raw onion!
Using canned white beans is convenient, but you can use raw uncooked beans too. Start by adding it at the beginning and wait for at least an hour until it's soft before proceeding with the soup recipe.
Add in some of your favorite stuff like carrots, celery, corn, etc. It just adds more goodness and texture to a classic Tuscan white bean soup.
This is a great vegetable soup recipe, it's actually a vegan soup too, but if you'd like to add some shredded chicken to it, add it with the kale towards the end.
This soup recipe keeps in the fridge for about a week and freezes really well.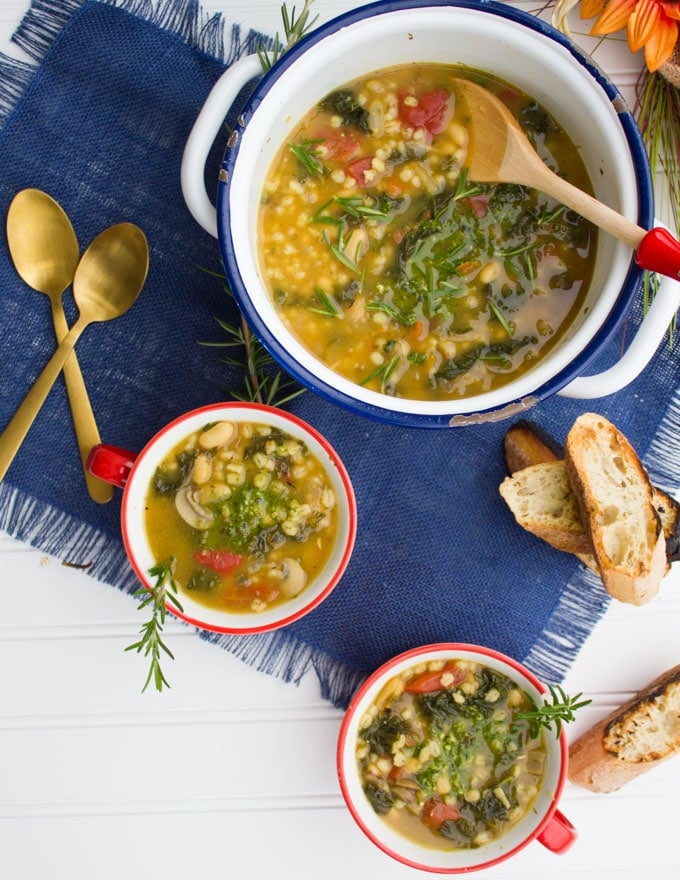 More Soup Recipes:
These are some of my favorite full meal soups that are really filling. Moroccan Lamb and Turmeric Lentil Soup-need I say more? Quinoa Sweet Potato Lentil Soup-a must try! The Best Lasagna Soup-crowd pleaser and super kid friendly! Sweet Potato Black Bean Soup-a classic with a twist too! Soothing Garlic Chickpea Soup is a street food soup that's one of my favorites. And finally this Creamy Peanut Soup with Peanut Crunch Herb Pistou, while it's not filling like the rest, it's one African delight recipe you need to try!
Enjoy!!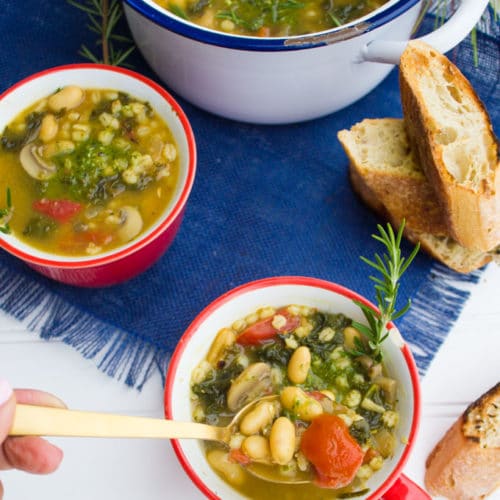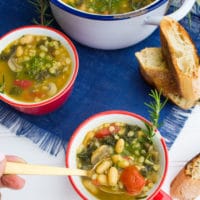 White Bean Soup Recipe
This heartwarming White Bean Soup Recipe is loaded with tomatoes, kale, mushrooms and barley. It's like a Tuscan white bean soup, but with a twist. Don't miss this soup recipe, it's vegan, filling, hearty and super delicious!
Total Time
1
hour
10
minutes
Ingredients
1

tbsp

olive oil

1

cup

onion

finely diced

3

garlic cloves

minced

1

cup

mushrooms

chopped

5

cups

broth

or stock, veggie or any

1

cup

barley

2

cups

tomatoes

chopped

2

cups

white beans

canned, rinsed and drained

2

cups

kale

leaves, stems removed

1

tsp

salt

pink Himalayan

2

teaspoons

black pepper

1

Tbsp

oregano

dried
Serving
2

tbsp

basil pesto

or kale pesto

1/4

cup

Parmesan

vegan or not
Instructions
In a medium stock pan, sauté the onion in olive oil for 8 minutes until soft and golden.

Add in the mushrooms and garlic and sauté for an extra 5 minutes.

Add the broth and barely and bring the mixture to a boil. Cover the post and let it cook for 30 minutes.

Then add in the remaining ingredients and boil for another 30 minutes over low heat.

Serve the soup with some pesto and Parmesan cheese if needed.
Nutrition Facts
White Bean Soup Recipe
Amount Per Serving
Calories 297
Calories from Fat 54
% Daily Value*
Fat 6g9%
Cholesterol 3mg1%
Sodium 1305mg57%
Potassium 815mg23%
Carbohydrates 48g16%
Protein 13g26%
Vitamin A 3210IU64%
Vitamin C 36.4mg44%
Calcium 185mg19%
Iron 4.3mg24%
* Percent Daily Values are based on a 2000 calorie diet.