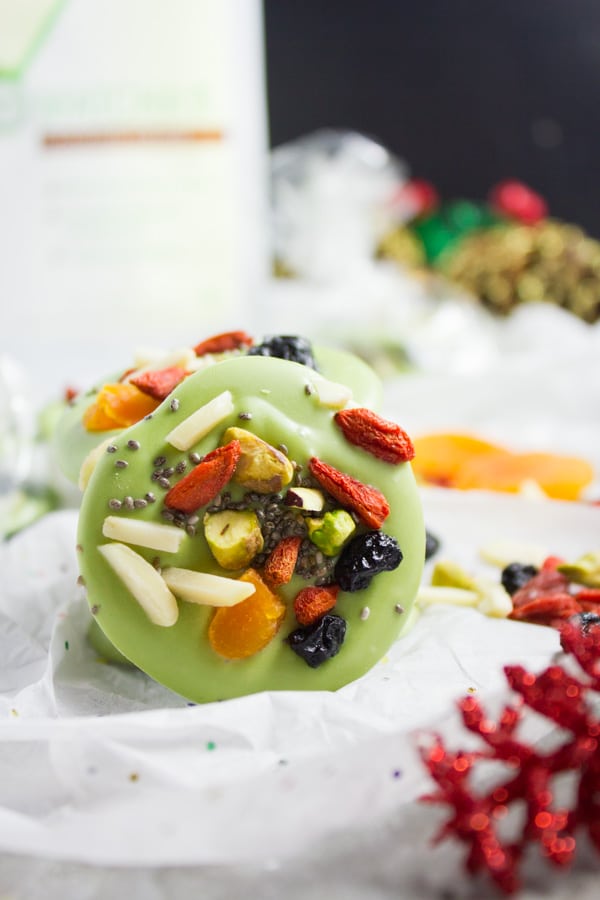 If you're looking for a perfect homemade Holiday gift this year, or a perfect treat for yourself—here it is! A  Matcha Green Tea Chocolate Bark recipe is my top pick for you. It's absolutely divine with unbeatable flavor from the Matcha green tea and the plenty of superfood toppings. The crunch from the pistachios, chia seeds and almonds with the sweet chewy goji berries, dried wild blueberries and apricots are all rounded off with the sweet vegetal favor and antioxidant power of matcha green tea!
Today's post is sponsored by my friends at Aiya America —providers of the BEST Matcha Green Tea 🙂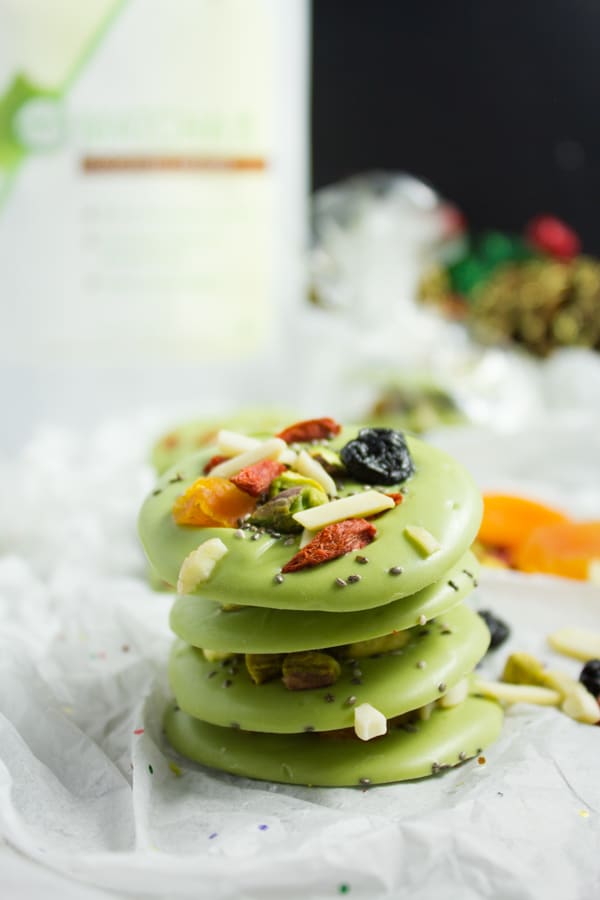 Love the Holidays! Love the food, the mood and everything that comes with it..and I absolutely love Homemade Holiday Gifts. Specially if they're something like this Matcha Green tea chocolate bark! Aside from how absolutely divine these barks are, they're super festive too. Vibrant gorgeous colors, amazing textures and rich flavors with plenty of rich superfoods to put an extra smile on your face while you enjoy chocolate!
Have you guys made chocolate bark before? Well let me tell you they're so easy, and yet so divine which makes them my go-to pick when I need to give a homemade gift . Plus you can dress them with endless toppings—so feel free to customize them your taste or your guests' taste. Today I'm picking a variety of superfood toppings to pair beautifully with my matcha green tea flavor and health benefits. Pistachios, almonds, dried blueberries, goji berries, chia seeds and dried apricots. Just imagine all those flavors and textures combined together with every bite of pure Matcha lush!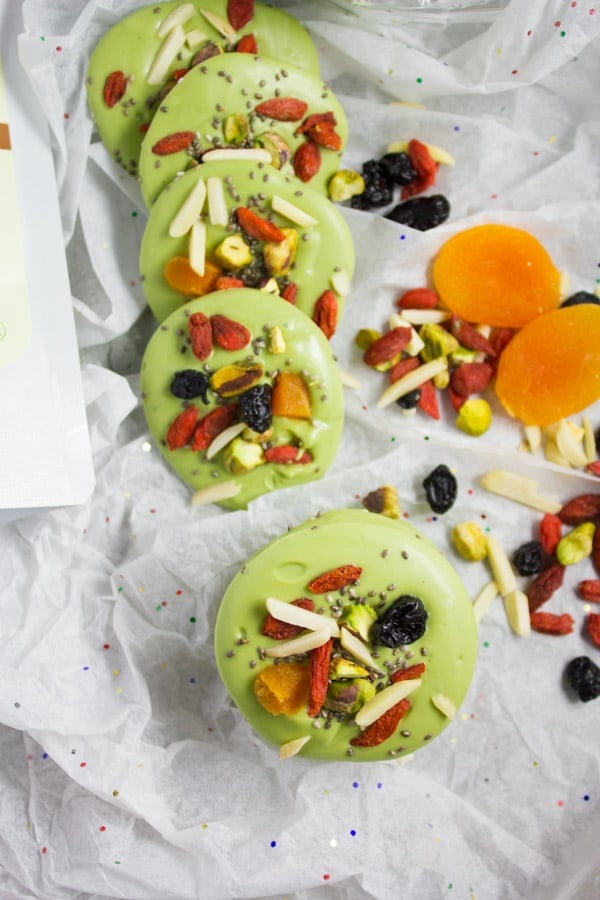 So YES, you guessed it, the secret ingredient here is the Matcha. I've written a few times how I seriously LOVE Matcha and I've tried many brands of this magic powder of green tea goodness until I came across the largest supplier of authentic Japanese Matcha green tea and tried their Aiya cooking grade Matcha green tea.. I never went back! You can read so many interesting facts about Matcha on their website, and best of all you can order some for yourself and try the difference!
Now if you're like one of my new neighbours I was chatting with the other day while waiting for the school bus, and the word Matcha doesn't ring a bell for you—I'll tell you the same thing I told her: What? You are MISSING out! Even though it's green tea, I rarely refer to it as green tea, only because it doesn't compare to what we know as green tea. Matcha is the pure leaf of tea, grown ONLY in the shades, ALWAYS handpicked, dried and ground by VERY slow and low friction stone mills, then whisked by a bamboo stick. So the result as a vibrant emerald GREEN colored powder, a deep taste of pure green tea leaves with a sweet note, velvety smooth feel and a load of NUTRIENTS, amino-acids, anti-oxidants and more! So clearly, matcha is NOT your average green tea.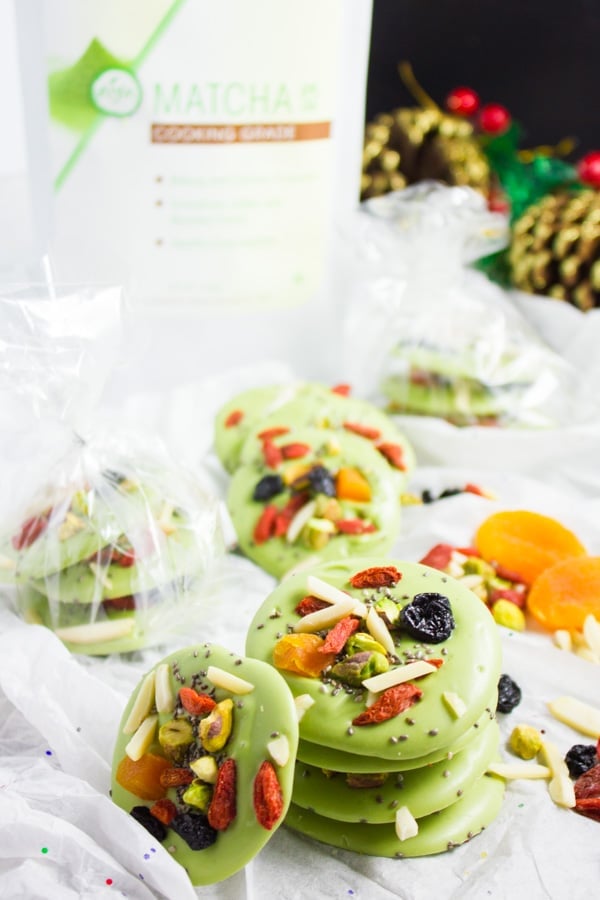 And that's why, this Matcha green tea chocolate bark today is NOT your average chocolate bark, it doesn't even come close. It doesn't taste like a sugary overload of chocolate with a type of nut. It tastes like smooth mild white chocolate balanced with an earthy clean green tea note, and when you add the toppings, you'll taste some crunchy pistachios, almonds and delicate chia seeds with chewy dried apricots, blueberries and goji berries. While all the toppings are totally optional, I strongly recommend you keep the goji berries—they're a powerful anti oxidant and anti-inflammatory (among many other benefits), and the chia seeds (they are loaded with fibre, protein and omega 3). These two ingredients combined with the benefits of Matcha green tea, make this divine little treat a healthy powerful one too.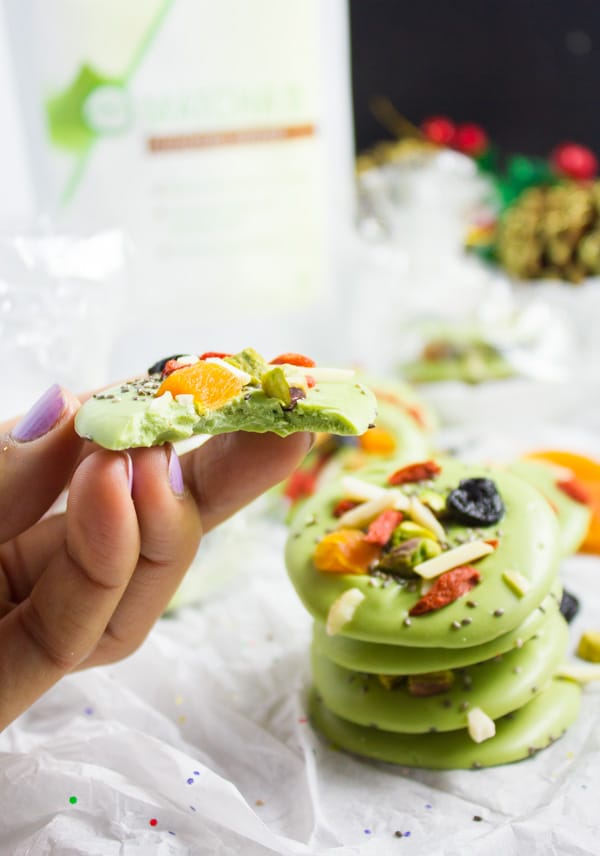 Now let's talk Holidays, plans, food, gifts..I'm swamped planning a small family trip with a bit of work overload. When it comes to Holiday gifts, I'm making those perfect Matcha chocolate barks—did I mention that they're also perfect made in advance? I've given away a few of those little bags already and everyone's been asking for more! Specially my neighbour who didn't know what matcha was—I think she's hooked by now 🙂 I pack every 3 or 4 in a small bag stacked up and then I tie it up with a small string. That way the toppings on the matcha chocolate bark don't get too smushed, and don't worry if it looks like a smallish gift, you can give them by the 3 and 4 bags! I do that 🙂
I'll quickly walk you through these luscious bites of Matcha green tea barks, you'll melt some finely chopped white chocolate and then add the Aiya Matcha green tea powder to it. Once you whisk them together, the chocolate turns a bright emerald green color. On a parchment lined baking sheet, you'll spoon a tablespoon at a time of the matcha chocolate mixture. It will flatten in to that perfect round shape you see. You can always adjust any edges or tops with the spoon. Then you'll start sprinkling your favorite toppings and let the chocolate bark set. When I'm rushed, I'll chill the tray in the fridge to set faster.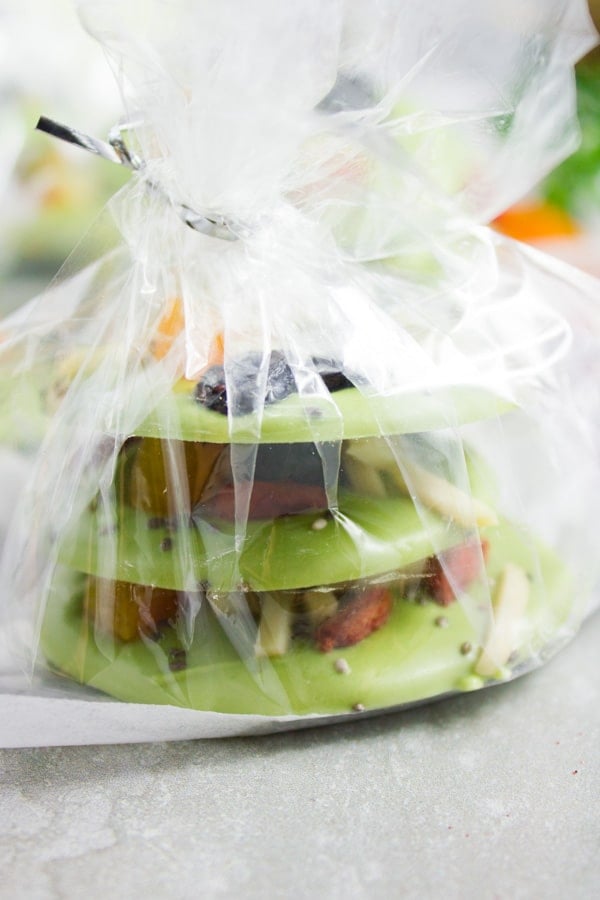 I can't urge you enough to make these perfect Holiday gifts this year–everyone will enjoy them 🙂 Plus you can prepare them well in a advance and dress them up endlessly. Try them and have yourself a Matcha power Happy Holiday! P.S For more Matcha goodness–don't forget to check this Matcha Power Hummus recipe and these amazing Banana Matcha Energy Bites recipe which was featured as one of the healthiest snacks to try!
Superfood Matcha Green Tea Chocolate Bark
Ingredients
1 1/2

cup

o high quality white chocolate shavings

2

teaspoons

of Aiya Cooking Grade Matcha Green tea

Toppings:

1/4

cup

of crushed Pistachios

1/4

cup

of sliced almonds

1/4

cup

of goji berries

2

tablespoons

of chopped dried apricots

2

tablespoons

of dried wild blueberries

1/4

cup

of chia seeds
Instructions
Add the white chocolate in a microwave safe bowl. Microwave for 45 seconds and whisk it until smooth. Alternatively you can place the white chocolate bowl over a larger bowl with boiling water and whisk it until it melts completely.

Add the Aiya Matcha green tea powder to the melted white chocolate and mix it in until all blended.

Line a baking sheet with parchment paper.

Take a tablespoon measuring spoon and spoon out a tablespoon at a time on to the parchment paper spacing the tablespoons half an inch apart.

The Matcha chocolate will spread out into a circular shape about an inch and a half in diameter. You can use the back of the tablespoon to even out the tops or edges if you feel you need to.

Start sprinkling the superfood toppings over the smooth matcha chocolate rounds and let the chocolate set for 30 mins at room temperature of 5 mins in the fridge.

Serve the Matcha chocolate barks and enjoy! Or stack them up in a bag for gifts.

**The Matcha Chocolate barks can be kept in the fridge in an air tight sealed container lined with parchment paper for a month and a half, or at room temperature for three weeks for optimal taste and freshness of the toppings