This shop has been compensated by Collective Bias, Inc. and its advertiser. All opinions are mine alone. #BoursinCheese #CollectiveBias
When it's time for a really festive appetizer, it's time for this Frosted Cranberries with Boursin Cheese Crostini Recipe. It simply adds the WOW factor to your Holiday table. And who doesn't need that! Super easy, festive and addictively delicious little bites of toasted baguette slices, sugar frosted crunchy tart cranberries and smooth melt in your mouth garlic and fine herbs Boursin cheese!
If you're getting caught up Holiday meal planning like the most of us, then by all means we need to make the appetizer a simple one. But simple wouldn't mean anything short of festive—because after all it's the Holidays and we all like to splurge. 
Today's recipe is actually extra special, it brings back beautiful memories to my heart. These memories start with two words. Boursin Cheese. When I was a little girl, I lived with my family for nearly five years in Paris. That was when my love affair started with Boursin cheese. It was the only way everyone in France enjoyed a luscious cheese spread over a perfect French baguette. Either plain as it is or topped with endless toppings, Boursin cheese was the wow factor over the humble baguette. It has an unbeatable creamy melt in your mouth feel with a slightly crumbly texture, so it spreads beautifully over breads, veggies, steaks, etc..and yet crumbles beautifully over salads, pastas, veggies, etc.
Back when we lived in Paris, my family used Boursin cheese endlessly. I remember it as a breakfast staple, and many days it'll be added to our dinners too. It made delicious little appetizers (like the one we're making today), stunning centrepiece to any cheese platter, beautiful stuffing for mushrooms and eggplants. When it's heated, it makes luscious sauces for pastas, chicken and steak. And for salads, just a bit of crumbles of Boursin cheese takes that average salad to another level. It's no secret, we absolutely loved it, and everyone in France did. Sadly after we left Paris, we couldn't find it for a while anywhere else..And a few years later, that moment I spotted a box of Boursin cheese at my Walmart, it's like I just wanted to hug it lol So so many memories!
Now have you tried Boursin yet or are you still very much missing out? Today I picked up a few at my local Walmart—you'll find them at the specialty cheese isle by the deli. With today's crostini recipe, I used the Boursin Cheese Garlic & Fine herbs, but you can chose from a variety of scrumptious other flavors like Boursin® Red Chili Pepper, Boursin® Cranberry & Spice, Boursin® Basic & Chive, Boursin® Cracked Black Pepper and Boursin® Cranberry & Apple. Seriously all of them are amazing and you'll find endless uses to each flavor in your meals—think of it like a secret way to add that wow factor to your existing recipes! I've also got an amazing coupon for you to get you hooked on this divine cheese goodness!
Back to today's stunning festive appetizer. It obviously involves Boursin that I made into tiny pieces of cranberry size balls to pair with my frosted cranberries beautifully on a toasted baguette. Just simply cut up your round of Boursin into half an inch chunks and roll each between your hands for a second to form a ball shape. And now for the frosted cranberries—because again it's the Holidays and we can afford to do that! Before I show you how simple and easy they are to make, I'll tell say for the record you can use any type of fruit here. Think fresh strawberries cup up in half, raspberries, blackberries, peaches, grapes, sliced pears .. any fruit. But if you're feeling a little extra festive like me, then you'll need to make the frosted cranberries!
So here's how it comes together. You'll make a simple syrup of equal parts sugar and water boiled together for 3 mins. I love to flavor that simple syrup by adding clementine or orange peel because the combo of orange and cranberries is pure LOVE. If you're skipping the flavouring, then stick to the sugar and water. Once the syrup cools down a little bit ( it'll be still warm but NOT hot) you'll add in your washed cranberries. Give them a nice toss in the syrup and then pour them over a dry rack. You want the sugary syrup to air dry a bit from the cranberries before rolling them in sugar—if you roll the wet cranberries in sugar right away, you'll still get frosted cranberries, but they'll be wet and the sugar won't be dry on them unless you let them dry too. So basically if you frost right away, you'll wait for the sugar coating to dry or if you dry the syrup cranberries before frosting then once you frost, they're ready for you.
I prefer drying them first because I feel the coating sticks better. Another thing to remember is the sweetness or tartness of your cranberries when you first bought them will eventually remain the same, so if you've heard that soaking the cranberries in the syrup solution overnight will make them sweeter—I'm sorry to say that it doesn't make a significant difference, just a little bit. At the same time, I feel o matter how tart your cranberries are, the sugar frosted coating will do the trick so don't stress about that. Finally I love adding extra clementine or orange zest to my coating sugar for more love—so feel free to skip that if you want a pure cranberry flavor to shine. And that's IT! You did it. They keep beautifully in the fridge for a week in a container lined and covered with parchment paper. Once you make a nice large batch, you'll use them for your appetizers, cocktails, desserts or just for every day Holiday snacking 🙂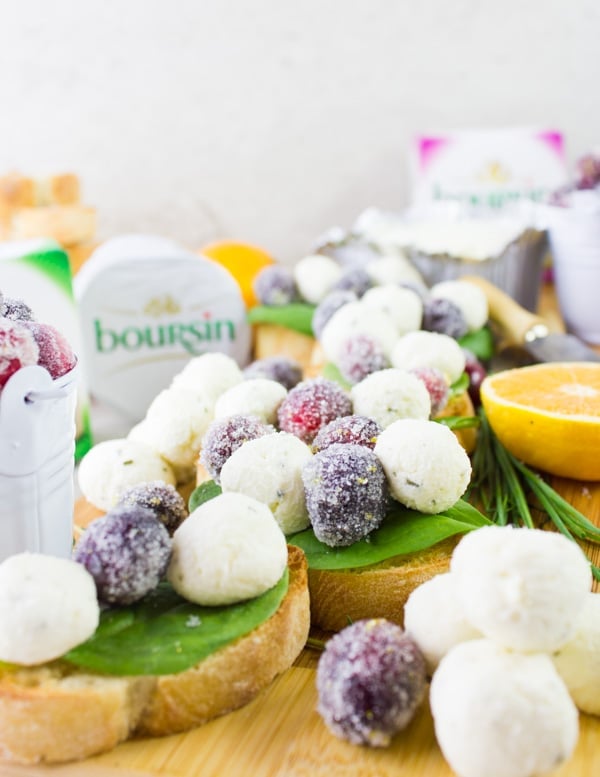 So for your Holiday appetizer, try today's frosted cranberries with Boursin cheese crostini—it's easy and you can prepare it well in advance. You and your guests will absolutely LOVE it so make yourself a nice BIG platter of it to pass around! And have yourself a Happy Delicious Holiday!! 🙂 P.S—you can follow Boursin Cheese on Pinterest for updates and more yummy ideas!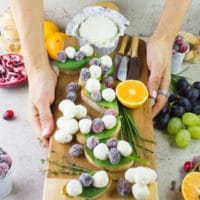 Frosted Cranberries with Boursin Cheese Crostini
Total Time
1
hour
3
minutes
Ingredients
Sugar Frosted Cranberries:

1/2

cup

of granulated sugar

1/2

cup

of water

peel of 1 clementine or orange

(optional)

2 1/2

cups

of fresh cranberries

, washed

1/2

cup

of granulated sugar

zest of 2 clementines

(optional)

Crostini:

1

baguette sliced and toasted with 2 teaspoons of olive at 375 degrees for 8 mins.

1

round of Boursin Cheese Garlic & Fine Herbs

1

cup

of fresh spinach leaves
Instructions
Make the frosted cranberries: Boil the sugar and water with the clementine peel for 3 minutes and set aside to cool down for a 3 minutes. Remove the clementine peel with a spoon.

Add the washed cranberries to the syrup mixture and toss it well to coat.

remove the cranberries from the syrup and place on a cooling rack with parchment paper under it Spread the cranberries in a single even layer and let them dry for about 1 hour.

In a large bowl, toss the sugar and zest of clementine. Take a few cranberries at a time ( 10 or so) and add them to the sugar mixture. Use a spoon to toss the cranberries and coat them in the sugar then remove them back to the same cooling rack. Repeat with the remaining cranberries.

For the crostini: Take the round of Boursin cheese and cut it up into half an inch pieces, then roll each piece slightly to form the shape of a ball about the same size as the cranberries.

Place the toasted baguette slice on the serving platter, top it with fresh spinach and alternate the cranberries with the Boursin cheese balls. Repeat with the rest. Serve with extra frosted cranberries and enjoy!