Calling all Hockey Fans today! I've got a perfect snack for you to munch on while you enjoy the game! These Perfect Baked Potato wedges are crispy on the outside and pillowy soft on the inside. Totally loaded with flavor and spice, so cool them off with a dip of luscious Avocado Crema that you'll be making over and over!
This post is sponsored by my friends at Vitamix—Makers of the world's best blenders! It's one of the gadgets you'll find everyday at my kitchen counter! All opinions expressed are mine alone. #HockeySnacks #PlayOffSnacks #TheyShootTheyEat #Vitamix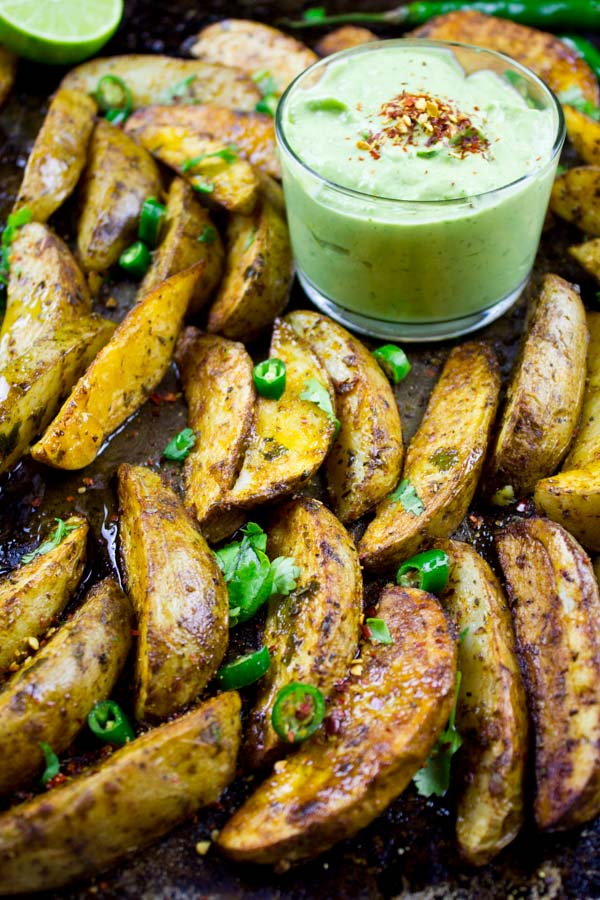 I'm super excited for Hockey season and the games coming up! It's one of those fun excuses to have friends over, turn on your largest TV screen, make plenty of delicious snacks, sit back and enjoy. There's something about the energy of the game, the enthusiasm the excitement. It just takes over. And then there's the winner, the celebration and more food! 🙂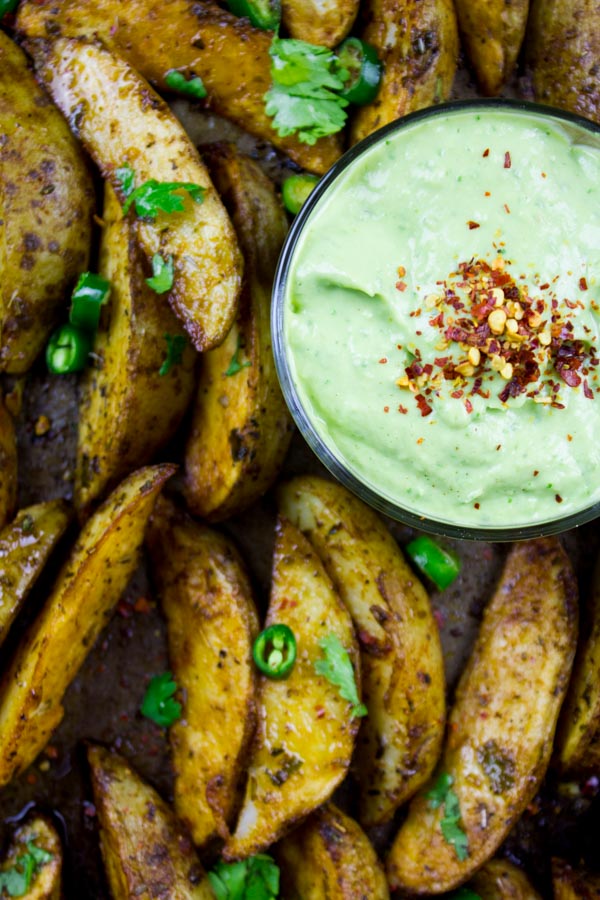 Before I had kids, I used to love going to the stadium, cheering throughout the game and come home with a sore throat. However, things have changed now lol The good news is eventually I started to love staying in and hosting the game much more than going out. I still get to cheer, just not as loud 🙂 For some reason, it seems like most of my friends prefer staying in too, so yay!. I think most of all, making delicious snacks like these perfect baked potato wedges would be a good enough reason to stay home and host this year 🙂
Before we dive in the recipe, I wanted to share a few tips for hosting a perfect Game  Party.
-Hand out some fun invitations to your friends with fun coloured Hockey themes.
-Ask everyone to wear their favorite jerseys.
-Turn on your biggest TV screen (even if it's in the basement).
-Decorate the place with team colors.
-Have all cutlery, cups and plates disposable, but all colourful (either team color or hockey themed)
-Make sure you have plenty of cold drinks
-Make yummy snacks! I love spicy bites and cool dips (like these perfect baked potato wedges), and I always have plenty of fresh fruits and veggies to go around.
-Be as simple as you can with food, it's part of the fun but it shouldn't take away from the game! So don't make heavy or fancy food—it's just not the time lol
-Finally, HAVE FUN! 🙂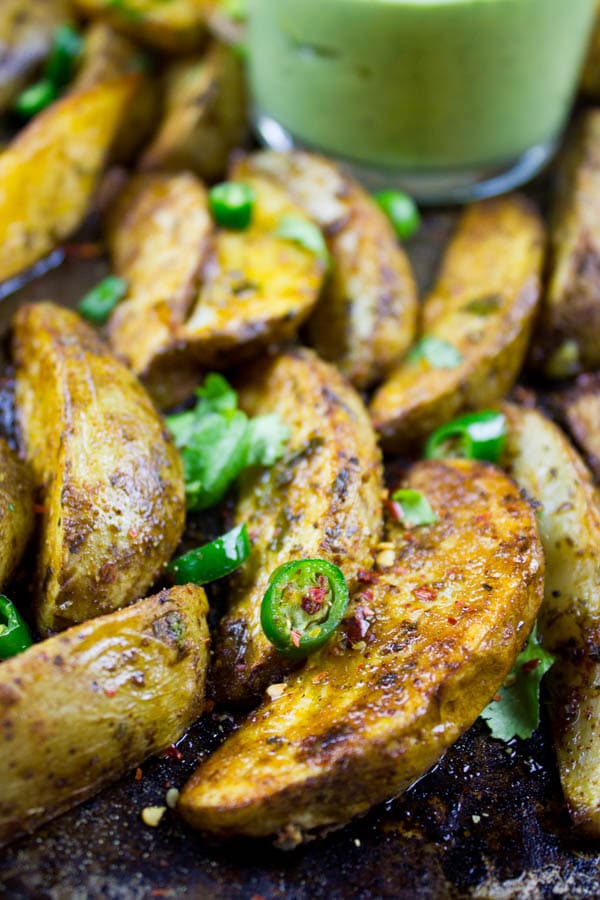 Potatoes
So for this year, I'm making these perfect baked potato wedges with an avocado crema. Potatoes always scream comfort to me. Any type. Any time. And who can resist potatoes when they're spicy + crispy? The best potatoes to use for this recipe would be a starch loaded potato like the Russet potato. In addition to the crispy factor, the starch also creates this pillowy soft structure on the inside which is unbeatable!
When it comes to seasoning, I'm going with a bit of Mexican flare to match my avocado cream. So I'm going with salt, pepper, oregano, garlic powder, cilantro, touch of cumin, paprika and chilli flakes. Toss this spice mix with the potato wedges and drizzle some olive oil. Coat them all with oil and in the oven they go for the perfect baked potato wedges!
Avocado Crema
Now let's talk crema. Avocado crema. You know that feeling when you can't get enough guacamole in life? Then you add some sour cream and blend it in your Vitamix and it turns in to a luscious, velvety smooth and addictive sauce that you add and dip with just about anything! That's EXACTLY what this is. Avocados, scallions, cilantro, lime, olive oil, salt, green chilli, sour cream and Vitamix. Blend for a few seconds. Lusciousness.
This avocado crema is perfect to drizzle on your salads, grilled meats, spread on sandwiches, dip with your crunchy treats and even just eat with a spoon! When it comes to our perfect baked potato wedges, they're a match made in heaven! It perfectly balances the spice and cools it off. In addition, it boosts the Mexican flavor of the potatoes and beautifully contrasts the crispy texture. So GOOD!! I would have this plate all to myself if no one was watching lol Don't miss out on this easy, quick and addictively good baked potato wedges with avocado crema. Enjoy it 🙂 And Enjoy the GAME!
Recipe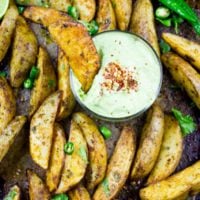 Perfect Baked Potato Wedges with Avocado Crema
Ingredients
Potatoes:

4

pounds

of Russet Potatoes

, cut up into wedges

1/2

teaspoon

of salt

3/4

teaspoon

of black pepper

1

teaspoon

of garlic powder

2

teaspoons

of oregano

3/4

teaspoon

of paprika

1/2

teaspoon

of cumin

1

teaspoon

of chilli flakes

(more or less to taste)

2

Tablespoons

of minced cilantro leaves

3

Tablespoons

of Olive oil

Avocado Crema:

3

Hass avocados

, pitted and peeled

1/4

teaspoon

of salt

2

scallions

1

green chilli

( or jalapeno)

1/2

cups

of packed cilantro leaves

juice of 1 juice lime

1/2

cup

of sour cream

2

tablespoons

of olive oil
Instructions
Preheat the oven to 450 degrees. Place the potatoes in a single layer on a baking sheet.

Sprinkle the spices over the potatoes and toss them coat. Then drizzle the olive oil and toss the potatoes again making sure every potato wedge got coated in spice and olive oil.

Bake the potato wedges for 20 minutes. Lower the heat to 400 and check on the potatoes. You'll need to toss them and rotate your baking sheet. Bake for another 10-20 minutes until the potato wedges are tender on the inside.

In the meantime, take out your Vitamix and place all the crema ingredients in the blender.

Blend for a few seconds until smooth and velvety. Pour the crema into a serving bowl.

Serve the crema with the potatoes and enjoy 🙂