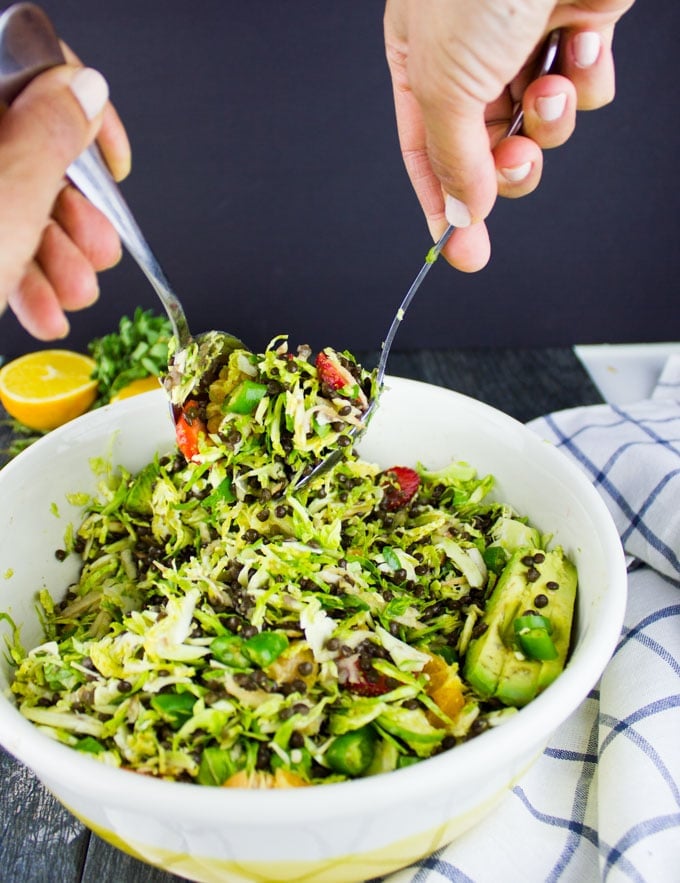 It's not just another salad recipe, I promise. It's a full meal on its own. This Citrus Lentil Salad with Shredded Brussels Sprouts is a combo of hearty, creamy, crunchy, zesty, bright, spicy, sweet, tangy, and pure deliciousness!  I've shared a video to show you how fresh and easy this lentil salad is and some tips on cooking the perfect lentils every single time 🙂
This healthy, tasty recipe is sponsored by my friends at USA Pulses and Pulse Canada. All opinions and thoughts are my own.
Pulses are such amazing little magical foods that add so much to our meals. They're delicious and creamy when they're cooked, very hearty and fill you up, loaded with proteins, fiber and many nutrients, plus they're extremely versatile. The easiest and best way to start adding pulses to your meals is the Half-Cup Habit.
Simply start by adding half a cup of pulses three times a week to your meals. That's it. Think of the many types of dried peas, chickpea, lentils and beans and now think of soups, salads, mains dishes, stews, pastas and even desserts! If you remember my simple yet pure comfort Soothing Garlic Chickpea Soup recipe which I posted a couple of weeks ago, that's certainly more than half a cup per serving which is an absolute bonus! I share many recipe ideas on that post too, so be sure to check it out!
So have a look at this easy simple video for my lentil salad! Super easy, super flavorful, super good for you and it's tastier than any salad you can imagine!
First of all, it's about cooking the lentils to perfection. I share so many tips on my favorite ways of cooking lentils in this Mexican Style Lentil Detox Salad ! While I've tried many ways of cooking pulses, I have to say the results are almost the same. So don't over stress about brining, soaking, oven or stove. Just make sure you salt your pulses after they're nice and fully cooked 🙂 If you have a pressure cooker, slow cooker or instant pot, I would strongly suggest you cook the pulses there!
Now once the lentils are cooked, you can use them warm to wilt the shredded sprouts a bit or chill them and use cold. But before tossing or anything, the most important step probably here is to add some flavor to the lentils. I do that by adding a couple tablespoons of the zesty bright orange dressing to the lentils and toss it well.
So the shredded Brussels sprouts, yes indeed they're delicious here! No matter what issues you have with Brussels sprouts, try them shredded like this and tossed in a bright orange dressing with creamy lentils, and you'll certainly change your mind! Another thing I love about Brussels sprouts is how healthy they are and loaded with goodness for you. However, for the record, you can use shredded cabbage, your favorite greens, kale, anything!
Other ingredients include some clementine slices, strawberries, shredded apples, scallions, avocados and whatever you prefer! I finish it off with some chopped green chilies for a boost of spice. The sweet fruits and dressing go perfectly with the spicy chilies 🙂 Finally, a note about the dressing—it's orange juice with a touch of lemon juice, garlic (which you skip or substitute with onions), herbs, honey and olive oil. Just shake and go!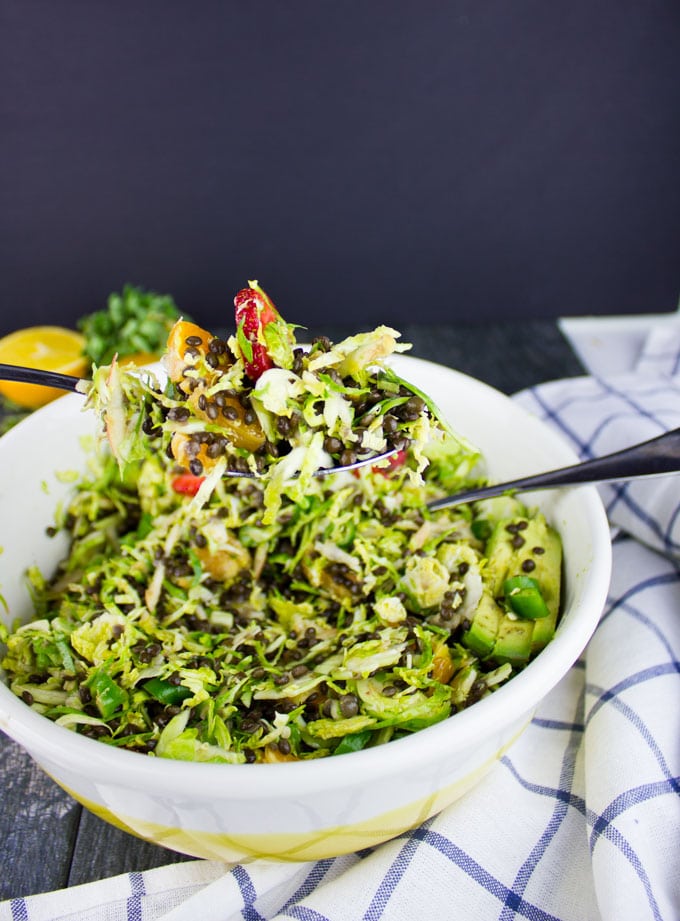 And finally here's the full recipe below! Now ENJOY 🙂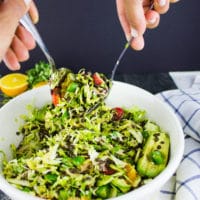 Citrus Lentil Salad with Shredded Brussels Sprouts
It's not just another salad recipe, I promise. It's a full meal on its own. This Citrus Lentil Salad with Shredded Brussels Sprouts is a combo of hearty, creamy, crunchy, zesty, bright, spicy, sweet, tangy, and pure deliciousness! I've shared a video to show you how fresh and easy this lentil salad is and some tips on cooking the perfect lentils every single time 🙂
Ingredients
Lentils:
1 1/2

cups

black lentils

uncooked

3

cups

of cold water

1

teaspoons

of salt
Salad:
3

cups

of shredded Brussels sprouts

1

cup

of orange/clementine segments

2

scallions

chopped

1

cup

of strawberries

sliced

1 1/2

cups

of shredded apples

1 -2

avocados

sliced

2

chilies sliced

optional
Orange Dressing:
1

clove

of garlic

grated

2

tablespoons

of minced fresh herbs

I used basil and oregano

1

teaspoon

of honey

1/3

cup

orange juice

2

teaspoons

of lemon juice

pinch

of salt

1/4

cup

of olive oil
Instructions
Cook the lentils. Add the lentils and water to a 4 quart cooking pan and bring to a boil. Then lower the heat to low and allow the lentils to cook for about 1 hours until tender. At that point add the salt and strain the lentils. Set aside.

Prepare the dressing: Add all ingredients in a Mason jar or sealable container. Seal and shake well until the dressing has blended.

Season the lentils with 2 tablespoon of the dressing and toss well.

In a large bowl, add the Brussels sprouts and lentils together with an extra 3 tablespoons of dressing and toss well.

Add the remaining salad ingredients, more dressing and toss.

Serve the salad and enjoy 🙂