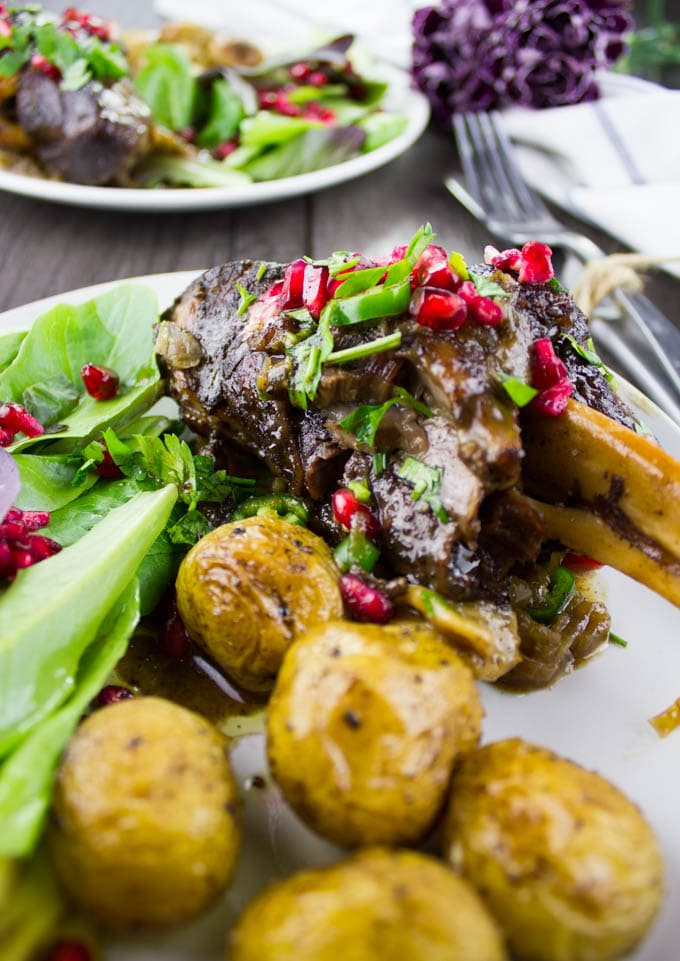 These fall off the bone, tender, slow roasted lamb shanks are flavored with sweet homemade pomegranate molasses, nutmeg and cinnamon. Roasted over a bed of garlic and onions, these Pomegranate Roast Lamb Shanks are a burst of flavor and deliciously festive for the Holidays! Serve along any veggie side dish, rice, pasta, bread or potatoes! Lamb is comfort for the Holidays! 🙂
This post is short and sweet. We're all busy and I know the last thing you wanna read is me rambling about what I have going on this season! But in brief, I need to mention that I've been very grateful this year. It's often overlooked since we all have our hands full. This time of year, among all the craziness, I feel gratitude more than ever. If I had a wish for every person it would be that—take a minute of your day and feel gratitude 🙂
Today's roast lamb shanks are my favorite for the Holidays!! not a surprise, I know lol Lamb is perfect for the Holidays because it's packed with flavor, so versatile with plenty of different cuts, and it feels so festive! To me it's absolute comfort, which is what I look for every Holiday 🙂 Above all, when it comes to lamb, I can't stress this enough—make sure you're buying American Lamb.
There's absolutely no comparison between American Lamb and any other. Take that from me, I've lived in many places and ate lamb almost all my life. I can tell you for a fact that American Lamb beats them all. If you guys ever visited a farm, you'll feel so connected to the place and the people behind it. Supporting local farmers is almost like an instinct we should all have.
And when it comes to lamb, not only you'll be supporting hard working devoted farmers, you'll also be getting the BEST lamb there is! American lamb is raised to the highest quality standards, it's as fresh from the farm as can be, and above all, it tastes AMAZING!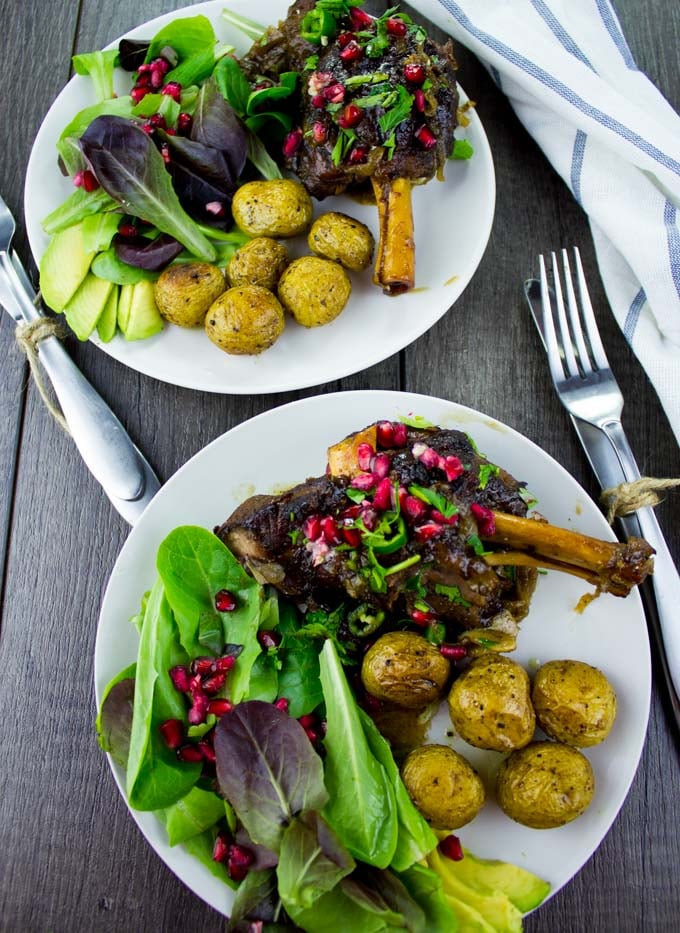 Now for these roast lamb shanks, you can scroll below for a short video on how easy they are. No marinades or fuss, just toss the shanks with salt, pepper, nutmeg and cinnamon. Then a drizzle of pomegranate molasses, olive oil and that's it! Toss the lamb with tall the amazing flavors, sit them on a bed of sliced onion and smashed garlic. Finally pour in some stock and roast these shanks for nearly two hours.
Perfect served with some roast potatoes and salad for a Holiday dream meal! And since you really don't need huge servings of lamb, you'll have some room for dessert this Holiday season—which we all need 🙂 This is really one of those recipes you can whip up the day of, a few days before and warm it in the oven before serving. You don't need any fancy cooking skills, just some spice and go!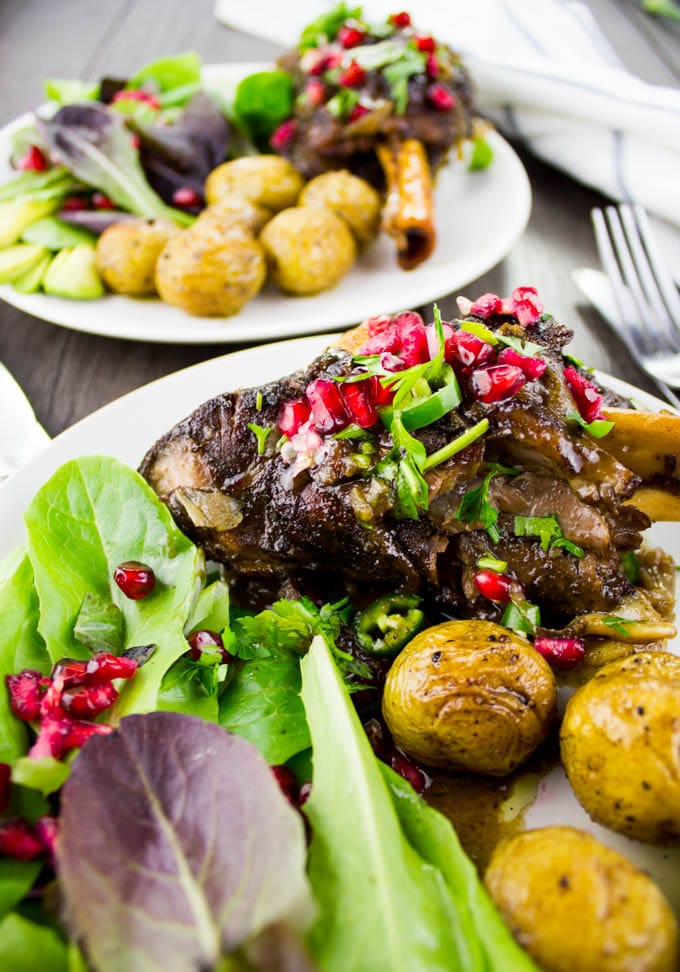 Another thing I wanted to mention is the pomegranate molasses. You'll find it at the ethnic aisle of most grocery stores now, and if you want to make some from scratch ( I strongly suggest you do!), I've included the recipe below. This magic sweet sauce is great for cocktails, salad dressings, sandwiches, lamb, chicken, desserts, you name it! Use it the same way you would use a nice thick Balsamic reduction.
Alright I'll let you go with the video and I'll squeeze in another sweet post before I take off to Miami for my Holiday!! Enjoy!! 🙂
Video!
Pomegranate Roast Lamb Shanks
These fall off the bone, tender slow roasted lamb shanks are flavored with sweet pomegranate molasses, nutmeg and cinnamon. Roasted over a bed of garlic and onions, these lamb shanks are a burst of flavor and deliciously festive for the Holidays! Serve along any veggie side dish, rice, pasta, bread or potatoes!
Total Time
2
hours
10
minutes
Ingredients
8

pounds

of American lamb shanks

trimmed

1/4

cup

of Pomegranate Molasses

see note

1

tablespoon

of Kosher salt

2

tablespoons

of freshly ground black pepper

1

tablespoon

of nutmeg

1

teaspoon

of cinnamon

2

tablespoons

of olive oil

2

large red onions

sliced

8

cloves

of garlic

smashed

1

cinnamon stick

1

cup

of beef. chicken or veggie stock

Fresh Pomegranate arils for sprinkling

Fresh minced parsley leaves for shrinking

Fresh sliced chilli peppers for sprinkling
Instructions
Preheat the oven to 400 degrees.

In a large 3 quart oven safe dish, place the lamb shanks and season them with the pomegranate molasses, salt, pepper, nutmeg, cinnamon and drizzle the olive oil.

Use tongs (or your hands) to toss the lamb shanks very well with all the seasonings.

Add the sliced onions and crushed garlic cloves to the baking dish and tons them with the lamb shanks—keeping most of the onions and garlic at the bottom of the dish so they act like a bed for the lamb shanks.

Add in the cinnamon stick and pour the stock over the lamb mixture. Roast the shanks for one hour, and then cover the pan with foil (add extra stock if you'd like a saucy lamb shank). Roast (covered) for another 45 minutes- 1hour until the shanks are tender.

Remove the pan from the oven, sprinkle some pomegranate arils over the lamb shanks, sprinkle parsley and chilli peppers too! Serve and enjoy!

Note: Pomegranate Molasses is available at the ethnic aisle of most grocery stores. It's made out of pure Pomegranate juice, some sugar and lemon juice that are boiled and reduced to a consistency of a syrup. Homemade recipe below.
Homemade Pomegranate Molasses:
3 cups of Pure Pomegranate juice

6 tablespoons of granulated sugar

2 Tablespoons of lemon juice

Place all the ingredients in a medium size pot over medium high flame and bring to a boil. Reduce the heat to low and allow the mixture to simmer for about 50-60 minutes until it has ra syrup consistency and has reduced to about 1 cup in total.

Cool the molasses for about half an hour before storing it in an airtight container in the fridge for about 6 months.

Use it on lamb, chicken, salads, drinks, sauces and for baking!