This is a delicious marshmallow fruity cereal pancake recipe that'll make everyone;s morning a little happier! Tender fluffy and irresistibly sweet pancakes with a touch of crunch, plenty of flavor, marshmallow bits and fruity rainbow colors. This is a super easy pancake recipe made from scratch in 15 minutes—a perfect treat the whole family will enjoy!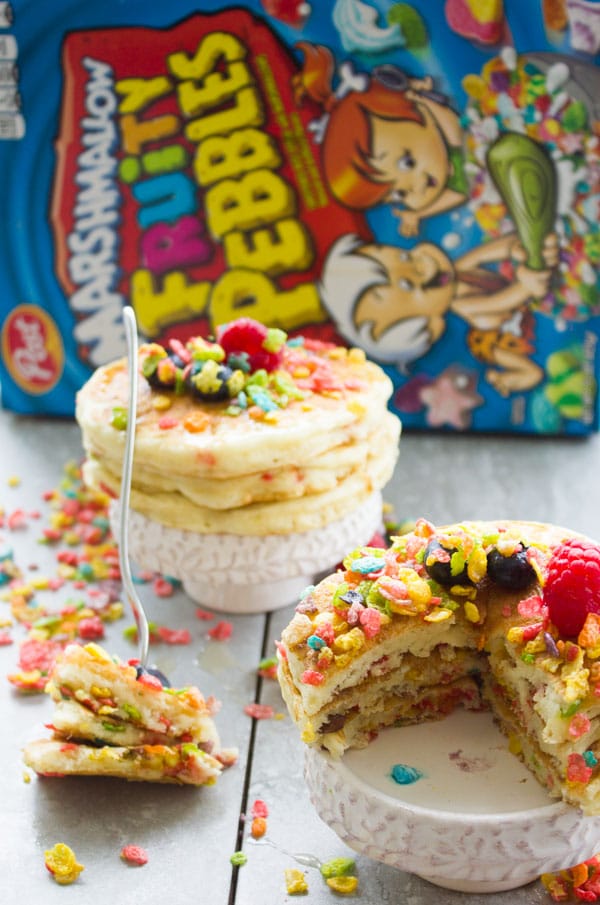 Oh yes this is indeed another pancake recipe. I seriously have a thing for pancakes. I mentioned this before, but I think it's because I didn't grow up eating pancakes. I used to live in Paris, and grew up thinking it's all about the delicate French crepes—which I still devour! But..I missed out—missed out on those fluffy and tender breakfast pancakes. Now it feels like I'm making up for all those years and enjoying all the pancakes I can!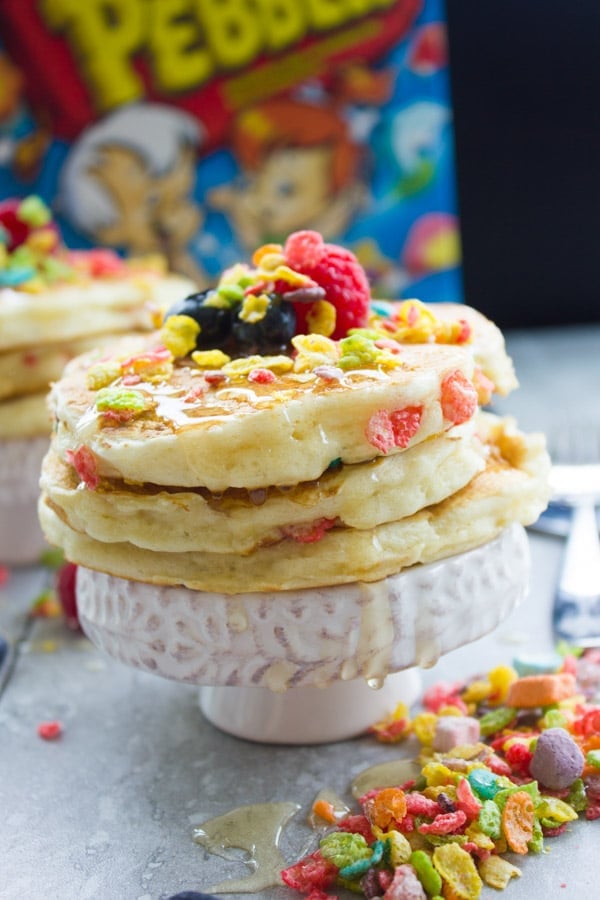 So what's the big fuss with today's amazing and crazy delicious marshmallow fruity pancake recipe? Sooo many things.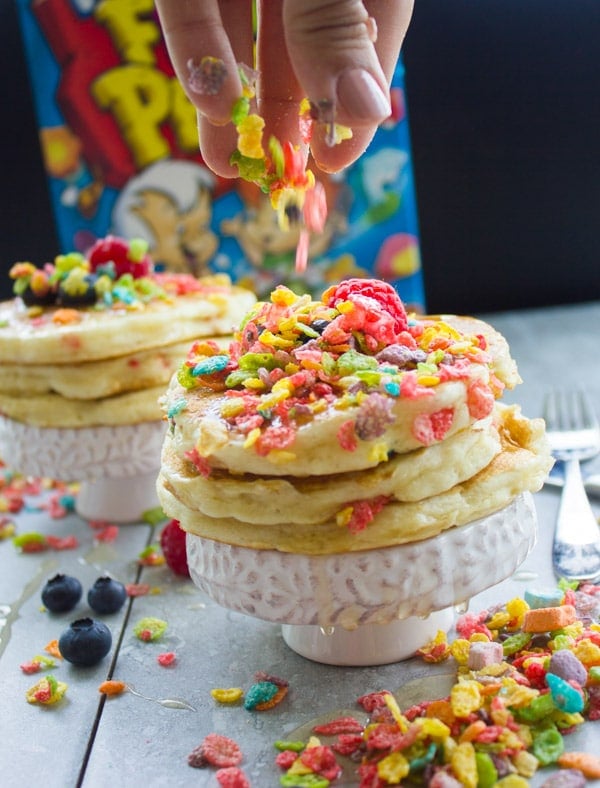 Those lovely fruity pancakes offer some good value and boost to your average pancakes. And my favorite part is that they're actually perfectly sweet so you don't need any syrups or sauces (unless of course you want to 😉 ) The Marshmallow Fruity Pebbles have a sweet fruity taste that infuses wonderfully into the pancake so you don't have to worry about sweetening them anymore (I tried adding just a touch of honey, and it was;t needed at all). I actually love topping the pancakes with just a touch of more cereal (for a delicate crunch) and some fresh berries. Pure pancake bliss.
Now these photos below are best to show you how simple this pancake recipe comes together. I make a batch of my favorite base pancake (the same one I used in these banana swirl cinnamon roll pancakes), and I ladle 1/4 cup measuring cup of batter into a non stick skillet (or griddle) over medium low heat. Then I spoon 2 tablespoons (more or less to your taste) of the Marshmallow Fruity Pebbles cereal over the pancake. I love taking a spoon and gently swirling the cereal into the pancake batter—not entirely covering the cereal with batter, but just a simple swirl. To me, this is ideal because most of the cereal is infused into the batter, but some parts of it are left out so they remain quite crunchy.
After that, all you need to do is flip the pancake and let it cook for a couple of minutes until it's cooked through. Now for the record, you can easily fold the cereal into the pancake batter so it's evenly dispersed and you'll save yourself the few seconds of sprinkling and swirling the cereal into each pancake one at a time. But… I love it swirled this way because I love to feel the bite and crunch in the cereal in my pancakes. Feel free to try both options and chose your favorite 🙂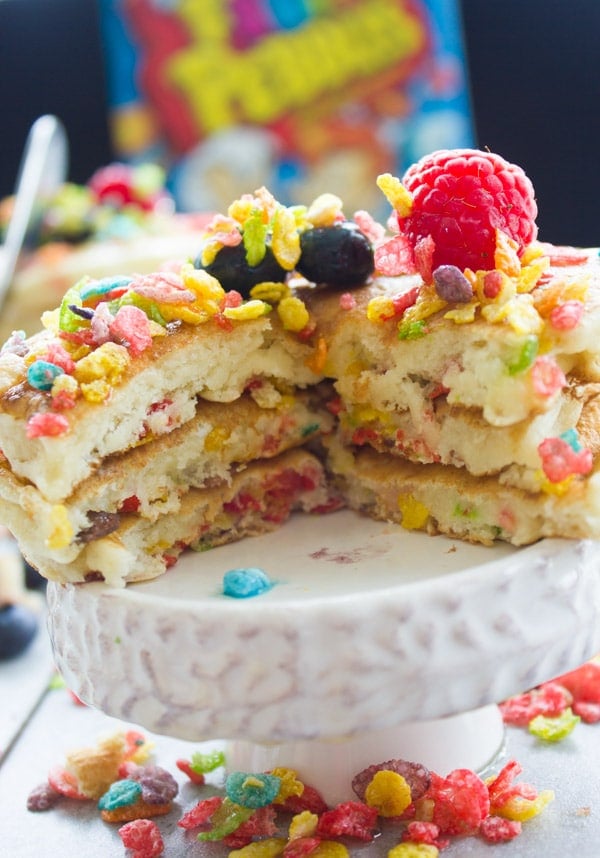 I can't tell you guys how much we loved this pancake recipe! I mean you would think it's a kid treat, but I found it perfect with my coffee and hubby thought the same! It's the perfect balance of sweet, fruity flavors in a light, tender and fluffy pancake. So top that with an extra touch of crunch from the cereal and some fresh berries—how can you resist that!! I can't urge you enough to give this pancake recipe a try—you will LOVE it 😉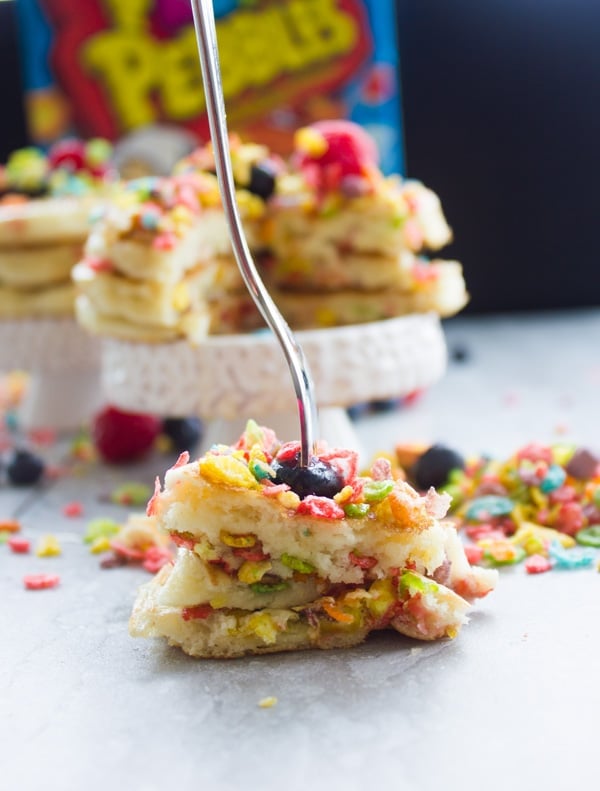 Enjoy!!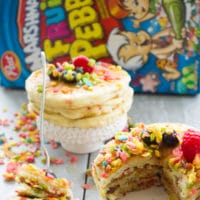 Fruity Pancake Recipe
Ingredients
Pancake Batter:

1

cup

of All Purpose Flour

2

Tablespoons

of granulated sugar

1/2

Tablespoon

of baking powder

1

teaspoon

of baking soda

pinch of salt

1

egg

3/4

cup

of Buttermilk

2

tablespoons

of oil

1

teaspoon

of vanilla extract

1/2

cup

- 1 cup of Marshmallow Fruity Pebbles

(to taste)

Berries for serving

More Marshmallow Fruity Pebbles for sprinkling
Instructions
Preheat your non stick skillet or griddle over medium heat.

In a medium bowl, mix the flour, sugar, baking powder, baking soda and pinch of salt. Mix them well.

In a larger bowl, add the remaining ingredients (without the cereal) and mix them well. Then add the flour mixture to the wet ingredient mixture and use a spatula or wooden spoon, mix the batter until no more flour is visible—do not over mix the batter (some lumps in the batter are ok).

Spray your griddle or non stick skillet with a layer of oil and lower the heat to medium low.

Take a 1/4 cup measuring cup of batter and place it on the skillet, sprinkle 2 Tablespoons of Marshmallow Fruity Pebbles cereal over the pancake batter. Take a spoon and gently swirl the cereal into the pancake ( you don't have to cover the cereals entirely with the pancake batter—some of them will be covered and others not).

Flip the pancake and cook it for a couple more minutes until it's done. repeat with the remaining batter.

Serve the pancakes sprinkled with extra cereal and some fresh berries. Enjoy!

**note

Make the pancakes ahead of time and freeze them in a single layer on a parchment lined baking sheet. To serve, defrost the pancakes in a bread toaster (defrost setting) or in a low temperature (250 degreesF) oven for 15 minutes (covered with foil).
Nutrition Facts
Fruity Pancake Recipe
Amount Per Serving
Calories 138
Calories from Fat 45
% Daily Value*
Fat 5g8%
Cholesterol 23mg8%
Sodium 173mg8%
Potassium 130mg4%
Carbohydrates 20g7%
Protein 3g6%
Vitamin A 67IU1%
Calcium 64mg6%
Iron 1mg6%
* Percent Daily Values are based on a 2000 calorie diet.