This shop has been compensated by Collective Bias, Inc. and its advertiser. All opinions are mine alone. #EmergenCRecipes #CollectiveBias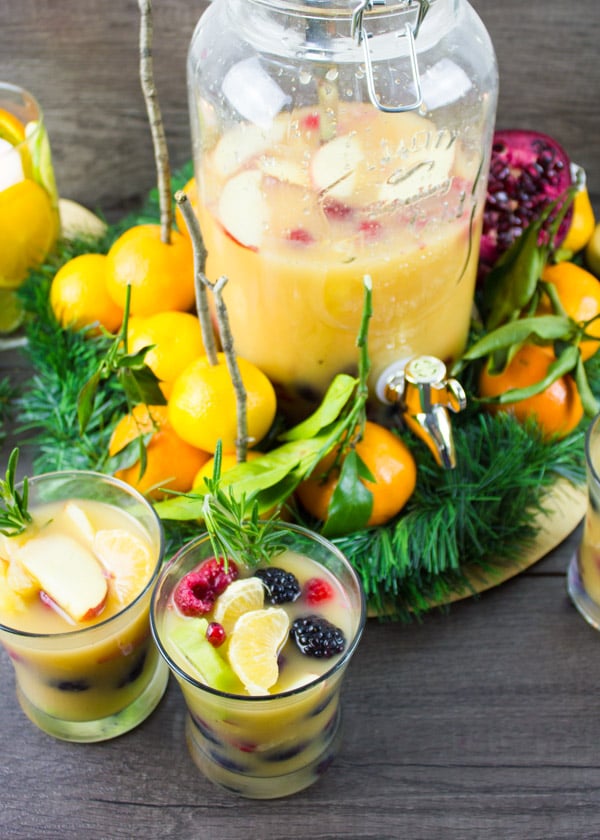 It's the time for staying in, time for warm cozy food and drinks, time for a simple, sweet winter party! A Fruity Non Alcoholic Sangria and Orange Salmon Bites Party all with gorgeous orange candle centrepieces, a powerful fruity sangria drink and a recipe for orange salmon broccoli bites on a stick. The whole party set up can be prepared hours ahead of time, and so can the food—so you've got all the time to relax and enjoy!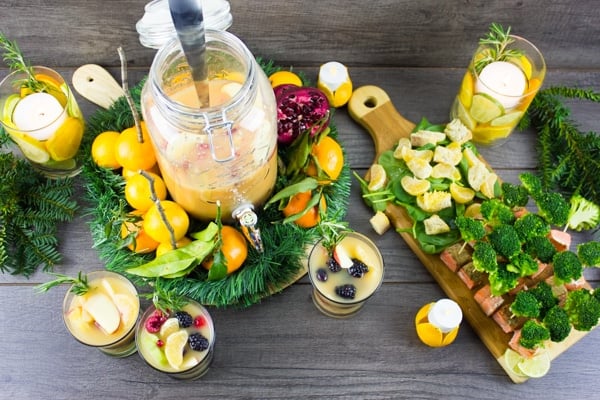 Hello Holiday planners, have I got a fancy, sweet and easy party for you! For the last few weeks I've been swamped with anything and everything Holiday related, from the everyday prep, baking and homemade gifts, to school Holiday concerts and everyday playdates. I needed a mini break before going back full speed again next week in to the real thing. And here's my perfect idea of a break—a cozy party with plenty of warm orange tones, orange centrepieces with candle light, an abundance of seasonal fruits and lots of clementines or tangerines.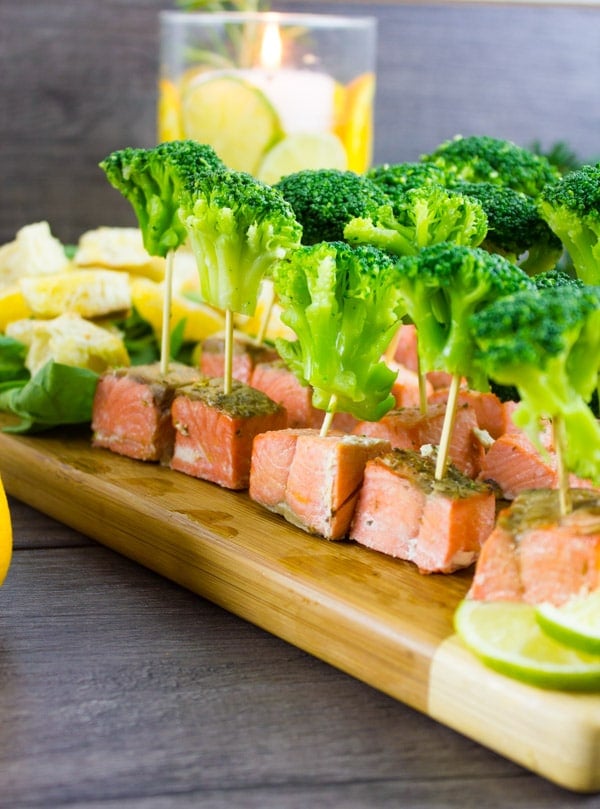 And since there's no party without food and drink, I've made an all time classic favorite—Sangria. But I've made it ultra hydrating and super refreshing to get me through this Holiday rush! So not only is it loaded with plenty, and I mean PLENTY of fresh fruits and berries, it's also totally non-alcoholic, and it's made with a SECRET ingredient! I've made it using Emergen-C 🙂 It's like taking in your B vitamins and more in a natural non caffeinated drink. I make it part of my healthy lifestyle so I feel replenished and fortified when I need to. On busy seasons like this, I feel really restored taking my Emergen-C. And when I'm not as busy, I just love the good feeling about taking my vitamins 🙂
So for today's lovely sangria recipe, I went to my local Walmart to buy some Emergen-C (tangerine flavor), plenty of fresh fruits, wild caught salmon and broccoli. Let's start with our show stopping sangria drink. It's based with tangerine Emergen-C, and to that I add some water (you can add regular or fizzy water here) fresh pineapple juice (you can add orange, mango..or your favorite fresh no sugar added juice) and a dash of pomegranate juice. At this point my sangria drink is ready for some fruits. The sky's the limit —I added fresh sliced apples, tangerine pieces, fresh blackberries, raspberries, pomegranate arils, grapes and kiwi slices. A load of freshness and goodness that's delicious, hydrating and replenishing—SO good for you!
The sangria drink is ready for serving right away, or ready to be stored in the fridge for a day until you need it. Just remember to always give your sangria a mix before serving to get the fruits swirled evenly into each cup. I love serving them with a fresh sprig of rosemary—I feel it's a perfect compliment to the tangerine-pineapple sweetness of the sangria. I've found that left overs of the sangria drink make an amazing milkshake when blended with some coconut milk, regular milk or vanilla yogurt! Absolutely delicious!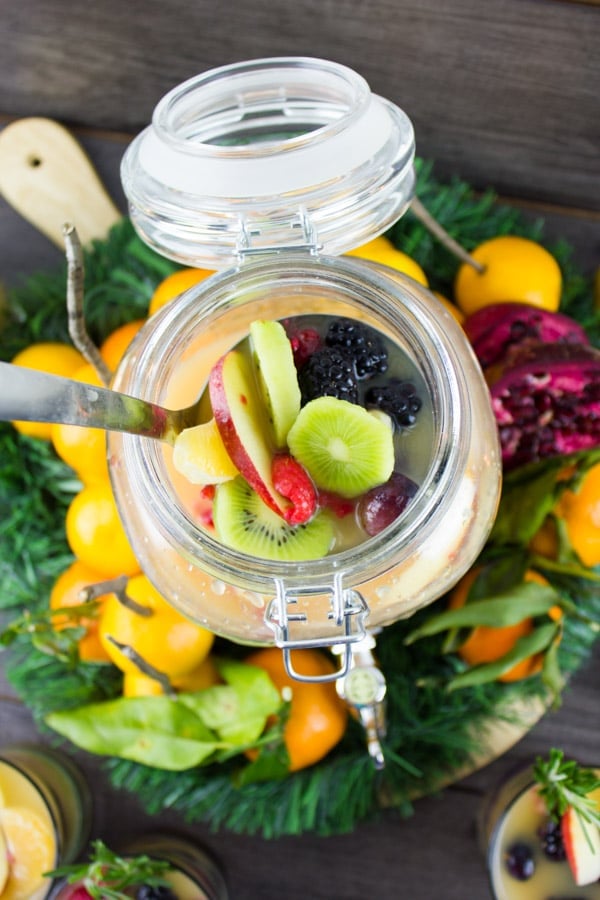 Now let's quickly talk about those salmon/broccoli bites. Salmon pairs so well with citrus, so it was my choice. I chose some frozen wild caught salmon because it's richer in omega-3 and better for you. I love cutting my salmon while it's still semi frozen (much easier to get perfectly shaped cubes) and then simply seasoning it with salt pepper, oregano, tangerine juice, olive oil and in to the broiler they go (on a foil lined baking sheet). They're ready when they turn opaque and at that point I just skewered them with a piece of broccoli floret (cooked or raw—your choice) using a toothpick. If you want to give your salmon and broccoli an extra burst of flavor, take 2 tablespoon of the sangria (without fruits) and add to it salt, pepper, oregano and olive oil, and then drizzle that sauce over the salmon. This is totally optional, but it does give extra flavor 🙂
So for the gorgeous centrepieces. Let's start with the glass and candle ones. The trick to have those neat orange, lime, lemon slices stick to the glass like they are, is to use TWO glass cups/vases. One of them has to be smaller and has to fit comfortably in to the other (with an eighth inch clearance all around—this clearance is where the slices will fit in). So you'll place the small cup in to the larger one, and start arranging your citrus fruit slices in the gap between both cups, arrange them in whatever pattern you prefer. Another tip is to slice your citrus fruit as thin as you can (at least thin enough to fit the clearance space between the two glass containers). I love alternating colors of lime, lemon and orange and then I just keep building it up until I've reached the height limit. I also love adding a rosemary sprig to the one side of the cup (squeezing it with the citrus slices) for a bright green look. Then I place a nice big candle in the middle of the small cup and it's ready!
You can fill it out with water instead of the candle, or flowers, or more whole citrus fruits, or just green plants..it's a totally versatile easy centrepiece and really gorgeous looking. I chose the candles today because it feels like a nice winter cozy accent to my mood  🙂 Another simple centrepiece I've made is the small candle in the tangerine. Simply take a knife and cut the tangerine tops in to a cross, going about a third of the way deep in to the tangerine. Then when you peel off the top peel (which you've cut through with the knife) you'll see like a small slot perfect to fit it in a small tea candle. I've used the battery ones not real candles here just to avoid replacing it through the party. Again you can stuff this small opening at the top of your tangerine with greens, herbs, flowers etc.. Another gorgeous way to add accent to your warm winter Holiday table.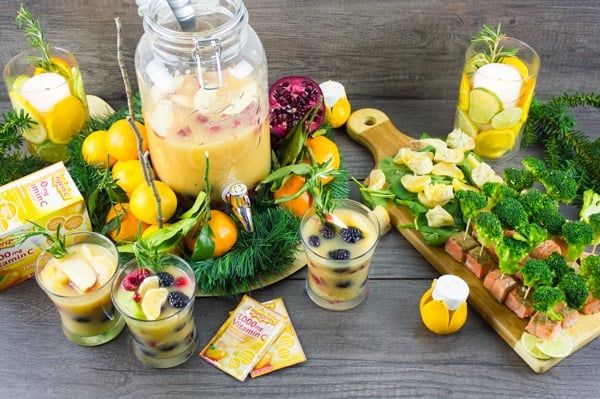 I hope these simple yet gorgeous ideas inspire you to make yourself a nice cozy table set up this Holiday season and adjust them for all seasons. Don't forget to take care of yourself in this crazy busy time of the year, and always! And don't forget your Emergen-C when you need to replenish 🙂 Happy Cozy Holidays! 🙂
Disclaimer: These statements have not been evaluated by the Food and Drug Administration. These products are not intended to diagnose, treat, cure or prevent any disease.
Fruity Non Alcoholic Sangria and Orange Salmon Bites Party
Ingredients
Non Alcoholic Fruity Sangria:

6

sachets of Emergen-C tangerine

(or any flavor) sachets, always use 1 sachet per serving ( i.e per person)

6

cups

of water

(regular or carbonated (1 cup / 8ounce per serving)

1 1/2

cup

of no sugar added pure Pineapple juice

(can use orange, mango)

1/2

cup

of Pure Pomegranate Juice

1

cup

of thinly sliced apples

1

cup

of fresh blackberries

1

cup

of fresh raspberries

1

cup

of thinly sliced kiwi

1 1/2

cup

of tangerine segments

1

cup

of pomegranate arils

1

cup

of grapes

For the Salmon and Broccoli Bites:

3-4

ounces

per person of wild caught salmon

, cut up into an inch cubes—so about 1.5 pounds

1/2

teaspoon

of kosher salt

1/2

teaspoon

of black pepper

1

teaspoon

of oregano

juice of 1 clementine

1

teaspoon

of garlic powder

1

tablespoon

of olive oil

2

cups

of broccoli florets

(cooked or raw)

Extra Sauce:

2

Tablespoons

of Sangria drink

(recipe above) without fruits

1

teaspoon

of oregano

1/4

teaspoon

of salt

1/4

cup

of olive oil
Instructions
Empty the Emergen-C contents of 6 sachets in a large glass pitcher. Add the water to it and give it a mix.

Add the juices and mix the drink until blended.

Add in the fruits one at a time and then give the sangria a mix before serving.

Serve the sangria with a sprig of fresh rosemary.

Preheat the broiler to high. Toss the salmon with all ingredients (except broccoli) and place on a foil lied baking sheet. Broil the salmon for 8 minutes until cooked through.

Let the salmon cool for a few minutes and then skewer a cube of salmon with a toothpick, and top it with a broccoli floret. Serve right away or with the sauce.

To make the sauce: whisk all ingredients in a bowl and drizzle it over the salmon.

Enjoy!! 🙂