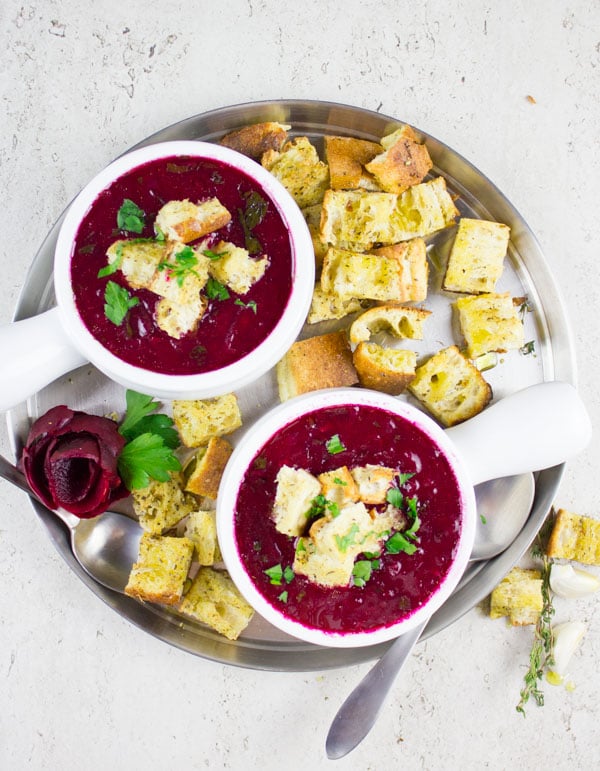 This vibrant colorful soup is made with basically one major ingredient that's cooked Russian style into a delicious Beetroot Soup recipe! It's light, hearty, and perfectly served warm or cold. So next time you find beets in your grocery store, don't just think salads—think beetroot soup! And if you're not a beet person, please please keep reading—I think I can lure you to give it a try 😉
I absolutely LOVE soup any season, and we're kicking off Spring with a deep pink, healthy and light beetroot soup! And while I'm invited this year for Easter dinner, I would totally have this soup on my Easter table! I've made it the classic old fashion Russian way here, but you can definitely jazz it up with a few more toppings. This classic taste brought back so so many memories for me so I had to share 🙂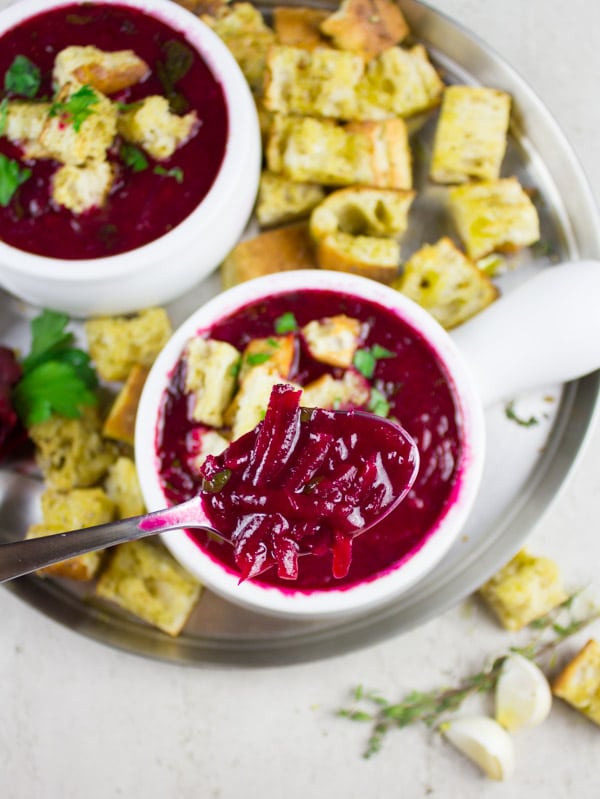 A few of you might not know that I lived in Moscow for nearly four years. I was in high school yet I remember it vividly. It was one of the posts my Dad served at, and one of the places we enjoyed living at. The first thing I got asked was, is it really that cold? The truth is, it wasn't! It's colder than most of Europe, but definitely not colder than Canada lol In the summer, Moscow was so very green. Daylight could go on till nearly midnight and we stayed out enjoying it all summer long ( probably two months in total, but totally worth it!). We had to learn some Russian words just to get by day to day communication, funny enough I still remember so many words!
I remember the local Russian ice cream sold on the streets—the creamiest thing I ever tasted! I remember my school, some friends and my high school years. You probably think I spent my high school years partying Russian style lol To the contrary it was the opposite! We didn't have much of a life at the time except with family friends, which is every teenager's dream lol I remember many gorgeous cities, parks, rivers around Moscow and most of all I remember eating many new delicious food!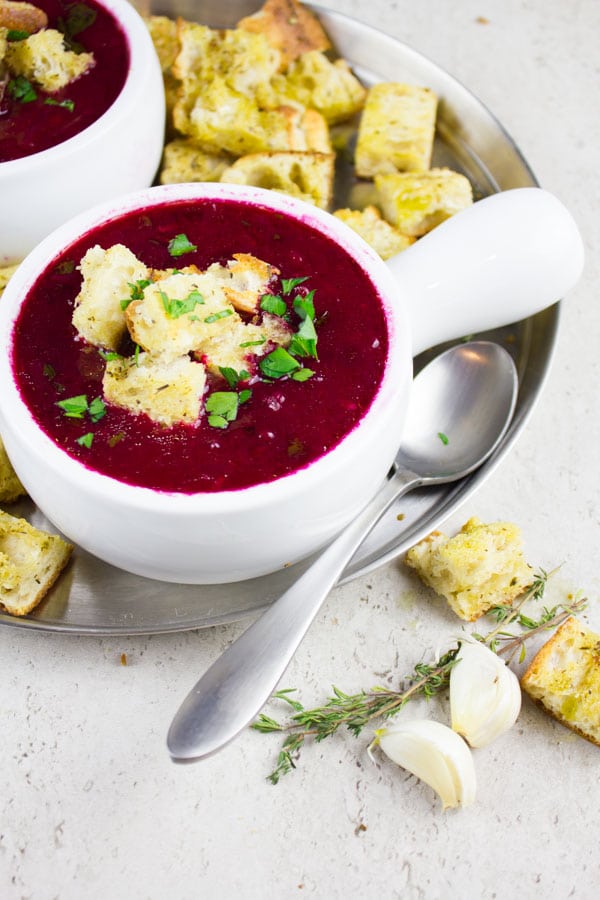 Back to the beetroot soup, a memory of my few years in Moscow which dragged with me till now. If you've followed the beet movement, then you know it's one of the healthiest foods. It's super rich in Vitamin C, Fiber and minerals like Potassium and much more! Luckily for me I find beets super delicious, so I make plenty of salads using it as a main ingredient. I also love adding it to any salad even if it's not a main ingredient like this Italian Balsamic Chicken Salad recipe.
When it comes to this beetroot soup, beets are absolutely totally mostly the main ingredient here. It's really one of those soups you can make and serve really hot on a cold rainy day. Yet, you can serve it cold or warm on Spring and Summer days and it'll fit perfectly too. The beetroot soup here is as classic as can be, so I've shredded the beets. I know some people dice the beets, but I can tell you that these shreds of beets add an extra touch of interesting texture to the soup!
Quick How To
You'll need to boil the beets until they're soft enough to be easily shredded. After that you'll quickly sauté the onion, garlic and celery with a neutral tasting oil. At that point, you'll add the stock, the shredded beets, a bay leaf, some of the beet water and cook for maximum 30 minutes. Finished off with a tablespoon of vinegar, some parsley and croutons. Perfect bowl of beetroot soup! For the record, some people add cabbage, potatoes, carrots and more veggie goodness. I love the old fashioned classic beet only beetroot soup and if you make it, you'll be totally surprised by how simple, easy and delicious it is! So Make it and enjoy 🙂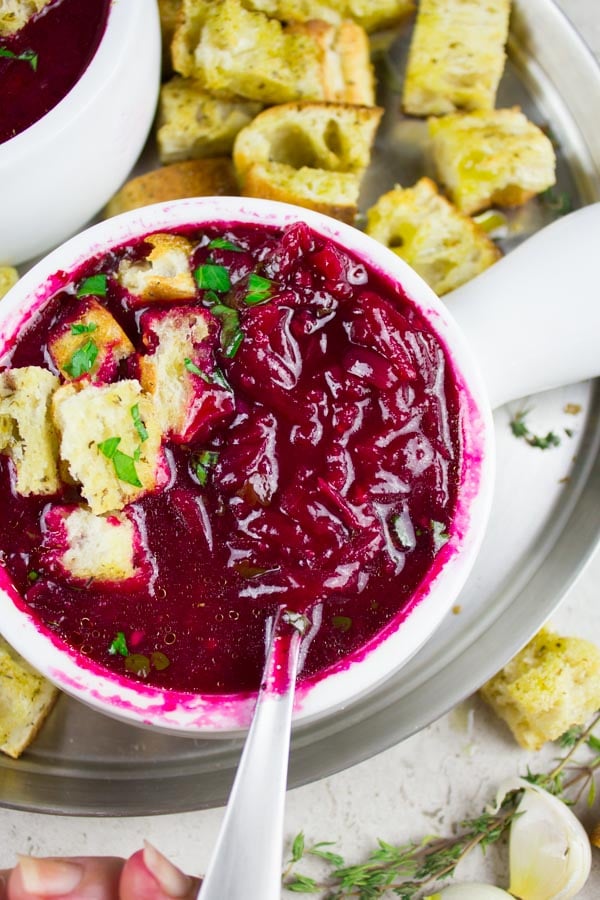 Recipe
Beetroot Soup Russian Style
Total Time
1
hour
5
minutes
Ingredients
2

pounds

of beets

, washed and peeled

8

cups

of water for boiling

1

tablespoon

of neutral oil

1

onion diced

2

garlic cloves minced

1/2

cup

of celery finely diced

3

cups

of stock

1/4

teaspoon

of salt and pepper

(more or less to taste)

1

bay leaf

1

tablespoon

of chopped parsley

Croutons for serving

( you can find my recipe in this post: )
Instructions
Place a large pot with the water over high heat and add in the beets. Let the beets cook for half an hour to one hour until it's tender enough for you to grate.

In the meantime, start making the soup so it can concentrate the flavors. Sauté the onion, garlic and celery. Then add the stock, seasoning and let that boil for at least ten minutes.

Remove the beets from the boiling water and let them cool for a little bit until they're cool enough for you to handle.

Start grating the beets and add them to the soup base.

The beets need to cook for 20-30 minutes further until they have a nice tender bite.

Add the vinegar and parley to finish off the beetroot soup and serve it with some croutons!

If you like topping your soup, sour cream is the best option! Enjoy 🙂