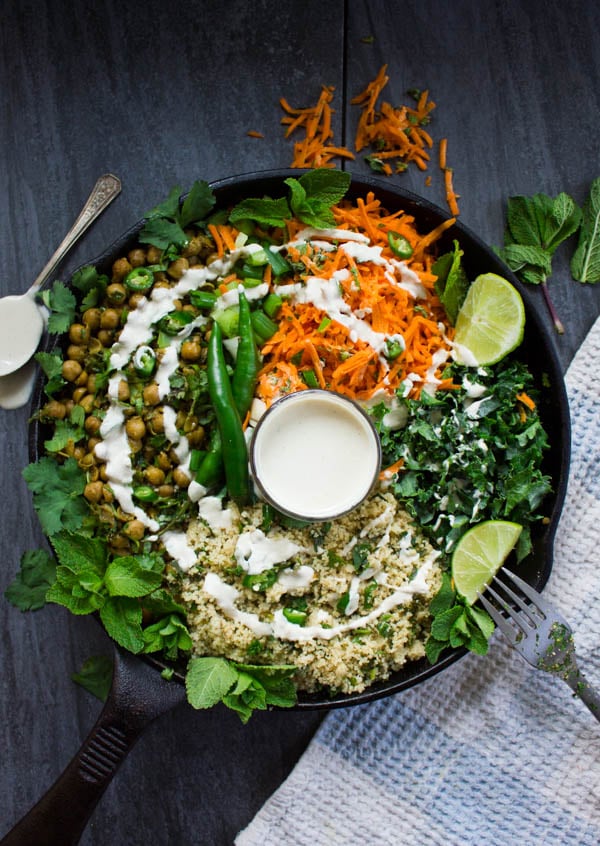 Looking for a really spicy vegan flavorful dinner? This spicy vegan chickpea Moroccan couscous recipe is for you! Loaded with flavor, protein, hearty grain, bright herbs, and a perfect tahini sauce. It's a perfect salad, a whole hearty dinner and a perfect vegan meal! We're cheating and using canned chickpeas to get this whole meal done in 20 mins! That makes a perfect meatless busy night go-to option! 
I LOVE meals like this spicy vegan chickpea Moroccan couscous. It's a bright, fresh, vibrant and deeply spiced meal that feels light as air, yet filling and fuelling. And as a bonus, it's absolutely quick, straight forward and totally adaptable. So feel free to play around with the type of protein, grain, herbs and dressing every time. This particular combo is very special to me though.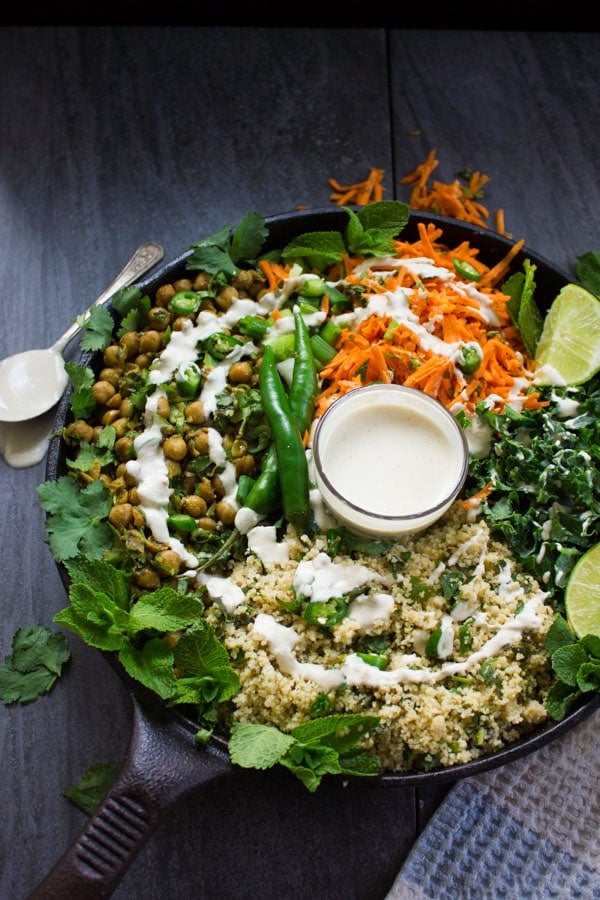 I was talking a few weeks ago with my lovely grandma. I am so blessed to have had really kind and loving grandmas. I've lost one 20 years ago but I've never forgotten her. So my sweet grandma that I was speaking with had suffered terribly in the last 6 months from health issues. She is gradually trying to pick up her strength now, but along the way she completely lost her appetite. I mean completely. Lately she's been open to a vegan diet, but she constantly needs ideas, motivation and SPICE. This super fab one bowl recipe here was right up her alley. And this is BIG considering this lovely lady would leave the room if fruit was on the table.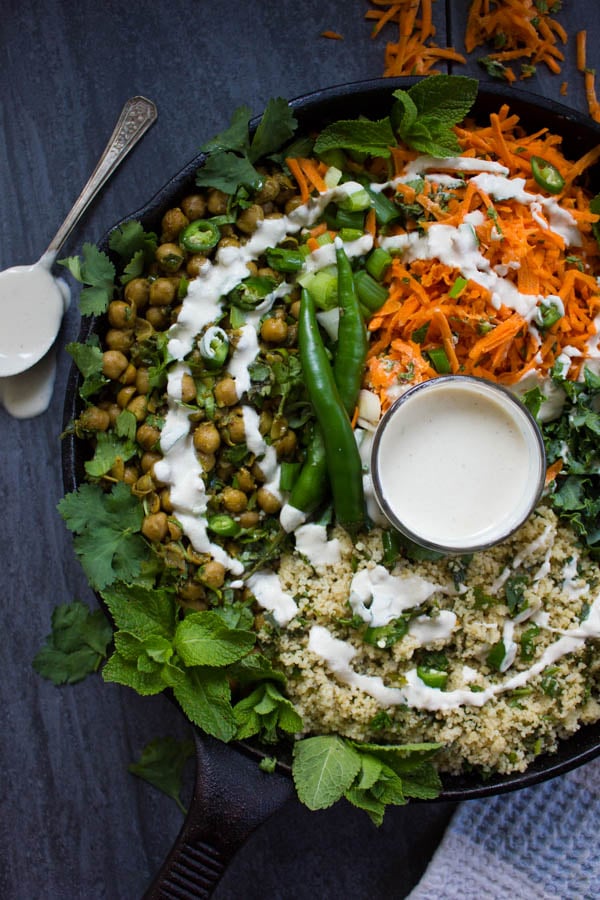 Not too long ago, my sweet grandma would cook up a storm when I'm visiting. She wasn't the most creative in the kitchen but she had a few "signature dishes" that no one else can make like her. So she made them over and over, and we ate them over and over with the happiest smile on our faces! 🙂 She constantly pampered us (and still does!), she takes all the craziness my girls make at her house with a smile on her face, and deep down I feel she still thinks of me as a kid myself 🙂 lol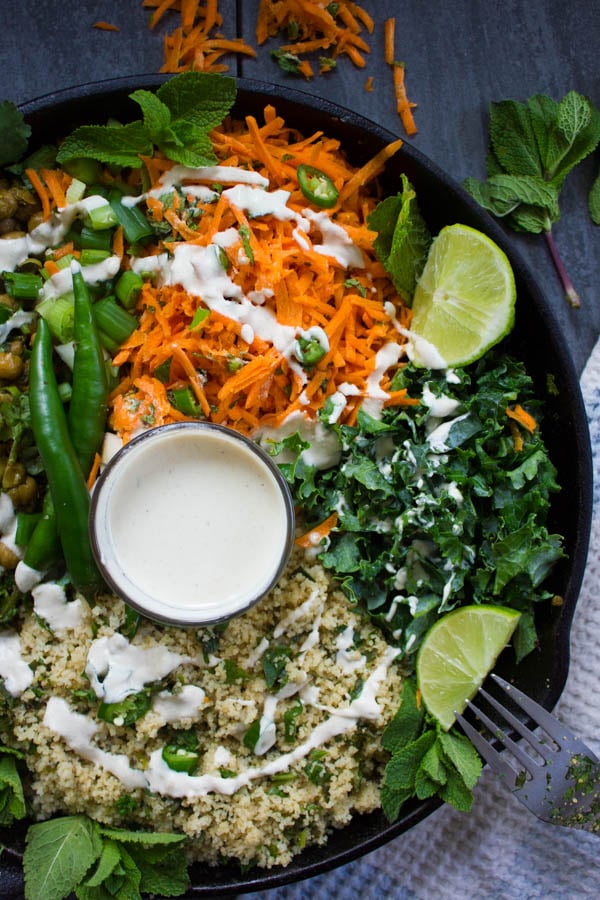 So back to this awesome grandma approved spicy vegan chickpea Moroccan couscous— we're going to think of the chickpeas as the "protein" factor, so we'll cook them just the same way we would be cooking some spicy chicken. A sauté of onions and garlic first, then chickpeas go in with plenty of spice, and then fresh cilantro, parsley and mint finish off the chickpeas.
Now about the couscous, you can replace it with quinoa, buckwheat or millet for a gluten free meal, or barely, bulgur for more wheat hearty textures. I picked whole wheat couscous today for a few reasons, a-it's a perfect match to the spicy Moroccan chickpeas and b-it cooks in less than 15 mins! Store bought couscous is now all pre-boiled, all it takes is boiling water poured over the couscous, and a lid to cover up the couscous (no stove/oven or heat required at all!). 10-15 mins later, all the boiling water gets absorbed and couscous is perfectly tender. A bunch of chopped herbs (cilantro, parsley and mint) and a lemony sumac spice…and it's done!
So this perfect 15 mins all in one spicy vegan chickpea Moroccan couscous is ready to go—except for the dressing: this perfect tahini sauce. I strongly urge you not to skip or swap this sauce for anything else! It's ultra creamy (healthy creamy!), ultra bright and tangy from the lemon juice, ultra smokey and spicy from the cumin and just overall a kick of life into this whole meal!
Before I let you go, I have t mention this fabulous Moroccan carrot salad which deserves a recipe post on its' own! This fits the saying:—when life gives you carrots, make Moroccan carrot salad! It's absolutely quick, light, easy, SO delicious and crunchy with a perfect balance of tahini sauce and raisin sweetness, all rounded up with a bright burst of fresh mint—SERIOUS goodness. And seriously you wouldn't believe how this salad adds life to the humble carrots!
So go ahead and try a meatless, perfectly vegan, full meal that will make a new dinner table favorite! Enjoy 🙂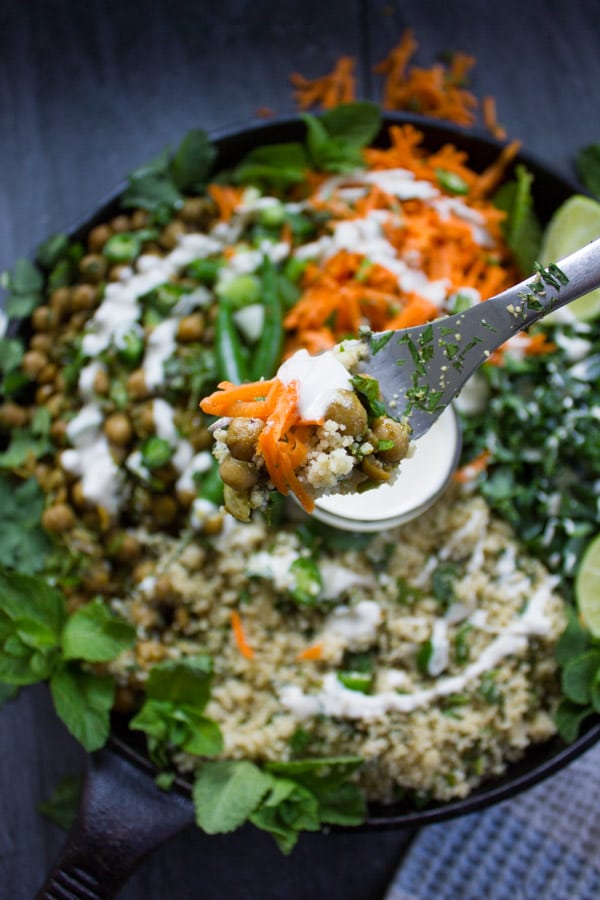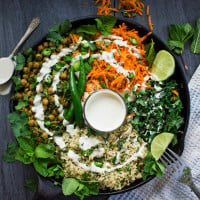 Spicy Vegan Chickpea Moroccan Couscous
Ingredients
For the Chickpeas:

1

Tablespoon

of olive oil

1

small red onion

, thinly sliced

2

garlic cloves

, minced

2

cups

of drained canned chickpeas

1/8

th teaspoon of salt

1/4

teaspoon

of black pepper

1/8

teaspoon

of cumin

1

teaspoon

of turmeric

1

teaspoon

of paprika

1/4

teaspoon

of allspice

1/8

teaspoon

of cinnamon

1/4

teaspoon

cayenne pepper

(more or less to taste)

1/4

cup

of vegetable stock

(or water)

1/2

cup

of chopped fresh herbs

(cilantro, parsley,mint)

For the Couscous:

1

cup

of whole wheat couscous

2

cups

of hot boiling water

(or stock)

pinch of salt

pinch of black pepper

1/2

cup

of fresh herbs

(cilantro,parsley, mint)

1

teaspoon

of olive oil

1/4

teaspoon

of sumac spice

(optional)

For the carrot salad:

2

cups

of shredded carrots

1/4

cup

of chopped fresh mint leaves

1/4

cup

of raisins

1/4

cup

of perfect tahini sauce for drizzling

To dress up:

Perfect Tahini Sauce

Fresh Kale for serving

(optional)
Instructions
For the chickpeas: Preheat a cast iron or skillet over medium high heat with olive oil, Saute the onions and garlic for 2 minutes until softened and slightly golden, then add in the chickpeas and spice. Sauté the chickpeas until the spice is toasted and fragrant and then add the water (or stock). Bring it to a boil and turn off the heat. Add int he fresh herbs.

For the Couscous: In a large bowl (or pot), add the couscous and boiling water. Cover it tightly for 10-15 mins until all the liquid gets absorbed. Then uncover the couscous, add the fresh herbs, olive oil and sumac.

For the carrot salad: mix the carrots, mint and raisins. Drizzle the tahini sauce on top.

Serve the bowl (or bowls) with couscous on one side, chickpeas on the other and the dressing over the top.