This shop has been compensated by Collective Bias, Inc. and its advertiser. All opinions are mine alone. #KingofFlavor #FlavorRocksNTL #CollectiveBias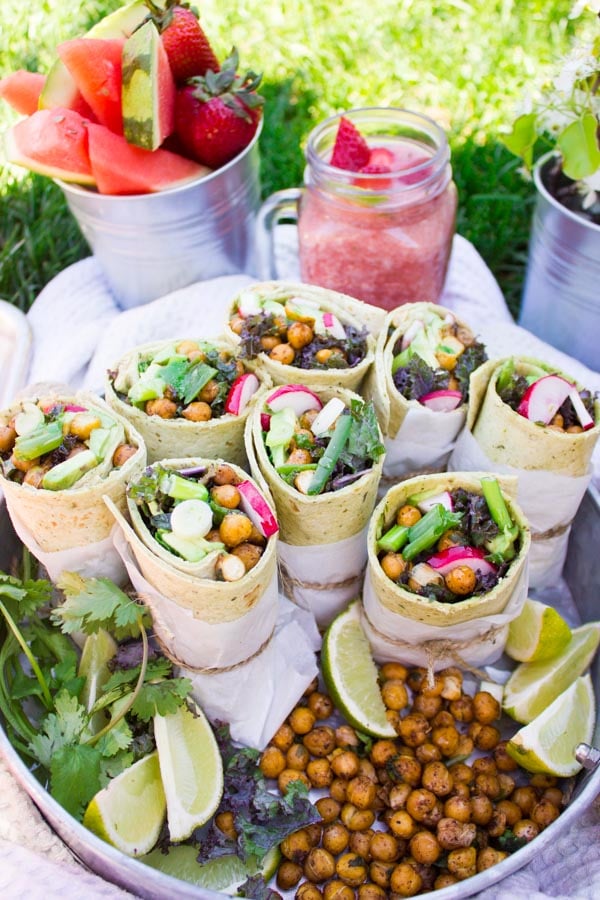 It's finally Spring and it's gorgeous outside!! Like not hot not cold weather, just perfect to pack some yummy goodies and head out to enjoy. Here's one of my favorite goodies to pack—simply the Best Roasted Chickpeas Wrap. Light and packed with flavor, these wraps need minutes of prep and stay fresh all day long 🙂 
Guess what? It's all about my favorite El Yucateco® sauces again! Ok I know I've mentioned it before, but have you guys tried them yet?! Remember how my Mom was visiting last month? I got her to try them and while she was skeptical why I brag so much about them, she ended up finishing off all my sauces!! YES they're this GOOD! On the blog, I've made those GameDay Habanero Mini Burgers and Chicken Shawarma in lettuce cups using them, and in everyday life I probably add them on just about everything lol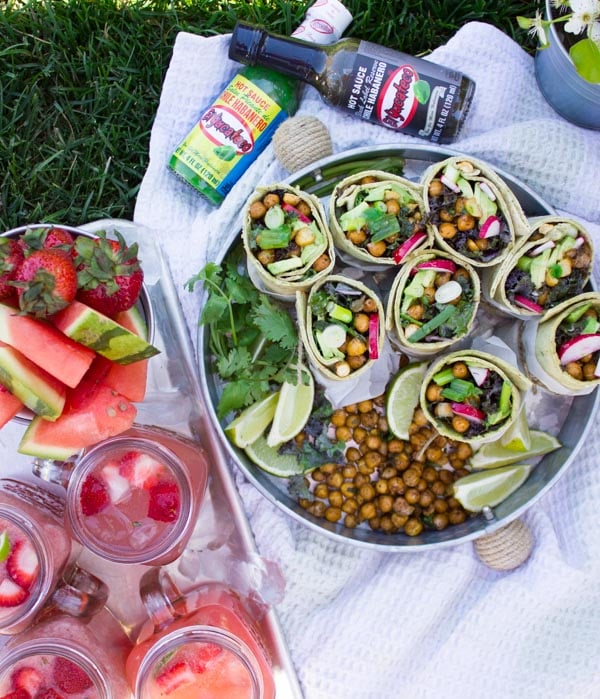 Before we dive in to these awesome roasted chickpeas, I wanted to share yet another fun Winning with El Yucateco® Sweepstakes! And because the weather is just perfect, El Yucateco will now be available at select stadiums and The House of Blues, and since they are music lovers just like us, they want to give you the chance to win a once-in-a-lifetime musical experience.
#KingofFlavorSweepstakes (5/9 to 7/4)

When we used to live in Miami (Please take me back!), there were Music festivals all year long. All year. Before Miami, I grew up in Europe—where life is quiet and organized lol We still listened to some classic pop with those huge discs (80's style!), later on my brother got crazy about hip hop and R&B so it just played 24/7. Seems like all I knew was this almost cool tone of music. Then suddenly I went to Miami, and from there I couldn't couldn't get enough Latino Music! It was just invigorating!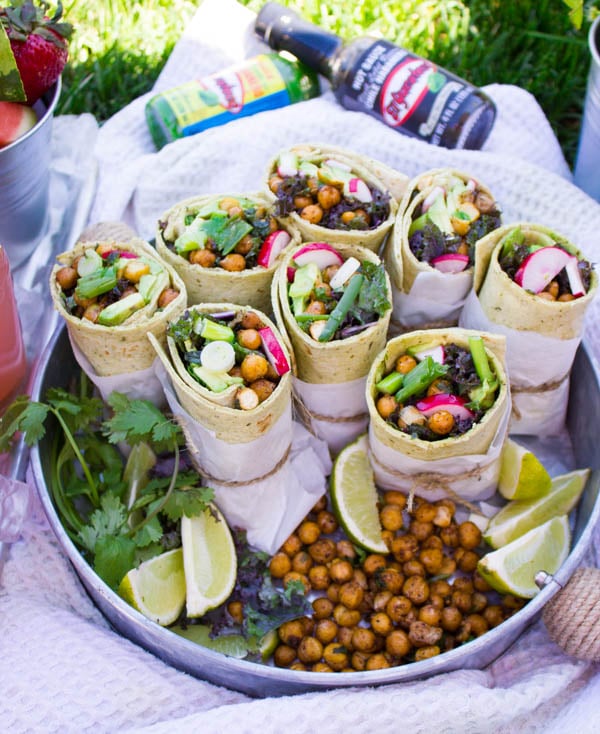 I still go for visits every year, and love heading out to Music festivals in the Bayside area. My girls are finally old enough now to enjoy Music and dance a bit, rather than running from playground to the other! I'm also lately finding a soft spot for jazz in my heart, which I love because it relaxes me completely. Local bands, local artists, gorgeous weather and fresh food-that's what Spring and Summer are all about 🙂  My favorite food to pack for a Music festival day is always something cold (or can be eaten cold) and something light as air so you can dance away without feeling heavy! 🙂 These wraps with roasted chickpeas are simply a perfect treat for such a fun day.
First of all, it's all about the roasted chickpeas. They're not only awesome in the wraps but they're addictively awesome to snack on all day! Plus they're fabulous to add on to your salads, soup toppings, sandwiches, pizza (YES), pasta..you name it! For this wrap, most of all these roasted chickpeas add the bulk of flavor and texture. They're slightly spicy, crispy, filling and hearty. And they're super nutritious too! So it's a win win.
There are a bunch of ways to do roasted chickpeas, I love a high heat oven for less time. This works especially well here because I'm adding my one and only El Yucateco® Black Label reserve Sauce to them, so they soak up all the sauce and roast perfectly. The Black Label reserve Hot sauce is a smoky one. It's made from fire roasted habaneros so it's a perfect balance of heat, smokey flavor without the sweetness of a classic chipotle sauce. I also love a dash of my El Yucateco® Green Habanero hot sauce in the wraps. Frankly they're all so amazing. They taste like REAL habanero—not vinegar lol It's actually habanero handpicked and hand crafted from their fields which explains the fresh taste. And those cute little to sauce jars can fit right in your purse anywhere you go, so you can jazz up your food anytime any place!
Finally let's assemble the roasted chickpeas wraps. Here's the fun part—play around with your favoirite wrap ingredients! Swap some stuff around, add more of something, take another thing off completely. You can't go wrong! I'm spreading more hot sauce at the bottom of my tortilla, adding purple kale, roasted chickpeas, sliced radishes, sliced avocados, scallions and a squirt of lime. Roll up, cut in half, tie with paper and pack to go! These wraps are perfectly vegan and you won't miss a dollop of mayo in here, they're filling and hearty enough thanks to the roasted chickpeas!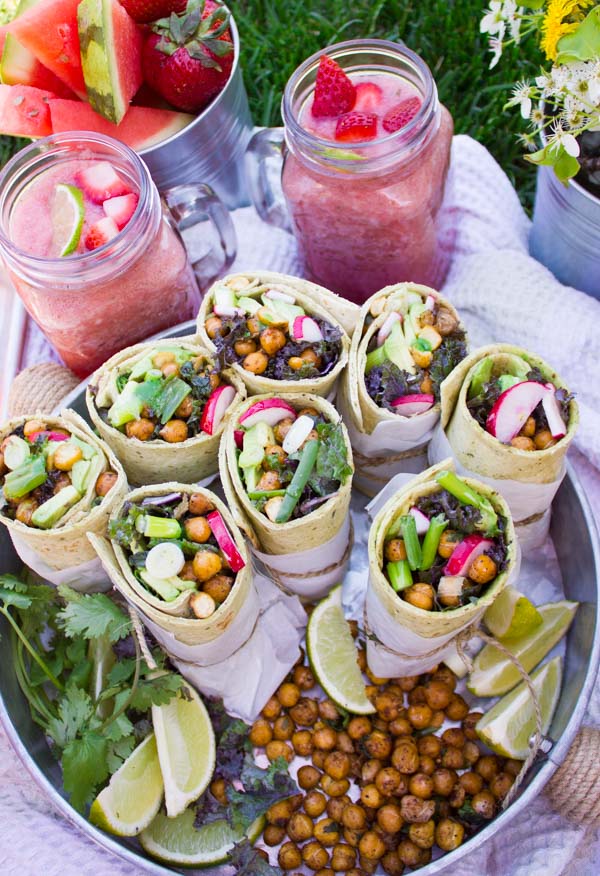 Next time you've got a Music fest in town, or going for a picnic/beach/mountain hike, anywhere, make those roasted chickpeas wraps. They're really the BEST. And if you haven't tried El Yucateco® sauces yet—you're missing out! They're SO GOOD! Nothing like your average joe hot sauce. And the good news is now you can print this coupon through July  for a $1 off when you buy three bottles!

There's plenty of delicious recipes and inspiration here, you'll sure find a new way everyday to enjoy El Yucateco® with more music love! Go ahead and indulge with these sauces, make some roasted chickpeas wrap, listen to your favorite music playing and enjoy!! 🙂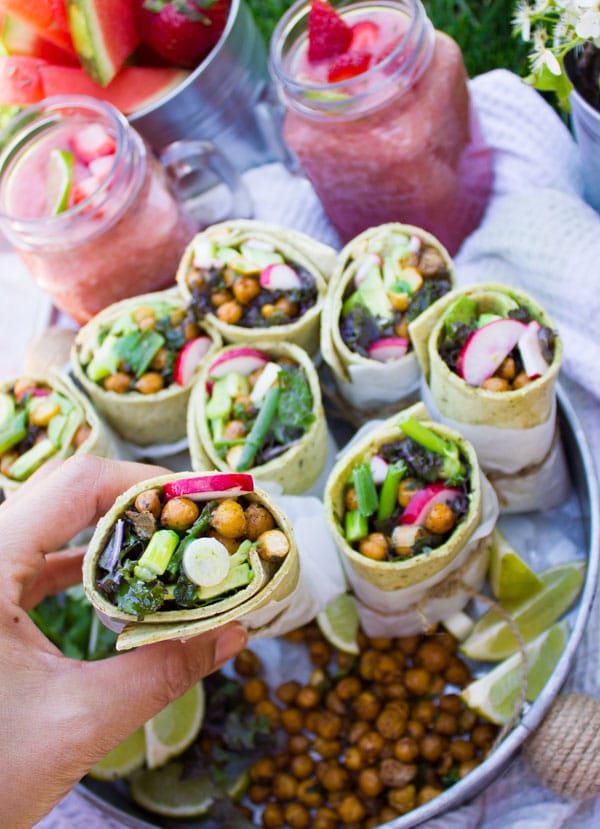 Best Roasted Chickpeas Wrap
Here's one of my favorite goodies to pack—simply the Best Roasted Chickpeas Wrap. Light and packed with flavor, these wraps need minutes of prep and stay fresh all day long 🙂
Ingredients
Roasted Chickpeas:
3

cups

of drained and rinsed canned chickpeas

1/4

cup

of El Yucateco® Black Label Reserve

1/4

teaspoon

of salt

1/2

teaspoon

of oregano

1/4

teaspoon

of paprika

1/8

teaspoon

of garlic powder

1

tablespoon

of olive oil

1/4

cup

minced cilantro leaves
Wraps:
6

large Tortillas

(any flavor you prefer)

6

teaspoons

of El Yucateco® Green Habanero Sauce

2

cups

of purple kale chopped

2

avocados

, sliced

3

large radishes sliced

3

scallions

, chopped

1

lemon
Instructions
Preheat the oven to 425 degrees.

In a large bowl add all the chickpea ingredients except for the cilantro. Toss well to coat and spread the chickpeas in a single layer on a baking sheet (lined with parchment paper).

Roast the chickpeas for 25 minutes (stirring frequently to make sure they roast evenly).

Once the chickpeas are done, allow them to cool slightly before starting the wraps.

Place a tortilla on a flat surface and spread with the hot sauce, add the kale along the centre of the tortilla. Pile the remaining toppings over the kale along the centre of the tortilla too, leaving an inch clearance on the both sides.

gently fold the sides of the tortillas over the filling before you tart rolling (that way the filling doesn't fall off the wrap), and then start rolling the tortillas.

Slice each wrap in half and serve! Enjoy 🙂