Print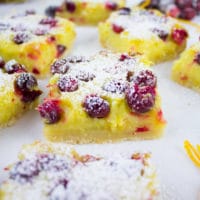 Orange Lemon Squares with Cranberries
If you've been looking for a perfect Lemon Squares or Lemon Bars recipe, look no further! I've found these Orange Lemon Squares to be the perfect balance of tangy, citrusy, creamy and sweet. Every bite is pure lush! I've spiked them with some cranberries for a more festive look, but you can totally skip or swap that for another type of berry. This is a really easy one, just mix and bake :)
Optional: Confectioner's sugar for dusting.
Preheat the oven to 375 degrees. Line the bottom of an 8 inch square pan with parchment paper.

Make the crust by mixing all ingredients except the butter in a large bowl. Add the butter and use a fork to whisk it in the flour mixture. It will clump and be a mess, but just keep mixing it until the butter has blended in and the mixture looks like crumbs.

Pour the crust crumbs to the bottom of the lined pan and press it down using your hands evenly to form a crust.

Bake the crust for 15-20 minutes until it hardens slightly.

In the meantime, in the same large bowl, whisk the filling ingredients. Start whisking the flour, sugar and eggs. Then add in the remaining ingredients while whisking them well. Pour the filling mixture over the baked crust and return the pan t the oven.

bake the squares for 25 minutes until it sets and puff slightly. Remove the pan from the oven and let it cool for 30 minutes.

Cut the squares into about 2 inch size, dust with confectioner's sugar ad serve! Or chill the lemon squares for up to 5 days int he fridge. Enjoy :)
Nutrition Facts
Orange Lemon Squares with Cranberries
Amount Per Serving
Calories 172
Calories from Fat 36
% Daily Value*
Fat 4g6%
Cholesterol 50mg17%
Sodium 19mg1%
Potassium 42mg1%
Carbohydrates 32g11%
Protein 3g6%
Vitamin A 172IU3%
Vitamin C 6mg7%
Calcium 12mg1%
Iron 1mg6%
* Percent Daily Values are based on a 2000 calorie diet.