This tri-colored mini potato gratins recipe is the perfect side dish to any meal, any season, any occasion, anytime of day! It's creamy, soft, sweet, comforting potatoes with a hint of thyme, garlic and parmesan in every bite! Baked in a muffin pan for easy individual serving size, and for a speedy way to get those beauties on your table on a busy day!
Potatoes, potatoes and more potatoes for us here! Yes I absolutely love any side dish that involves potatoes, and luckily I know a bunch of people who do too, so that's double the reason why I come up with recipes like this tri-colored mini potato gratins 🙂
I love siding those to a nice roast chicken like this really easiest garlic herb roast chicken recipe which is pure roast chicken comfort in just 35 minutes! And with those fabulous tri-colored mini potato gratins—a dinner dream. But that's not to say these won't pair beautifully with this grilled steak with rosemary lemon butter, because they very much do—and that's another dinner dream! Or paired with a light salad for a light and vegetarian dinner dream!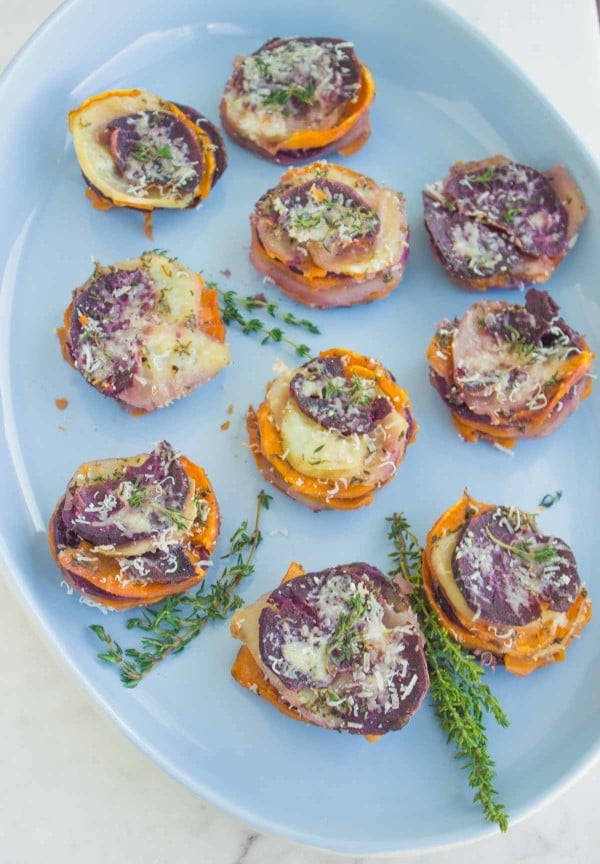 I love making these tri-colored mini potato gratins in individual sizes like this for many reasons, it cuts back on my baking time which is always a plus! They're easier to serve and portion, and, you guessed it—they look much fancier 😉 I suppose I do have a thing for mini servings, hello tomato tart tatins and kale veggie mini frittata  and mini raspberry cheesecakes and mini Brooklyn blackout cakes and mini chocolate pudding cakes… you get the idea. But that doesn't mean this recipe can't be made into a nice big serving dish—it absolutely can and will absolutely taste just as delish:)


I start off by slicing three types of potatoes, I use russet potatoes, sweet potatoes and gorgeous purple sweet potatoes, feel free to use one or any combo of potatoes you have on hand. I usually never skip the sweet potatoes because I love that touch of sweetness it offers—but it's totally optional. And I always use a mandolin slicer because it gives me exact same thickness slices, and it makes my life easier! If you don't have one, try to slice the potatoes as uniform as you can so that they all cook at the same time.
Once all your slices are ready, stack them in a foil lined muffin pan cavity, alternating the potato colors. The foil here makes clean up a breeze, and makes removing the tricolored mini potato gratins from the muffin a breeze once they're cooked! So I encourage you not to skip it! Now to flavor up those lovely potato slices, I use a mixture of fresh thyme, garlic and Parmesan cheese. You can use whatever herbs you like—rosemary is always a great pair with potatoes (remember those mashed potato rosemary crisps?) or go bolder with flavors, like cilantro and spices with the garlic, you can switch to scallions or shallots, and you can definitely play around with the cheese too. So this recipe is more of a classic, one that you can't go wrong with, but its definitely not absolute!
So once you've decided on your flavors and your potato slices are nice and stacked, add those flavors to a good amount of milk—this will help cook the potatoes. The tri-colored mini potato gratins are then covered with a layer of foil ad baked for 20 minutes until nice and soft, then uncovered and baked for 5 minutes more to dry out any liquid. Now classically in France, these potato gratins (classically known as potatoes dauphinoise) are cooked with a mixture of stock and cream, sometimes entirely cream, yes cream, and we all know everything does taste better with cream. However I opted to use only milk here and skip the stock, so I get a more cream like taste without having to use cream and freak some people out (hint: my husband—the anti-cream-in-my-food-person). I can promise you it tastes just as creamy, and that's coming from me—the i-love-cream-in-my-food-person! Make this lovely side dish next time you crave potatoes and enjoy! 🙂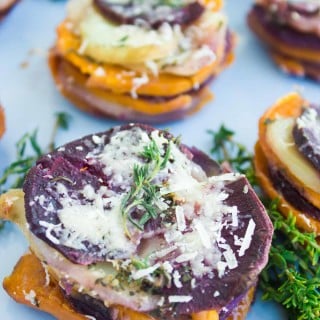 Tri-colored Mini Potato Gratins
Ingredients
2

medium Russet potatoes

1

large sweet potato

1

large purple potato

2 1/2

cups

of hot whole milk

(or low fat for a less creamy taste)

1/4

teaspoon

of salt

1/4

teaspoon

of black pepper

2

tablespoons

of fresh thyme

, minced

2

small cloves of garlic

, minced

1/3

cup

of Parmesan cheese

, freshly grated

Extra 1/4 cup of Parmesan cheese for serving
Instructions
Preheat the oven to 425 degrees F.

Slice the potatoes using a mandolin slicer or a food processor to thin even slices—as thin as you can, around 1/16th of an inch thick. Alternatively, slice them by hand as thin and uniform as you possibly can.

Line each cavity of a muffin pan with aluminum foil and make sure the bottom and walls of the cavity are covered.

Stack up the potato slices in each muffin cavity alternating colors and fill up the muffin pan about 3/4th f the way.

In a large measuring cup, Add in the hot milk, garlic, thyme, parmesan cheese and seasoning. Whisk the milk mixture well.

Pour the milk mixture evenly over the potatoes and cover them up with a layer of foil.

Bake the potatoes for 20 minutes until the are fork tender, then uncover the potatoes and bake 3-5 mins more until no more liquid is there.

Allow the potatoes to cool down for 5 minutes before unfolding them from the foil and serving them. It's best to remove each potato gratin from the pan with its foil lining and then tear apart the foil.

Sprinkle extra Parmesan on top of each mini potato gratin.
Nutrition Facts
Tri-colored Mini Potato Gratins
Amount Per Serving
Calories 83
Calories from Fat 18
% Daily Value*
Fat 2g3%
Cholesterol 7mg2%
Sodium 123mg5%
Potassium 265mg8%
Carbohydrates 12g4%
Protein 4g8%
Vitamin A 1696IU34%
Vitamin C 5mg6%
Calcium 104mg10%
Iron 1mg6%
* Percent Daily Values are based on a 2000 calorie diet.