This tomato garden vegetable soup recipe is hearty, warming and a perfect rainy day companion. It has a light smooth tomato base broth that's packed, and sweetly balanced with the veggies. To make this a super filling and fuelling soup, I add chickpeas, cannellini beans and pearl barley to it— so this way it can be a meal on its own! Serve it with crunchy baguette slices and top it with oregano and parsley pistou for a burst of freshness!
I've been longing and feeling like soup for a while now, but I kept fighting this feeling. I could be trying to brush away the thoughts of cold cold cold days when soup was my best friend. Or I could be too excited about pumpkins and pumpkin season that I end up making something pumpkin-y sweet and push the soup for another day.
Well the day has come…that rainy day I've been chasing away from my mind, that first breezy cold rainy Fall day. The one that makes you give in, and look in the fridge for what you've got that can be turned into a soup. For me, this tomato garden vegetable soup came to the rescue. I found carrots, zucchini, fresh corn, sweet bell peppers, cremini mushrooms, cabbage, tomatoes and fresh kale. I mean that's like my dream vegetable garden if I ever have one!
Then I felt this tomato garden vegetable soup as lovely as it would be with just the veggies, needed a bit more character to it. I found canned chickpeas and cannellini beans—perfect. And I wanted to add in quinoa but found only the black one, so I skipped and went for the pearl barley this time. If you want a totally gluten free soup, add in quinoa, millet, buckwheat kasha or any gluten free goodness grain/seed.
I love shredding the carrots and zucchini here because they cook so much faster, and because a certain fussy little eater at my home doesn't appreciate biting into a cooked carrot—yes a fresh one is ok, cooked one is not. Any-y-way, aside from the faster cooking time, shredding also makes the veggies look as uniform as possible in this tomato garden vegetable soup. And the beans, pearl barley, chickpeas and corn also look as uniform as possible to each other. So again, this fussy little eater will easily spot and see what she wants and what not—now everyone's happy!
I love topping my soup with some fresh herbs for a burst of flavor and freshness. A pistou is just a mixture of minced herbs (or just one) and garlic, some olive oil and a pinch of salt. So it sounds like a fancy French sauce, but it's simply the French pesto. I left out the garlic here so that it doesn't overpower my soup, and I chose the parsley/oregano combo to compliment the tomato garden vegetable soup. Serve this soup on it's own, with some toasted bread or however you like and enjoy 🙂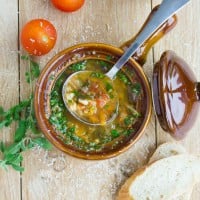 Tomato Garden Vegetable Soup
Ingredients
1

tablespoon

of olive oil

1

large onion

, finely minced

1

sweet bell pepper

, finely diced

pinch of salt

1

teaspoon

of dried oregano

2

cloves

of garlic

, minced

1

cup

of sliced cremini mushrooms

1

can of whole plum tomatoes in their juice

, finely diced

pinch of salt

1

teaspoon

of oregano

3

cups

of vegetable stock

1

cup

pearl barley

, quinoa, buckwheat kasha or your favorite grain/seed

2

large carrots

1 1/2

cups

of shredded cabbage

1

large zucchini shredded

1

packed cup of finely shredded fresh kale

1

cup

fresh corn kernels

2

tomatoes on the vine

, finely diced

1

cup

of mixed chickpeas and cannellini beans

Pistou:

1/4

cup

of minced fresh parsley and oregano leaves

2

tablespoons

of olive oil

pinch of salt
Instructions
Heat a large pot over medium high heat with the olive oil.

Add in the onion and sweet bell peppers and sauté them with a pinch of salt in the olive oil for 3 minutes until soft and nearly caramelized.

Add in the garlic and mushrooms and sauté them with the onion mixture for about 1 minute until the mixture is fragrant.

Add in the canned tomatoes (chopped finely) with heir juices and season with salt and oregano.

Then add in the stock and bring the mixture to a boil.

When the soup boils, add in the carrots, barley and lower the heat back to medium. The soup should be simmering and not boiling vigorously.

A few minutes later when the barley starts to soften, add in the cabbage and let it cook for 5 minutes before adding in the remaining veggies and beans.

Let the soup cook for about 8 minutes until all veggies are soft, barely is cooked and the beans are softer. Serve with pistou on top and some crunchy bread.

For the pistou: Mix all ingredients together in a bowl and add in garlic if you prefer.