This steak blue cheese caesar salad recipe is so beautifully simple and refreshing for the summer. It's a tender grilled piece of steak that's chopped on a bed of romaine baby arugula and topped with a creamy homemade blue cheese caesar dressing and more blue cheese crumbles–It's a beefy take on caesar that's all dressed up with blue cheese!
This is such an easy go to recipe for a fresh summer salad dinner that's so hearty and satisfying from the steak and so deliciously dressed with a blue cheese caesar. It's a blue cheesy twist on the classic caesar that's just the perfect match to the grilled steak.
I made this recipe a couple of years ago at a summer bbq cooking class, and the cooking school co-ordinator had doubts it would be well received. He was new and not the sweetest person to work with, but I had already been scheduled and couldn't back away form that class. So he insisted that a caesar salad is all about the caesar dressing and he just couldn't accept the blue cheese idea. I took the risk and he attended to dare me. I went on with the recipe and wow was it devoured and enjoyed by everyone—more than I expected!
The only grumpy person that day was the co-ordinator who still felt it isn't the caesar he knows—which was exactly the point, it is a twist on the classic! I like to think he actually did like this  steak blue cheese caesar salad but couldn't get over his ego, I mean he did finish a good serving of it! Either way I wan to make it clear this is not the classic Caesar—in my opinion this version is much much better with the steak.


The steak is so simply the grilled steak with rosemary lemon butter, which uses your favorite cut of meat, grilled equally on both sides, then topped with a tiny spoonful of lemon rosemary butter for a flavorful juicy finish. I can't stress how easy and sinfully good that steak recipe easy—it beats your favourite steakhouse—I promise! You can also use any left over steak you have on hand for this recipe which makes it super convenient.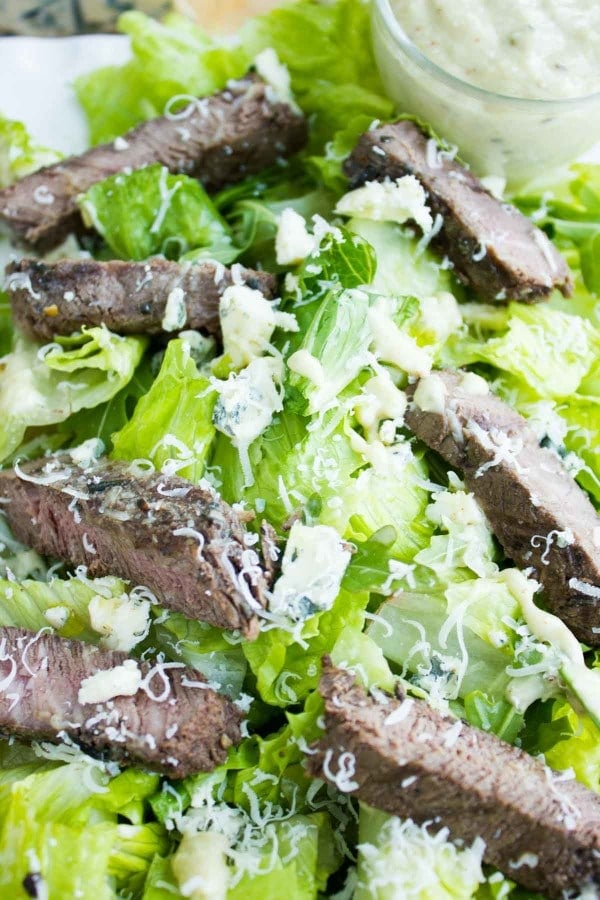 The dressing in this steak blue cheese caesar salad is what makes it stand out as a salad—super easy super fresh and super easy! Like always my food processor comes to the rescue—garlic, anchovies, blue cheese, mayonnaise, lemon juice, blue cheese, oregano and olive oil—and just like that you've got a creamy dreamy blue cheese caesar dressing! I toss a little bit of dressing with the greens, drizzle a little more on top and crumble extra blue cheese to finish off this lovely bbq summer steak salad with a twist!
Try this steak blue cheese Caesar salad next time you fire up your bbq and enjoy!:)
Steak Blue Cheese Caesar Salad
Ingredients
For the steak:

Grilled Steak with Rosemary Lemon Butter

For the Dressing:

1

large clove of garlic

2

anchovies

juice of half a large lemon

2

tablespoons

of mayonnaise

2

tablespoons

of blue cheese

1/4

teaspoon

of dried oregano

pinch of salt

pinch of pepper

2

tablespoons

of olive oil

Salad:

1

romaine lettuce chopped

1/2

cup

of baby arugula

Extra blue cheese to crumble on top
Instructions
Prepare the steak and set aside to cool. Slice the steak into strips of your desired thickness.

To make the dressing, place all the ingredients in a food processor and process until smooth and creamy. Taste and adjust seasoning.

Assemble the salad by tossing 2 tablespoons of dressing with the greens, drizzle more dressing over the top and place the steak pieces then top with more blue cheese crumbles.
Nutrition Facts
Steak Blue Cheese Caesar Salad
Amount Per Serving
Calories 127
Calories from Fat 117
% Daily Value*
Fat 13g20%
Cholesterol 7mg2%
Sodium 96mg4%
Potassium 18mg1%
Carbohydrates 1g0%
Protein 1g2%
Vitamin A 86IU2%
Vitamin C 1mg1%
Calcium 25mg3%
Iron 1mg6%
* Percent Daily Values are based on a 2000 calorie diet.