There's always room for soup in my life. Always. This Smooth Blue Cheese Broccoli Soup recipe came in yesterday and swooped everything else on the dinner table. It was luscious, creamy and very comforting with a touch of blue cheese twist. If you're a chunky broccoli soup lover, you can make this recipe as chunky as you like—although I think you might appreciate the creamy texture much more here 🙂 I top it with some crunchy pistachios for a great contrast in texture and an extra boost of flavor!
Just last week when I wrote this Juicy Spicy Turkish Meatballs, I bragged about the warm weather we were having..two days later our temperature dropped again and soup was back on our table. You know that feeling when you think you'll be off of soups for a while and suddenly a cold snowy day asks for soup badly, then you don't feel like any classic heavy soup. You start thinking of a different flavor twist on soup, a brighter creamy luscious feel. That's how the blue cheese twist happened to our classic broccoli soup today. A twist we absolutely devoured!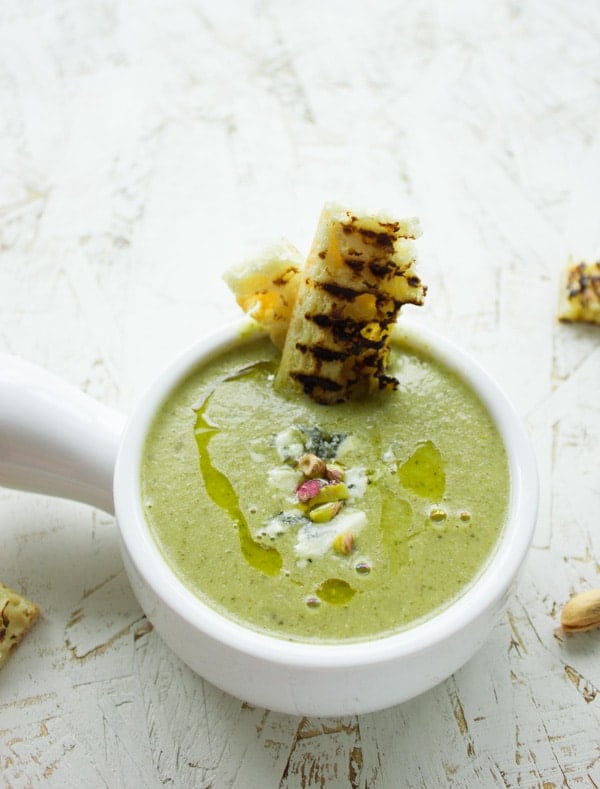 My dad, aka the King of espresso is also probably the King to be of blue cheese. He tops it off everything and just smothers it on toast in the morning. So as you could've guessed, he was the blue cheese influencer. BUT for the record my Vegan friend got me a brand of cashew based vegan cheese, it had a distinct taste quite similar to blue cheese. So I tried it with this broccoli soup and it was SOOO good too! If you're vegan, you can definitely make this soup and play around with different vegan cheeses—the stronger tasting the better.
Like all other soups on this blog and like all my cooking classes, I follow a few of my favorite tips and tricks. Making soup is a breeze, and it can go from a simple one ingredient soup to a handful of ingredients soup. Basically, the trick to making super delicious soup is to layer up your flavors, add some secret protein power soup thickeners and finish off with a sprinkle of garnishes that contrast the texture of your soup.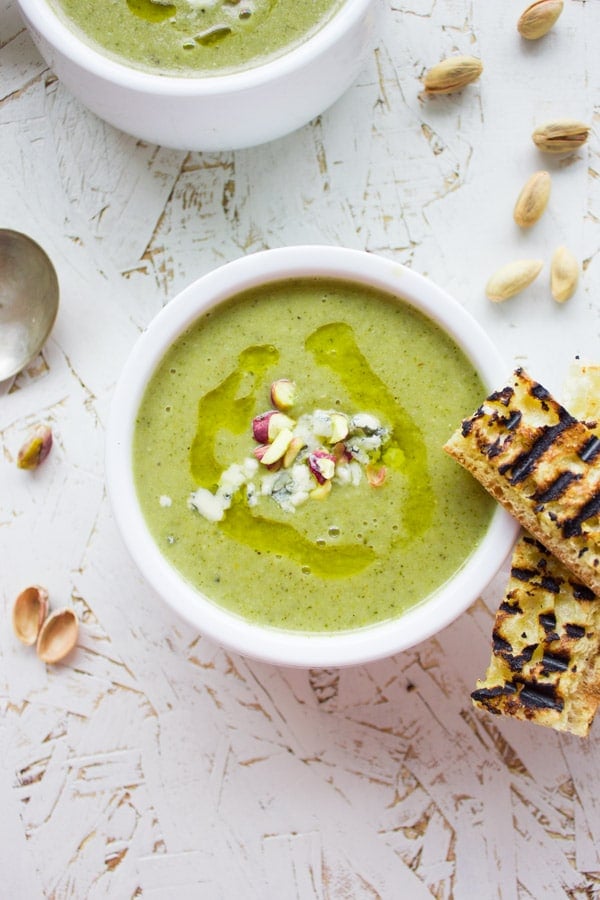 Tips
So here's the breakdown and details of the broccoli soup. It starts off with sautéing onions, a sweet bell pepper (sweetness and blue cheese go perfect together) and garlic. The first layer of flavor happens here by seasoning this onion mixture with oregano. Instead of adding all the oregano at once—either at the end or at the beginning of the soup, try breaking down the full amount of oregano (or the spice you'll be using in any soup) throughout the recipe. This layering of flavor makes a TON of difference to your soup!!
How To
Then goes in the broccoli and vegetable stock with more oregano. Once it cooks for just 10 minutes, then you'll go right in with the thickener. Classically and commercially soups are thickened with flour. But I love to thicken my soup with a few other things, oats are a great alternative, quinoa, barley, couscous and many other good for your grains/seeds work beautifully too. My favorite secret thickener would be navy beans. Good old canned navy beans. Rinsed off and added in the soup, navy beans add a nice creamy velvety smooth texture (without actually adding any cream!). Plus they add protein, fibre, you name it. I add them to nearly all my soups because they're super neutral tasting, so no one, NO ONE can ever detect the bean-y taste.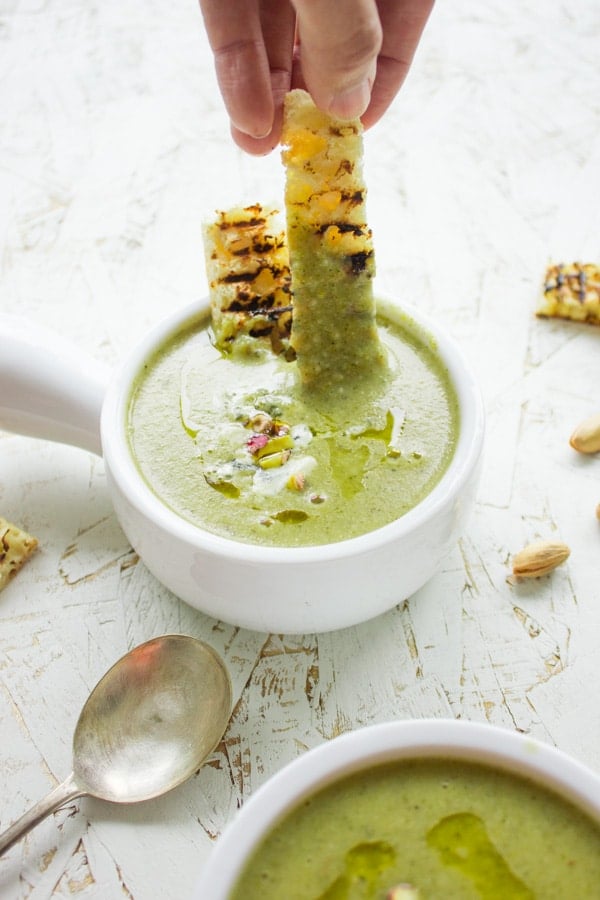 The broccoli soup at this point needs some blue cheese (or your vegan cheese), and just 10 more minutes of cooking time. I love pureeing it at the end with the final touch of oregano, and if the soup looks too thick I'll add in some stock a tablespoon at a time. To be safe, I usually start off my soups on the thicker side and thin it as I go, to leave that thick texture if I feel like it. To garnish this creamy dreamy luscious broccoli soup, I love a contrast of nuts—so I chose pistachios. Any type of nut works great here. I LOVE nut garnishes on my creamy smooth soups—like this Cauliflower Hazelnut Pear Soup (which also has a secret navy bean boost). A touch of blue cheese crumbles for another contrast of melt in your mouth cheese taste with the broccoli soup just adds the perfect final touch!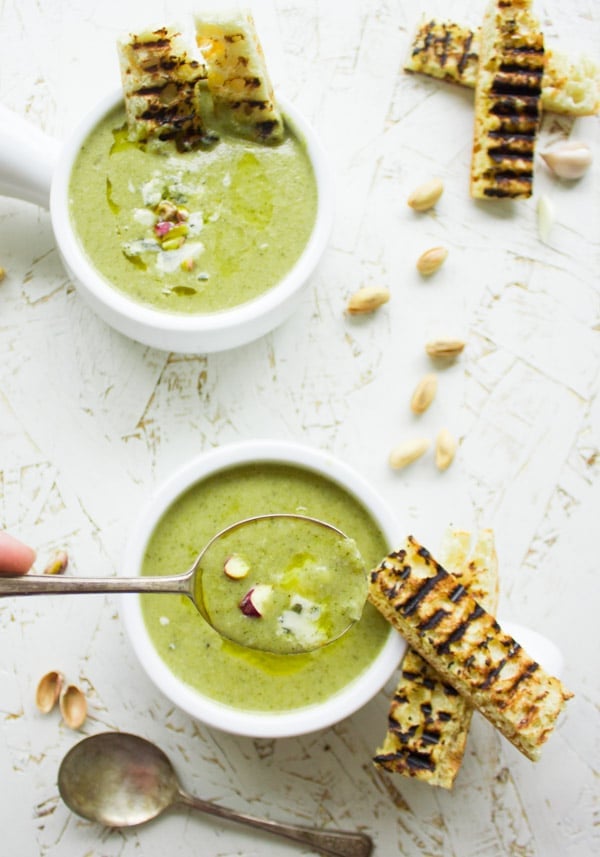 If you're somewhere warm right now and can't even don't even wanna think of soups, then I envy you!! And I'd love you to try something like this Orange Lentil Greek Salad? If you're having a rainy day, snowy day, and any comfort crying day—here's the best way out : Blue Cheese Broccoli Soup! Enjoy 🙂
Recipe
Smooth Blue Cheese Broccoli Soup
Ingredients
1/2

tablespoon

of olive oil

1

onion

, finely diced

Any 1 small sweet bell pepper

(green is best for color), finely diced

3

cloves

of garlic

, minced

1/2

teaspoon

of oregano

3

cups

of broccoli florets

(fresh or frozen)

4

cups

of vegetable stock

1/2

teaspoon

of oregano

1/2

cup

of navy beans

( if canned, drained and rinsed)

1/4

cup

of crumbled blue cheese

(use vegan cheese if vegan)

pinch of oregano

Garnish:

1/4

cup

of crushed pistachios

1/4

cup

of blue cheese crumbles

(or vegan cheese)

drizzle of olive oil

(optional)
Instructions
Sauté the onion, sweet peppers and garlic in olive oil over medium heat in a large pot. Add the oregano and sauté until the veggies are translucent and have a light golden color.

Then add in the broccoli florets and give it a 1 minute sauté before adding the stock. If you're using low sodium stock you'll need to add in some salt to your taste. And add the oregano.

Let the mixture come to a boil over medium heat and lower the heat to low, cover the pot and let the broccoli florets cook for 10-15 minutes (depending n the size of the florets).

Add the navy beans and blue cheese, and cover the pot again. Let the soup simmer for another 10 minutes until all the flavors blend together.

Uncover the pot, add a pinch of oregano and salt if needed, then use an immersion blender to puree the soup to a silky smooth texture. If you feel the soup is too thick for you liking, add a couple tablespoons of the stock at a time and puree. Repeat this step until you reach you preferred consistency. Or you can leave it as chunky as it is if you prefer a chunky soup.

Serve the soup garnished with crushed pistachios, crumbled of cheese and a faint drizzle of olive oil. Enjoy! 🙂