There's always a room for a nice hearty salad in my heart, even on cold days, rainy days and grey days. This Shrimp Salad recipe is loaded with tender lentils, creamy avocados, greens, juicy tomatoes, crunchy cucumbers, sweet bell peppers and sweet pomegranate arils. A really simple shallot and white balsamic vinegar is all this warm plate needs 🙂
We've been having our share of rainy days lately, it's feeling very much like Fall now and I've been drowning in soup after soup—mostly this Quinoa Sweet Potato Lentil Soup, this Sweet Potato Black Bean Soup, and this Moroccan Lentil Beans Soup. All seriously filling and hearty soups. And probably one of the best way to cheer up on grey days. I've certainly had a few of those lately.
I'm still super excited to chat about the shrimp salad recipe here, but I wanted to tell you about my friend's son who's been terribly sick lately. It's been tough trying to stay positive and strong while watching a young gentleman struggle so much for his health, and watching his family helpless around him. It suddenly seems like your perspective of things in life are wrong, and almost out of balance. It feels awful.
At some point you wish things could be still, and life to wait for you while you're trying to help that family. But it doesn't. So you end up fluctuating up and down, happy and sad, positive and negative, hopeful and hopeless… everything. And I know it's wrong, I should rather stay positive and hopeful for them all the time-which I am when I'm around them. But the minute I leave, things start to crumble here and there in my mind.
I don't want to take away from the shrimp salad recipe and make this post irrelevant for you guys, so I'll just keep it at that. But finally, if you could send in positive thoughts and prayers for Z's family—that's all they need right now! Thank YOU!
Another salad recipe? YES! Can there ever be enough?! I'm a die hard shrimp person. Do you remember this Shrimp Salad with Avocado Dressing recipe? It's one of the really old recipes on my blog, but a real crowd pleaser. Shrimp is my go to for last minute dinners—it cooks in literally 3 minutes 🙂 so it's certainly worth every succulent bite! For today's recipe I've broiled my shrimp—really high heat, salt, pepper, garlic, lemon and paprika.
Lentils, my beloved food are a must here! Not just because they're hearty, filling and delicious, but also for the reason that they're what make this salad feel like a comfort meal. A full loaded meal. Lentils add so much texture, touch of sweetness, creaminess, plenty of protein and pure YUM! I've written about my favorite ways of cooking lentils in this Mexican Style Lentil Detox Salad recipe—another MUST try salad 🙂
I think I mention this in almost all my posts, so I'll stress it here too—the other salad ingredients are totally up to you!! feel free to add, take away and swap things around to make it your own and make it feel like it's your dream shrimp salad recipe plate! 🙂 I've added greens, juicy coloured cherry tomatoes, crunchy cucumbers, sliced bell peppers, sweet pomegranate arils and sliced avocados.
Finally, the dressing. I wanted something sweet to compliment the lentils, shrimp and the other veggies. So I chose white balsamic vinegar. I also wanted some freshness to the salad, because lentils tend to love that, so I added some fresh oregano and parsley. I went back n forth between garlic and shallots, and shallots were my pick! They compliment the white balsamic vinegar the most 🙂 Now all you need is a touch of honey and some olive to make this dressing utterly smooth.
Drizzle the dressing over the salad, invite people you love to share this simple yet hearty Shrimp Salad Recipe with Lentils and Enjoy!!
MORE SHRIMP RECIPES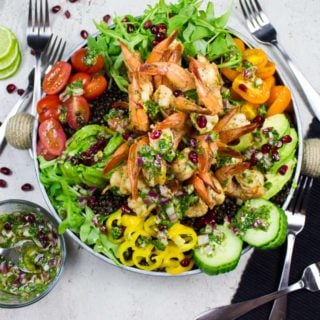 Shrimp Salad Recipe With Lentils Avocados And Shallot Vinaigrette
There's always a room for a nice hearty salad in my heart, even on cold days, rainy days and grey days. This Shrimp Salad recipe is loaded with tender lentils, creamy avocados, greens, juicy tomatoes, crunchy cucumbers, sweet bell peppers and sweet pomegranate arils. A really simple shallot and white balsamic vinegar is all this warm plate needs 🙂
Ingredients
For the Lentils:
3

cups

of cooked Black Lentils

or your favorite type

1/2

teaspoon

of salt

1

tablespoon

of olive oil
For the Shrimp:
2

lbs

of deveined

shelled shrimp (any size, I used 16/20)

1/2

teaspoon

of salt

1/2

teaspoon

of black pepper

2

cloves

of minced garlic

Juice of half a lemon

1

teaspoon

of paprika

smoked, regular or hot

1

Tablespoon

of olive oil
Salad Ingredients:
3

cups

of mixed greens

2

cups

of mixed cherry tomatoes

sliced in half

1/2

a large cucumber

sliced

1

sweet bell pepper

sliced

3/4

cup

of pomegranate arils

2

avocados

peeled and sliced
Salad Dressing:
1/4

cup

of white balsamic vinegar

1

tablespoon

of finely diced shallots

1

tablespoon

of finely chopped herbs

mixture of parsley and oregano or your choice

pinch

of salt

1

teaspoon

of honey

1/3

cup

of olive oil
Instructions
Preheat the oven to broil and set it on high.

Mix the shrimp with all the remaining ingredients and spread them in an even layer on a baking sheet.

Broil the shrimp for 3-5 minutes most until they're opaque and tender.

In the meantime arrange the salad platter with the lentils and all salad ingredients.

Make the salad dressing by mixing all ingredients in a small jar or container with a lid. Shake the container well until the dressing is homogenous.

Arrange the broiled shrimp on the salad platter and drizzle the dressing over the salad. Mix lightly, serve and enjoy! 🙂