It's pumpkin season again!! And this Roast Pumpkin Mediterranean Salad recipe is a great way to try the savory side of pumpkin. This Thanksgiving forget the cinnamon and spice, forget the pumpkin desserts, and go for a zesty, spicy and comforting roast pumpkin salad. Side it to any main dish you're making—it'll add the perfect kick!
My dearest reader, there's something so exciting today. Actually there are a few amazing exciting things today—I've managed to pull together my very first VIDEO!! Oh that was quite an experience! Plus, I'm pairing with 6 fabulous Canadian bloggers to host a virtual Friendsgiving sponsored by the amazing Vitamix! And guess what? We'll be hosting a special giveaway and you'll have a chance to win your very own Vitamix blender!!! YES! This will be happening on September 22nd—mark your calendars and come by to enter for the giveaway and check out our awesome Friendsgiving menu!
Ok now deep breath. Let's talk a minute about this Mediterranean salad with roast pumpkin. Don't you just love pumpkin season? I'm one of those who can have pumpkin all year long. Aside from sweets and pumpkin spice (which I absolutely love too), pumpkin has such a neutural sweet taste and a melt in your mouth smooth texture when cooked. So it's a great candidate for savory dishes—did you miss this Kale Mushroom Pumpkin Alfredo Pasta recipe I made last year?
Now for today's salad, I'm roasting it. Those cubes of roast pumpkin and pearl onions with just a touch of seasoning add plenty of texture and hearty feel to the salad. And this hearty feel is pure comfort, specially for the Holidays! I chose a really special dressing for this Mediterranean salad, which is different than the usual Thanksgiving and Holiday flavors. That's because I'm noticing how so many people are asking for a twist on classic flavors. We get so many requests at the cooking school to add ethnic flavors, new twists and ideas for the Holidays. I guess that's how amazing our tastebuds are, and how small the world really is!
This dressing is zesty, spicy, sweet and garlicky. It pairs wonderfully with the roast pumpkin. It compliments the sweetness and ups the flavor tremendously. And for the remaining ingredients, I chose kale (my all time favorite—but feel free to use arugula, spinach or salad greens). Then I add ripe pears (lovely sweetness and tender texture), radishes (super crunch to compliment the tender soft roast pumpkin and onions), crumbled feta and toasted pine nuts. A melody of flavors and textures. Serve up this salad with any main dish you're having and it'll add so much zest to it. You can prepare the dressing and salad separately in advance (up to 3 days), but add the dressing only the day you're serving this Mediterranean salad. Should I mention leftovers? If you've got any, they make perfect lunch for the next day 🙂 And one final note—skip the feta cheese and substitute maple syrup to make this salad Vegan friendly!
And about the video—yaay I made it!! It wasn't a smooth ride I'll tell you that—but it definitely was worth every ounce of work! And it shows you how simple, easy and different this Mediterranean salad with roast pumpkin is. I couldn't be happier to receive my Vitamix blender for this recipe! I LOVE it and I use it endlessly—so expect plenty more blender deliciousness to come your way! And don't forget the special Friendsgiving and Vitamix giveaway on September 22nd!! Enjoy  🙂
This post is sponsored by the amazing Vitamix, I made the salad dressing using their blender. All opinions expressed are my own.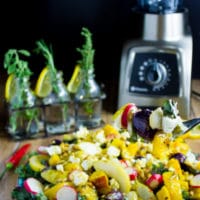 Roast Pumpkin Mediterranean Salad
Ingredients
For the Roast Pumpkin:

1

medium pumpkin

, peeled and diced into 1 inch cubes

2

cups

of pearl onions

1/2

teaspoon

of salt

1/3

teaspoon

of black pepper

2

teaspoon

of fresh thyme leaves

1

tablespoon

of Olive oil

For the Zesty Dressing:

1

clove

of garlic

1

red chilli pepper

2

tablespoons

of fresh parsley leaves

2

tablespoons

of fresh Oregano leaves

1/4

cup

of lemon juice

1/4

cup

of white Balsamic vinegar

1/3

cp of olive oil

1/4

cup

of honey

(substitute maple syrup for Vegan)

pinch of salt

For the salad:

2

cups

of chopped kale

1

large ripe pear

, sliced

4

radishes

, sliced

1/4

cup

of crumbled feta cheese

(skip if vegan)

1/4

cup

of toasted pine nuts
Instructions
Preheat the oven to 400 degrees F. On a parchment lined baking sheet, add the pumpkin cubes, pearl onions and season them with the remaining ingredients. Roast for 20 minutes until tender.

In the meantime, make the dressing. Add the dressing ingredients in a Vitamix blender and blend for a few seconds until smooth.

Assemble the salad by layering the kale, roast pumpkins, onions and remaining ingredients, then drizzle the salad dressing evenly over the salad. Enjoy!