This easy, sweet, luscious and light as air Peach Orange Mango and Ricotta Tart with Phyllo Dough recipe is one of my favorites! Deliciously creamy from the ricotta, beautifully crunchy from the phyllo dough, sweet and fruity with plenty of seasonal fruits and has a secret sweet layer of fruit packed peach orange mango jam hidden at the bottom. Absolutely divine 🙂
Today's luscious post on my blog is sponsored by my friends at E.D.SMITH who turn 135 this year!  They have the best Canadian Jams, spreads and pie fillings!
I'm beyond ecstatic to share this phyllo dough tart, not just because of how divine it is, but also because baking a tart like that is absolutely soothing. Baking is a real therapy, and if you're one of those people reluctant to bake, I'm gonna tell you a few things I learned. When you start baking, certainly start with a forgiving recipe—which is basically a straight forward recipe like this phyllo dough tart 🙂 It's the type of recipe that gives you some space to go up a bit on the jam, less a bit on the sugar, extra on the size of the egg, less on the thickness of the tart..etc. In other words, you can NOT go wrong 🙂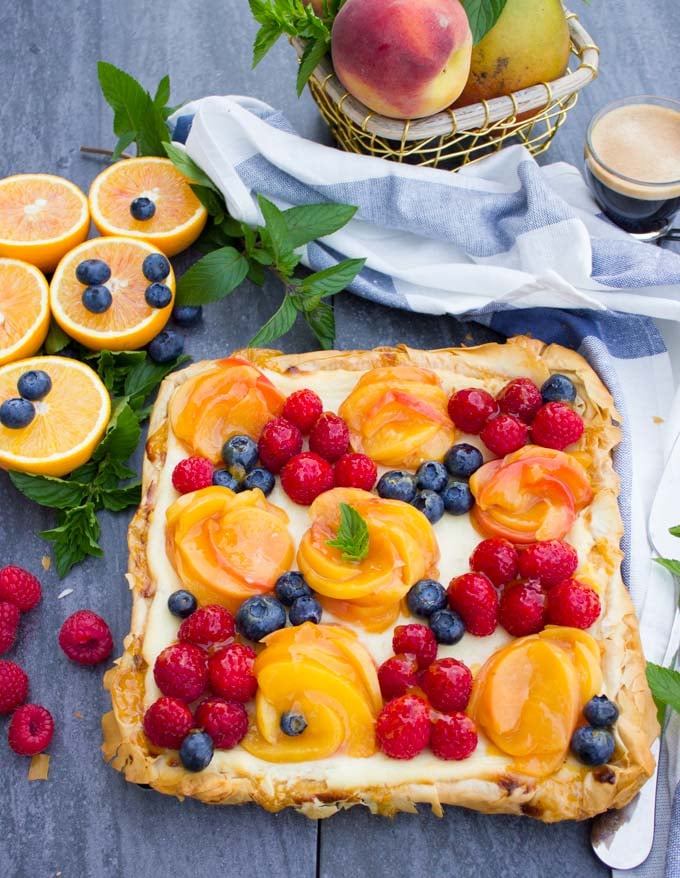 I started baking when I was in college, and at that time I was doing my pharmacy degree which involved a lot of measuring, equations and calculations..NOT fun. I wished there was a tiny room for creativity to make studying easier, but there wasn't. So I would go home and bake something simple, like these Whole Wheat Apple Muffins, and it would take all the stress away. Feeling the textures of all the different ingredients, smelling them, mixing them, and then smelling the baking magic happening in the oven would  put a huge smile on my face! And finally, that freshly baked treat with a cup of coffee would be a dream moment during the day 🙂
Back to this peach orange mango tart! I'll tell you a bunch of reasons why it's my favorite 🙂 First of all, it's a perfect cross between a creamy luscious cheesecake-like taste and a fancy French pastry tart. It's loaded with fruits which add plenty of sweetness, texture and freshness to the tart. Now the real magic, secret ingredient, chef tip, however you call it, happens to be the secret layer of E.D.SMITH Peach Orange Mango Triple Fruits Spread 🙂 To me, this is what takes that tart to a whole other level!
I know it seems like the jam is just another layer of flavor to the tart, which is true. But the jam also is a perfect barrier between the phyllo dough and the creamy ricotta filling which keeps the phyllo dough tart crispy at the bottom 🙂 Since the E.D.SMITH Jams are loaded with extra fruit, by adding the jam here, you're basically infusing more and more fruity goodness to the tart which is a million times more delicious than infusing plain sugar to your tart!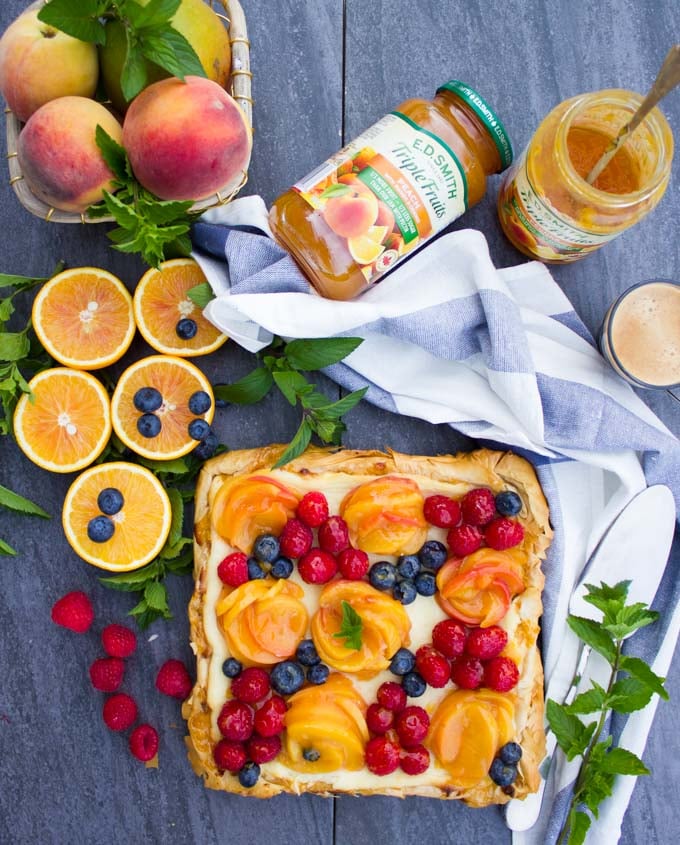 If you've never worked with phyllo dough before, here are a few tips. Defrost the phyllo dough completely before working with it because they're very thin layers of dough which can be easily torn apart if frozen. Unroll your pack and layer a single sheet of phyllo dough on your counter top, then brush it with a thin layer of melted butter. Now place another single sheet over the brushed phyllo dough (they will stick together) and brush the top of the new sheet too. Continue building your phyllo dough crust with about 6-8 sheets of phyllo.
Here's the beauty of this recipe—if you prefer a thicker type of crust, layer 8-10 sheets of phyllo dough. If you prefer a thinner type, then go with 6-7 sheets of phyllo. Choose your favorite tart pan (square, circle, rectangle) as long as it's about 8 to 10 inches wide. Now remember for the filling, if you chose a wider ( bigger tart pan) then you'll have a thinner layer of ricotta filling. Again it's a very forgiving recipe so make it to your preference!
Once your phyllo dough is settled in the pan, take a nice heaping two thirds of a cup of E.D.SMITH  Peach Orange Mango jam and spread that over the buttered phyllo dough. Remember the phyllo is unsweetened and the jam layer adds the perfect sweetness to the crust, while keeping it crispy and away from the creamy ricotta filling. The ricotta filling is probably the easiest you'll make—just with ricotta cheese (I chose the extra smooth), an egg (any size), sugar and vanilla. Here's another way to personalize this tart, try adding lemon zest or orange zest to your ricotta filing for an extra tang. Or some spice like cinnamon, cardamom and chai. You just can't go wrong with your favorite flavors! 🙂
Spread that creamy dreamy ricotta filling over the fruity jam and bake away. 20 minutes later and the tart is ready but piping hot! I love to let it cool down for an hour before decorating it. Peach flowers made with curled soft microwaved peach slices, fresh berries and your favourite fruits go right on top. For a perfect finish to the tart, a gentle brush of the Peach Orange Mango jam goes over the fruits for another boost of flavor and sweetness 🙂 Pure lush!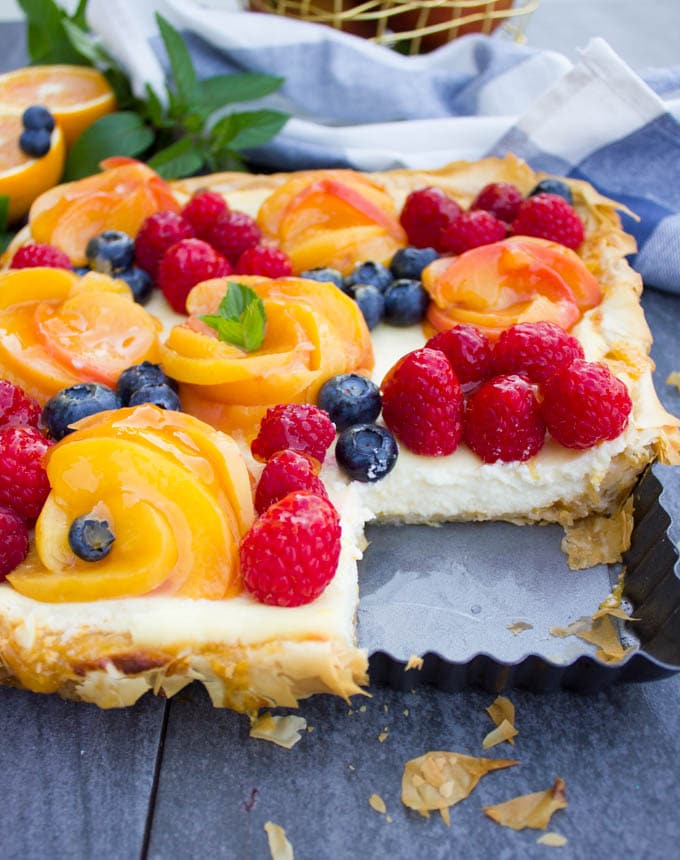 This phyllo dough tart is seriously divine and it's one of those recipes I can't urge you enough to try!! It will redefine your love for baking, I promise! It'll soon be your go-to tart when you crave a treat and for all your entertaining this Fall. You can easily make it in advance and store it in the fridge (well covered) for up to 4 days, it actually keeps tasting richer day after day! Don't forget that secret layer of E.D.SMITH Jam to take your tart to a whole new level.
Peach Orange Mango and Ricotta Tart with Phyllo Dough
This easy, sweet, luscious and light as air Phyllo Dough Ricotta Peach Orange Mango Tart recipe is one of my favorites! Deliciously creamy from the ricotta, beautifully crunchy from the phyllo dough, sweet and fruity with plenty of seasonal fruits and has a secret sweet layer of fruit packed, low sugar jam hidden at the bottom. Absolutely divine 🙂
Ingredients
Phyllo Dough:
6-10

sheets of defrosted phyllo dough

2-3

Tablespoons

of melted unsalted butter
Filling:
2/3

cup

of E.D.SMITH Peach Orange Mango Triple Fruits Spread

1 1/2

cups

of extra smooth ricotta cheese

1

egg

1

cup

of sugar

1

teaspoon

of vanilla extract
Topping:
Fresh Fruits slices like Peach

mango, kiwi, berries

2

Tablespoons

of E.D.SMITH Peach Orange Mango Jam Triple Fruits Spread
Instructions
Preheat the oven to 400 degrees F. Working with a single sheet of phyllo dough at a time, place a single sheet on your counter top and brush it with a single layer of butter. Take another sheet and play it right on top of the brushed sheet of phyllo.

Brush the tops of that phyllo sheet as well, and layer a third sheet of phyllo over that. Brush it as well and continue this process using 6 sheets for a thinner phyllo dough crust for your tart. If you prefer a thicker crust, use up to 10 sheets of phyllo dough. If the dough tears, do not worry, the butter will make it all stick, just continue layering.

Take an 8 inch up to 10 inch tart pan and transfer the layered phyllo sheets over the tart pan. Make sure the dough is well relaxed and not stretched over the pan. Trim any excess phyllo hanging from the edges.

Spread the jam over the phyllo dough covering all the bottom of the tart.

Make the filling by whisking all remaining filling ingredients until smooth.

Pour the ricotta filling over the jam layer on the phyllo dough crust and place the tart pan on a baking sheet then bake it right away.

Once the filling has puffed and isn't jiggly anymore and the crust is golden, then the tart is done--depending on your oven, this may take anywhere from 20-25 minutes.

Note: the tart will continue to set as it cools down.

An hour later, start arranging the fruit slices and berries over the tart and brush them with the jam.

Cut the tart and serve right away (warm) or chill it in the fridge for 2 hours and serve it cold. Enjoy 🙂