This shop has been compensated by Collective Bias, Inc. and its advertiser. All opinions are mine alone. #StirImagination #CollectiveBias
This Milk Chocolate Pudding Recipe is a treat that the whole family loves! It's a no bake, easy, quick and nutritious snack to fuel you up in the morning or during the day, perfect back to school snack—and the best part is, it's absolutely delicious and is quite guilt free! The chocoholic in you needs to make this 🙂
Are you one of those who crave a good milky chocolate pudding? I'm SO one of those people—just walking down the isles of any grocery store, I spot those prepared chocolate puddings and crave chocolate pudding right away. And I'll tell you, I don't crave an airy chocolate mousse or eggy rich custard—I crave a dense milk chocolate pudding, that good old chocolate pudding recipe my grandma used to make 🙂
I've made a couple of chocolate puddings on the blog, but today's Nesquik chocolate pudding recipe is quite special. I'm pretty sure by now you al know my littlest one is such a picky eater—I kind of mention this way too many times lol So my little J. used to despise drinking milk (still does). I tried all sorts of ways, bottles, cups, fortified stuff..everything. Milk was simply a no no.
One happy day, she decided to try the chocolate "drink" her older sister was drinking..and it was LOVE at first sip. I mean it was like a miracle.. what? She is actually drinking chocolate milk, i.e. milk.. If you're a mom now you'll totally understand those tiny bits of achievements are HUGE in a mom's world! 🙂 And ever since that moment, the worrying has ended—she drinks Nesquik Chocolate Milk every time I offer it to her.


Aside from a Yummy chocolate drink, I love making a Nesquik chocolate pudding. It's a perfect snack, treat and on the go pick every time–now that we're back to school, I put a small container of this pudding in lunch boxes for a surprise treat 😉 I also love it as part of a complete breakfast for my little ones. It gives them a nice boost to start the day, or fuel them up mid day. NESTLÉ® is a brand that's been nurturing kids and providing nutrition with a chocolate-y taste they all love!
I chose to make the chocolate pudding recipe today using the NESTLÉ® NESQUIK® Chocolate Powder since it contains 45% less sugar than the chocolate syrup brand, it contains 7 essential vitamins and minerals with no artificial flavors or colors. The best part is, if you combine it with 8 ounces of milk, you get 8 grams of protein! So I'm in fact quite lucky my little one preferred the Nesquik chocolate milk at the end! And if for any reason, any reason, chocolate powder is not your favorite, or if you're one of those who loves to rotate flavors—I urge you to try the NESTLÉ® NESQUIK® Powder Strawberry (which also works fabulous here to make a strawberry pudding!) I loved shopping at Target for today's recipe–such a bright and lovely store, it's by far one of my favorites! (And the girls' favorite too 🙂 )
Ok now on to this amazing treat, snack, breakfast compliment, lunch box favorite, on the go snack..here's how simple it comes together. This is basically a no cook no bake nothing..all you need is a good blender. I use chia seeds as my magic ingredient to make the pudding. If you're unfamiliar with chia seeds–they are like tiny seeds of magical benefits and goodness! And they have a unique gel-like texture when combined with liquids, and in turn this becomes pudding for us! So combining the benefits of the NESTLÉ® NESQUIK® Chocolate Powder and chia seeds–it's a win win for everyone!






The trick to get this pudding set and ready is either of two ways, either you soak the chia seeds in milk for a couple of hours or over night, and then simply blend them together and add the Nesquik Chocolate powder and there you have chocolate pudding! Or blend everything together, the chia seeds, milk, cool powder and divide the chocolate pudding in serving cups (or to go containers) and then let it for a couple of hours (or overnight) in the fridge and it's ready to serve! (P.S–I like to use a sieve when the pudding is ready, so it goes smoother and creamier into the serving cups–and for the obvious reason, my picky one prefers that!)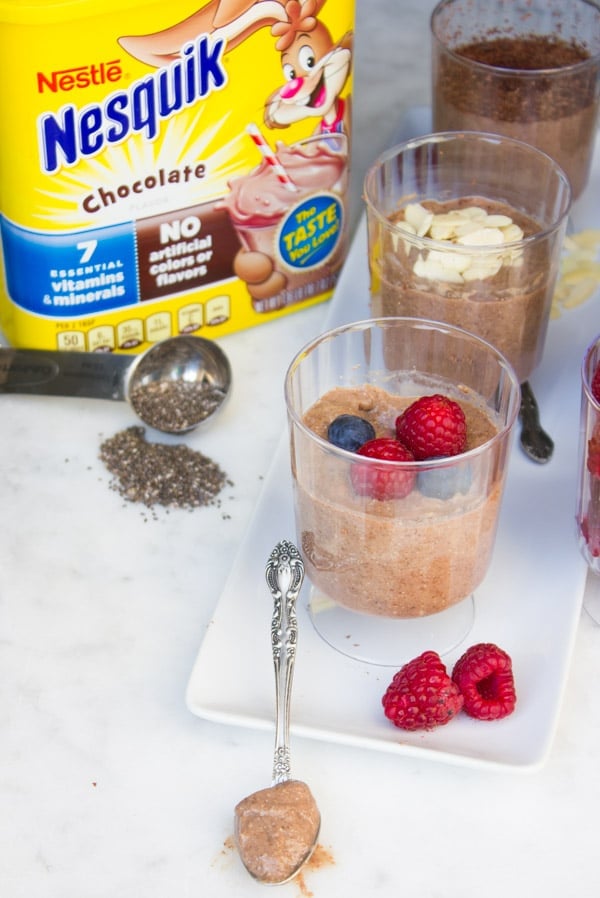 For today I served them in cute disposable cups chosen by the girls for a fancy feel 😉 But I usually make a large batch and store them in small sealable containers in the fridge. That way they're perfect for packing in lunch boxes, or grabbing them on the go when we're out to the splash park, or even for breakfast. I top them with some berries (again girls' pick), if you're a nut loving family, top them with some crushed nuts for an amazing contrast of smooth creamy chocolate-y pudding and crunchy nuts, and even peanut butter or almond butter. I won't judge if you shave some chocolate over them or add in chocolate chips 🙂
Before I let you go with this MUST TRY recipe, can I say I have a special treat for you! You can get 15% off 18.7oz powder and 10 packs of bottles with these Nesquik Powder & Ready-to-Drink Bottles during the dates 9/4/2016 – 9/10/2016. Now get your hands on some of this chocolate goodness and make this amazing Chocolate Pudding recipe now 🙂
Milk Chocolate Pudding Recipe
Ingredients
2

cups

of milk

(any type any concentration)

4

Tablespoons

of Chia seeds

5-6

Tablespoons

of NESTLÉ® NESQUIK® Chocolate Powder

(depending how dark and chocolate-y you prefer your chocolate pudding)

Toppings:

Berries

Peanut Butter

Almond slices

Shaved chocolate
Instructions
Mix the milk and chia seeds, and blend them in a blender well.

Allow the mixture to set over night for at least 2 hours in the fridge.

Then add the Nesquik chocolate powder to the chia milk mixture and blend it more.

Sieve the mixture into serving cups and serve right away. Top with nuts, peanut butter, fruits, shaved chocolate or your favorite toppings. Enjoy 🙂