This lemon artichoke garlic roast chicken with salsa recipe is a fresh simple take on roast chicken. Chicken drumsticks are roasted till perfection with lemon slices, chilli peppers, plenty of garlic and artichokes — It's tangy, spicy and very garlicky.. it's perfectly tender with a very crispy skin..and it's all covered in a fabulous chunky salsa which is made in 2 minutes using the same lemons and artichokes roasted with the chicken!
A chicken recipe is way over due here! Just as much as nice weather is over due too. But that doesn't mean we can't freshen up our dinner table and pretend it's Spring-which it really is! So here we are getting started for this long awaited season. Now I know chicken doesn't necessarily shout Spring , but with those lemons, artichokes, garlic, herbs and salsa.. it absolutely does!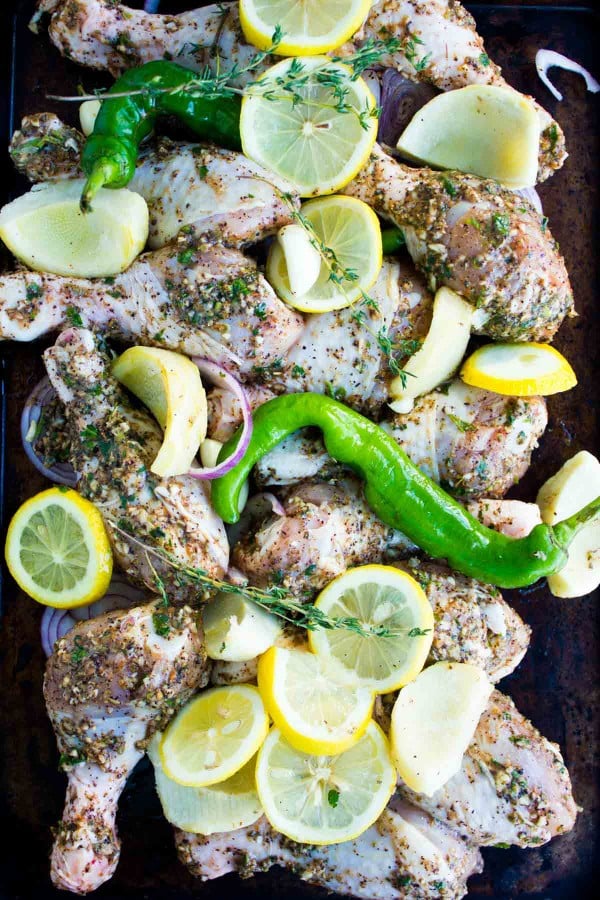 The best things about this freshened up roast chicken recipe is it needs very little prep time, and the oven does most of the work for you. I opted for chicken drumsticks here, but a whole chicken (cut up preferably to infuse more favor) or bone-in chicken breasts work just as great!So the chicken is coated in a mixture of garlic, capers, sumac spice (more on that amazing spice below) and scattered on a baking sheet with plenty more garlic cloves (whole), lemon slices, fresh thyme leaves (or dried if you don't have fresh), chill peppers, artichoke hearts and sliced onions.
Once the chicken is done, take out the sweet roasted garlic cloves and mash them, then chop the roasted lemon slices, artichokes, chill peppers, onion rings, and add to them a little more sumac, plenty of fresh parsley, cilantro, mint (or any fresh herbs you have!) and a drizzle of olive oil to ing this salsa together. And you're left with an unbelievably flavorful easy salsa that you dollop on to the chicken pieces for an extra wow factor to the humble roast chicken!
So while we're still on the salsa, I have to mention that his fabulous chicken and salsa combo remind me of my mom as she is the queen of sauces. She can take as much time and patience needed to perfect a certain sauce to go along chicken, meat, fish or veggies. When she's absolutely rushed, she'll roast for example chicken with different veggies, then blend them up with a little cream and turn them into a nice smooth sauce. Which is exactly what you might want to do here—take the wonderful roast garlic, lemons, artichokes, onions, peppers, fresh herbs and blend them up in a food processor with a little broth or cream (if you were my mom:)) or both and turn it into a luscious sauce for your chicken! For today I felt I needed a chunky rustic fresher take on sauces so I went for the chopped salsa.
Back to the sumac, if you're not familiar with this amazing spice, it's deep dark red in color and has a strong lemony tangy taste. If you ever had Zaatar, then you would've tasted sumac because it's the main spice used along with thyme leaves. You'll find it in the spice section of most grocery stores, ethnic stores or online. I strongly recommend you use sumac in this recipe, but if you can't for any reason, lemon zest may be substituted.
Try this recipe and give your roast chicken dinners a make over—feel free to substitute any herbs, veggies to your taste, and make the salsa as chunky as you like or as smooth a sauce as your heart desires! Enjoy! 🙂
Lemon Artichoke Garlic Roast Chicken with Salsa
Ingredients
4

pounds

of chicken drumsticks

1

large heads of garlic

, peeled

2

Tablespoons

of capers

2

anchovy fillets

(may be substituted with 2 tablespoons of light soy sauce)

1

tablespoon

of allspice

2

tablespoons

of sumac spice

1/4

cup

of fresh parsley leaves

1

tablespoon

of dried oregano leaves

1/2

teaspoon

of salt

(or to taste—use less if using soy sauce)

1/2

teaspoon

of black pepper

Juice of 1 lemon

1/4

cup

of extra virgin olive oil

1

lemon sliced

4

artichokes sliced

1

head of garlic

, whole cloves peeled

1

large onion sliced

2

hot peppers

(your favorite type)

6

fresh thyme sprigs

1/2

cup

of fresh herbs

, minced (parsley, cilantro, mint, thyme—or your favorite)

1/4

cup

of olive oil

pinch of salt and pepper

pinch of sumac
Instructions
Preheat the oven to 375 degrees F.

In a food processor, pulse the garlic, capers, anchovies (or soy sauce), spices, lemon juice and olive oil until smooth and toss the chicken with this mixture evenly.

Spread the chicken in a single layer on a baking sheet.

Take the sliced lemons, artichokes, peeled garlic cloves, onion and chill peppers and evenly place them between the chicken, under the chicken and over the chicken pieces.

Roast the chicken for 30-40 minutes until done (depending on the size and cuts of chicken you chose).

Let the chicken and veggies cool for a few minutes and then remove the garlic cloves and mash them gently in a bowl. Chop the roasted lemon and artichoke slices and add them to the mashed garlic, then chop the roasted onions and peppers and add them too. Add the fresh herbs, seasoning and olive oil to the salsa and mix it well.

Put a teaspoon of chunky salsa onto each chicken piece and serve.