I've got the perfect side slaw to your BBQ this season! This Italian Strawberry Balsamic Broccoli Slaw recipe has it all. It's quick and easy, sweet and tangy, super crunchy and just crazy delicious like a burst of flavors and textures! Now imagine every single bite is a melody of crunchy broccoli slaw, smooth white beans, sweet strawberries, fresh vibrant basil, lemon zest and a sweet basil balsamic dressing..Pure LUSH 🙂
This delicious recipe comes together in partnership with my friends at MANN'S Veggies Made Easy—suppliers of the best, freshest and tastiest veggies ever! I'm super excited to share with you some of my favorite products from MANN'S and all the endless ways I use them!
You guys know how I brag about my LOVE for kale, salads and healthy food? Well today I'm going over the top because out of all salads, slaws are my all time favorite!  It's probably because of the crunch! YUM 🙂  Ok for the record, I will admit that often times I post some decadent desserts, but I don't usually brag about that lol I just share the love of decadence and leave the bragging up to you when you make them 🙂 and believe it or not, this broccoli slaw is nothing short of decadence! 🙂
I got inspired for this recipe form the many many trips I took to Italy. I remember when I was a kid and used to live in Paris, we visited Italy nearly every year. I obviously loved French food and I was fascinated as a kid by the beautiful display of food everywhere around me. However that Italy visit would still mesmerize me in terms of food, but in a different way. Food wasn't as perfectly displayed yet it was equally mouthwatering, food wasn't all in tiny portions yet it was equally neat, food simply always tasted great.. and those Italian flavors as simple as they are, always feel like comfort to me! So I thought why should my favorite broccoli slaw miss out on that? Instead of imaging broccoli slaw either creamy and sweet or citrusy and spicy, this Italian fusion is actually a combo of creamy, sweet, tangy and pure delicious!
Slaw
First of all, let's talk for a minute about the slaw itself–because any amazing broccoli slaw starts with the broccoli slaw right? I've been a fan of the Mann's Veggies for a while and luckily I find them at almost every retailer 🙂 Their veggies are always fresh. Always. And for that they always taste sweet and have a perfect bite. They're organic and packaged in perfect serving sizes. Since it's the summer I'll be focusing mainly on their slaws and power blends which again, I CAN NOT wait to share with you!
Dressing
Now let's talk about dressing up our broccoli slaw. A simple blend of basil and balsamic vinaigrette simply makes your slaw burst with flavor! The sweetness of the balsamic compliments the beans and strawberries, and sweetens the broccoli slaw mix. The basil adds that fresh, bright feel that balsamic doesn't do. And in addition to that, it compliments the strawberries, beans, lemon zest and slaw perfectly! I opted for shallots in the dressing instead of garlic, however I assure you if garlic is your thing, you'll love it just as much! I love garlic, but for some reason I preferred the shallots version—try them both and pick your favorite 🙂
The dressing  can stay in your fridge for a while so don't worry about making plenty of it! I actually made this slaw twice last week, and the second time I had a friend visiting so we grilled a nice piece of T-bone steak and served this Italian style broccoli slaw on the side. The steak was topped with a simple basil pesto (store bought or this homemade version—my protein packed nut free hemp basil pesto). It was the perfect lunch! 🙂

Recipe
Finally, I can't urge you enough to try this recipe–you'll be pleasantly surprised by this Italian twist and by the quality of Mann's Broccoli Slaw!! It's just a win win 🙂 Enjoy!! SUMMER officially starts tomorrow! 🙂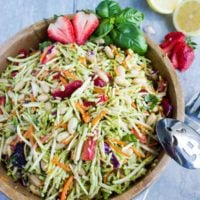 Italian Strawberry Balsamic Broccoli Slaw
This Italian Strawberry Balsamic Broccoli Slaw Recipe has it all. It's quick and easy, sweet and tangy, super crunchy and just crazy delicious like a burst of flavors and textures! Now imagine every single bite is a melody of crunchy broccoli slaw, smooth white beans, sweet strawberries, fresh vibrant basil, lemon zest and a sweet basil balsamic dressing..Pure LUSH 🙂
Ingredients
1

bag of Mann's brand Organic Broccoli Slaw

1

cup

of hulled

, sliced strawberries

1/2

cup

of canned navy beans

( drained and rinsed well)

zest of 1 lemon

2

tablespoons

of minced fresh basil leaves

1

teaspoon

of fresh thyme leaves

(optional)
Basil Balsamic Dressing:
2

tablespoons

of minced fresh basil leaves

1

garlic clove

, minced

1/3

cup

of balsamic vinegar

1

teaspoon

of dijon mustard

2

teaspoons

of honey

1/2

teaspoon

of salt

( more or less to taste)

1/2

cup

of olive oil
For the grilled T-bone steak: (optional)
3

pounds

of t-bone steak

1

teaspoon

of salt

(more or less to taste)

1

teaspoon

of coarsely ground black pepper

(more or less to taste)

pinch of chilli flakes

(optional)

2

Tablespoons

of Basil Pesto

(store bought or homemade)
Instructions
In a large bowl, add the berries, navy beans , zest of the lemon, fresh basil and thyme. Mix them together and add in the whole bag of Mann's Broccoli Slaw.

In a separate bowl make the dressing. Add all the ingredients and whisk them well until the dressing is emulsified and smooth. Alternatively, you can place all the dressing ingredients in a container and then seal the container well. Vigorously shake the container for a few seconds until the dressing is emulsified and smooth. Taste and adjust the salt if needed.

Pour the dressing over the broccoli slaw, toss and serve 🙂

If you're making the steak: Preheat your grill to medium high, season the steak with salt and pepper and play on the grill. Grill for 5 minutes per side with the lid on for the last minutes only.

Serve alongside the broccoli slaw and top it with the basil pesto. enjoy 🙂