Burger lovers—I've got a GameDay Habanero Mini Burgers recipe that will be your go to flavor packed burgers in a snap! Juicy burgers flavored with red habanero, garlic and oregano, grilled or broiled till perfection. These mini burgers are placed over a mini bun with more habanero, onions and greens—it takes less than 30 mins to make a whole bunch of this new game-day party favorite!
I'm super excited to share today's recipe—not only because these mini burgers are totally addictively delicious, but also because i LOVE GameDay food, LOVE my food in mini's and LOVE finding shortcuts to do that! Oh and did I mention these mini burgers have a fabulous kick from a new favorite habanero sauce I came across—The El Yucateco® !
I picked my sauces at my Walmart, and I found them at the ethnic isle with all the Mexican salsas. They're cute tiny glass bottles of PURE authentic habanero goodness—not your usual vinegar stuff. You actually DO taste the habanero which is why they add plenty of flavor to my mini burgers and sauces. These sauces come from Field to Bottle–no artificial colors, but the same great taste that makes it the King of Flavor since 1968. And for me, the heat wasn't that strong or over powering so I really tasted the flavor with a nice heat kick.
And now lets talk juicy mini burgers. Have you guys ever made your burgers in mini's like that? Well honestly I tried that a few years ago for a BBQ, but I felt it was quite a hassle flipping those mini burgers. And my hubby kept asking for them now with the game so I needed to find a way to make them easier for a crowd. So I tried broiling, and it was magic! I broiled those mini burgers by the dozen in like 8 mins and they were all cooked perfectly!! YES mini burgers for a crowd in 30 mins start to finish. All I had to do was pack on the flavor!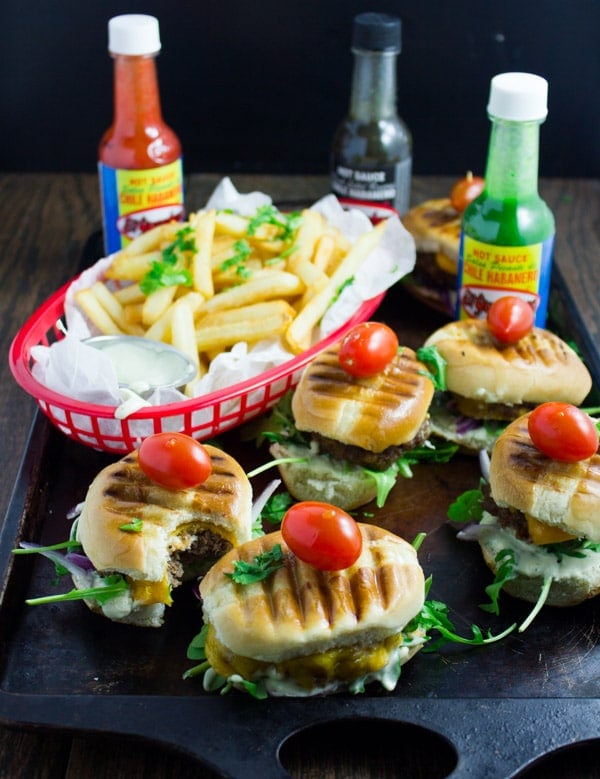 Back to the El Yucateco® Habanero sauces. I added a quarter cup of the El Yucateco® Red Chile Habanero to my ground beef mixture. I picked it because I wanted to infuse that red deep habanero flavor with a touch of tomato flavor in to my mini burgers, and I paired that with garlic powder, oregano powder, salt and pepper—that's it. Shaped my burgers into small patties and placed them on an aluminum lined baking sheet for broiling.
When your broiler is ready (high heat is best), simply place your baking sheet under that hot broiler for 8-10 mins (depending on the size of your patties) and they're ready! At that point I top the patties with my favorite type of cheese and tent my mini burgers loosely with foil. While the burgers are broiling and covered up, I'll prep my buns (love giving them a quick grill on a stove top grill pan—sadly it's quite cold to grill outdoors now), slather my fresh green habanero sauce (more on that below), some arugula, sliced red onions, cilantro and I'm all ready to assemble the mini burgers.
The El Yucateco® Green chile Habanero (which is the best seller) has a more fresh green habanero flavor which I preferred to use for a sauce to slather my bread with—that way I get a nice fresh burst of green habanero with my mini burgers that already have a deeper red habanero flavor. I also keep that same sauce to dip my fries in! That was my preference, but for the record I think you guys can mix and match all the El Yucateco® sauces to suit your taste.
I've also bought the El Yucateco® Black Label sauce as you can see—this one has a nice fiery roasted smokey habanero flavor similar to chipotle. My husband LOVED it and ended up slathering it over his burger. There are other few sauces from El Yucateco® like the El Yucateco® XXX Hot sauce (Kutbilik), The El Yucateco® Jalepeno and El Yucateco® Caribbean Jalapeño. I really think I'm hooked on those and I can't wait to try them with drinks, pastas, chicken, pizza and everything else!
And now seriously you need to make those mini burgers for your next GameDay party—they're absolutely YUMMY and super easy to make for a crowd when you broil them. Plus they're a real crowd pleaser—so go ahead and enjoy!! 🙂
GameDay Habanero Mini Burgers
Burger lovers—I've got a GameDay Habanero Mini Burgers recipe that will be your go to flavor packed burgers in a snap! Juicy burgers flavored with red habanero, garlic and oregano, grilled or broiled till perfection.
Ingredients
Burgers:

1.5

lbs

groound beef

, room temperature

1/4

cup

of El Yucateco® Red Chile Habanero Sauce

1

teaspoon

of garlic powder

1

teaspoon

of Oregano powder

1/2

teaspoon

of salt

1/2

teaspoon

of black pepper

*12 mini slices of cheddar cheese

( or 6 slices cut in half)

Dipping and Burger Sauce:

1/2

cup

of Ranch dressing

4

tablespoons

of El Yucateco® Green Chile Habanero Sauce

Remaining Ingredients:

12

mini burger/slider buns

1

small red onion thinly sliced

1

cup

of arugula

(or your favorite)

1/2

cup

of cilantro leaves

Tomatoes

, pickles, more cheese, sliced jalapeño… any topping you prefer
Instructions
Preheat your broiler to high and line a baking sheet with aluminium foil, and set that aside.

In a large bowl, add the ground beef and the remaining ingredients (except the cheese). Use your hands to mix them well. Take an ice cream scoop size of the beef mixture and shape it into a burger patty, and place it on the baking sheet. Repeat with the remaining mixture.

Broil the burgers for 8-10 minutes (depending on the thickness of your patties). Once the burgers are done, place a slice of cheese over each burger and cover the tray loosely with aluminum foil.

In the meantime, prepare the dipping sauce my mixing the ingredients together.

Prepare the buns by grilling them over a stove top or outdoor grill (optional) for 30 seconds per side.

Assemble your mini burgers by slathering 1 tablespoon of the dipping sauce on each bottom bun, top with your favorite toppings, the burger, some cilantro leaves and the top bun. Serve and enjoy!
Nutrition Facts
GameDay Habanero Mini Burgers
Amount Per Serving
Calories 405
Calories from Fat 243
% Daily Value*
Fat 27g42%
Cholesterol 73mg24%
Sodium 610mg27%
Potassium 240mg7%
Carbohydrates 20g7%
Protein 20g40%
Vitamin A 411IU8%
Vitamin C 6mg7%
Calcium 248mg25%
Iron 2mg11%
* Percent Daily Values are based on a 2000 calorie diet.