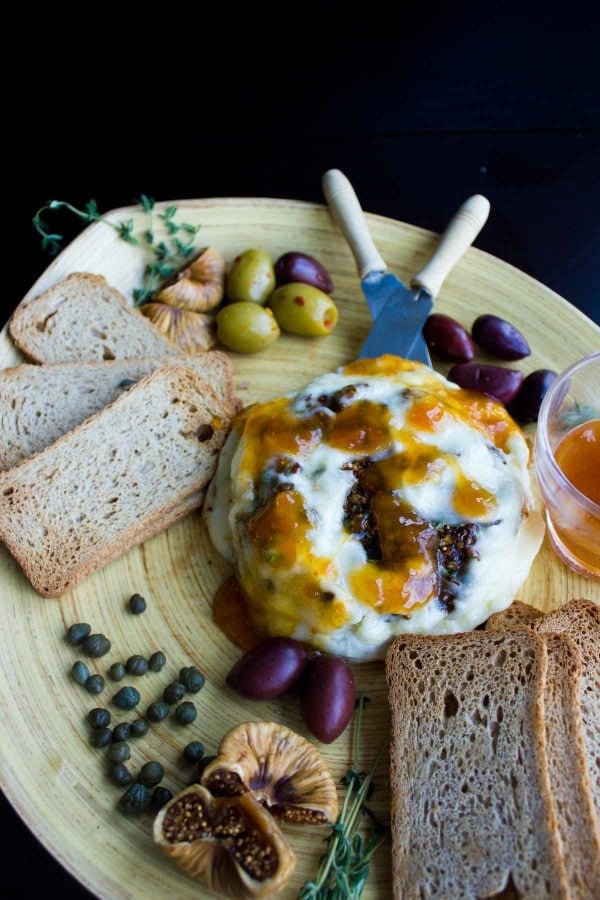 This fig olive tapenade stiffed brie recipe is a last minute show stopping appetizer that your taste buds won't resist! A sweet fig, mixed olives, herbs, capers and balsamic vinegar tapenade is used to fill the center and top of a brie round. Then it gets baked till the cheese is melty and the tapenade blends in. Served warm with crackers, this 15 min recipe is a must try!
A few days ago, my neighbour and good friend called me in the morning to join her for a cup of coffee in like 20 mins. I started racing getting ready and thinking what can I take with me. Looked in the fridge and found a lovely round of brie staring at me–there was a click! Turned up the oven , and started working on this fig olive tapenade stuffed brie!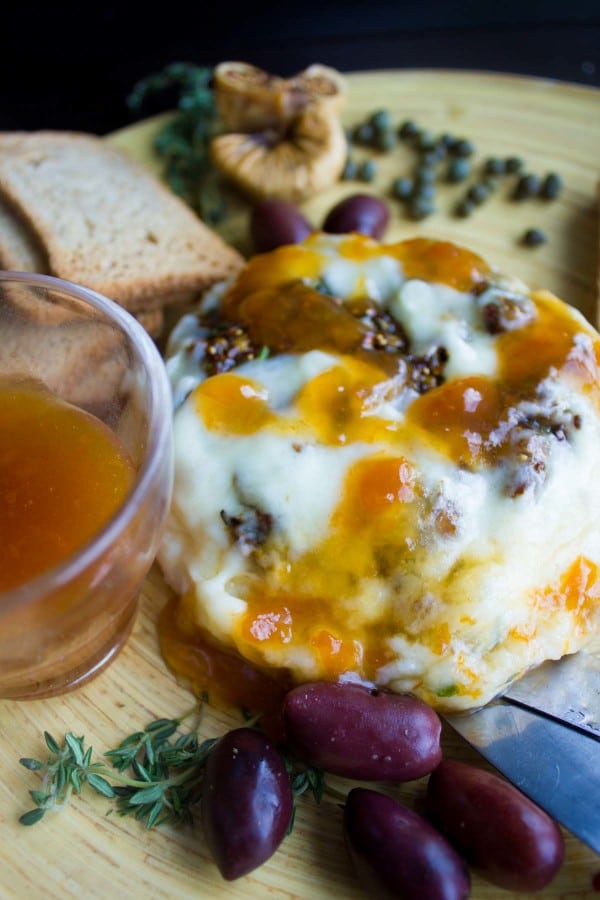 Have you made stuffed brie before? Did you notice how unbelievably quick, easy and versatile it is–not to mention what a crowd pleaser it is? I LOVE it when I shop smart and keep a round of brie in my fridge for last min ocasions like this. And when it comes to filling–the sky is your limit! Something sweet, salty or a combo, something crunchy, soft or a combo, something smooth or chunky or however your heart desires– there is NO worng choice of filling–EVER!
I chose fig olive tapenade for a few reasons (other than the fact that I had all ingredients on hand!:)). I always love to contrast my brie with something sweet –do you remember those cute strawberry brie lollipops pies?–another HIT with brie! And when it comes to tapenade (olive spreads), figs are a personal favorite! So I add figs, capers, mustard, fresh thyme and parsley, NO garlic (YES I don't like garlicky tapenades, but love garlicky pestos!), olive oil and balsamic vinegar. So it's a perfect balance of sweet and salty with a load of flavors!
sliced whole brie round in half
tapenade on the first half
second half on top and more tapenade
Once your tapenade is processed (5 mins all in all to make in a food processor), this fig olive tapenade stuffed brie comes together in a snap. Take your round of brie, slice it in half cross wise. Place 2 tablespoons (more or less to taste) of the filling on one half, place the other brie half over that and  top it with more tapenade. Bake for 10 mins until melty bubbly cheesy perfection! Drizzle it with honey, apricot jam (my choice here!)and you're good to go!
So I took my last minute fig olive tapenade stuffed brie to my neighbour that day, and at first she said oh I'm not a brie person but thanks..then I just said take a small piece and try it, and she absolutely loved it! She really enjoyed it, wrote down the recipe and decided to make it for a Christmas morning brunch–which made me realise this would truly make a fabulous Holiday morning table or any brunch/entertaining table!
Just a few things before I leave you with this fabulous recipe–my personal favorite way of serving this, is to melt the brie quite well. It remains melty and warm for a while after serving–but as you can see it loses that perfect round shape, so if you wish to keep that perfect round shape, bake it for 3-4 mins less and serve it right away so it's still warm. And now back to the filling for a second–use just jam and nuts if you're rushed, pestos, smoked salmon, herbs, cranberries, sauteed veggies…anything really you can't go wrong, and make sure to give it a nice drizzle of something sweet like jam or honey to round off the flavors! And one last thing, make sure this recipes is on your to do list and enjoy!!:)
Fig Olive Tapenade Stuffed Brie
Ingredients
1

round of brie cheese

1

recipe fig olive tapenade **See blow

Crackers for serving

Fig olive Tapenade:

4

dried Kalamata figs soaked in bpiling water for 5 mins to plump up.

4

large pitted Kalamata olives

2

green Sicily olives pitted

1

tablspoon of capers

1

teasppon of mustard

1

teasppon fresh thyme leaves

1

tablspoon fresh oarsley leaves

2

tablespoons

of balsamic vinegar

1

tablespoon

of olive oil

Pinch of salt
Instructions
Preheat your oven to 400 degrees F.

Slice the round of brie in half crosswise and place the rounds on a parchment lined baking sheet.

Put 2 tablespoons of tapenade (more or less to taste) on the bottom half brie round and top it with the other half round of brie.

Place another 2 tablespoons of tapenade on top and bake the brie for 8-12 mins depending on how metly you want your brie to be. Serve with crackers.

For the tapenade: Puree all ingredients until smooth.