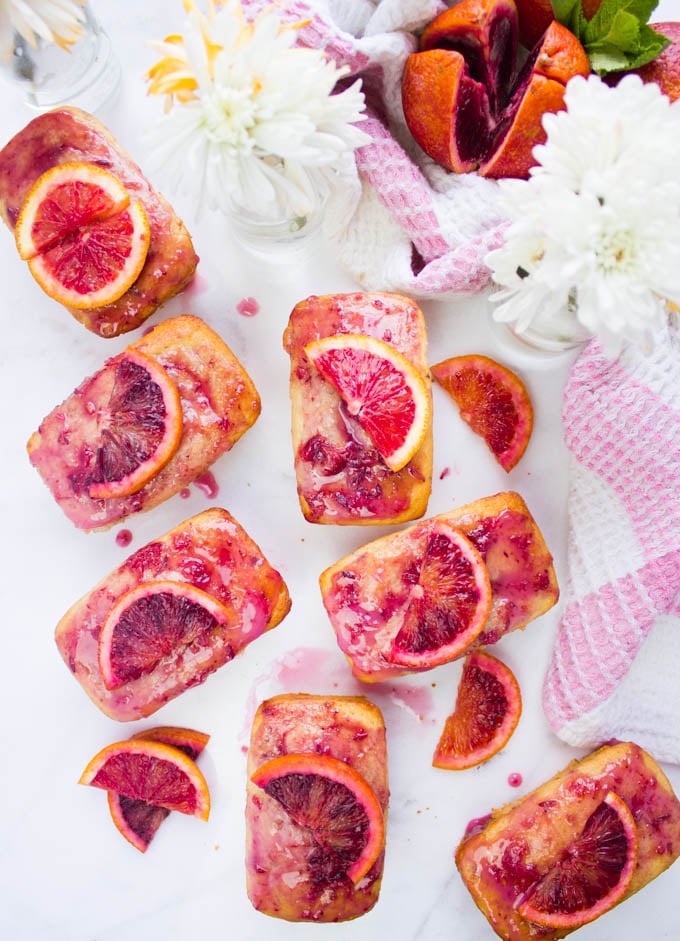 Fact. I love blood oranges. Here's a straight forward recipe for Easy Blood Orange Cakes and Glaze that you'll need to make for Mother's Day! Another fact. I always bake a tea cake for Mother's Day. Even if my Mom isn't around. I bake it for myself lol. This year I'm lucky to have Mom for a visit, so it's double the reason to bake something sweet. Something that would make our brunch feel festive. What are you making this Mother's Day? 
Hey hey! Happy few days before Mother's Day! This year is swinging by so fast and we're already here!  My girls have been coming back from school everyday now telling me they're planning a surprise for me. As expected as it is, every single year, this surprise always blows me away. Every single year. Similarly, I tell them that I'll bake a cake to celebrate, and they get just as excited and surprised for cake. Every single year.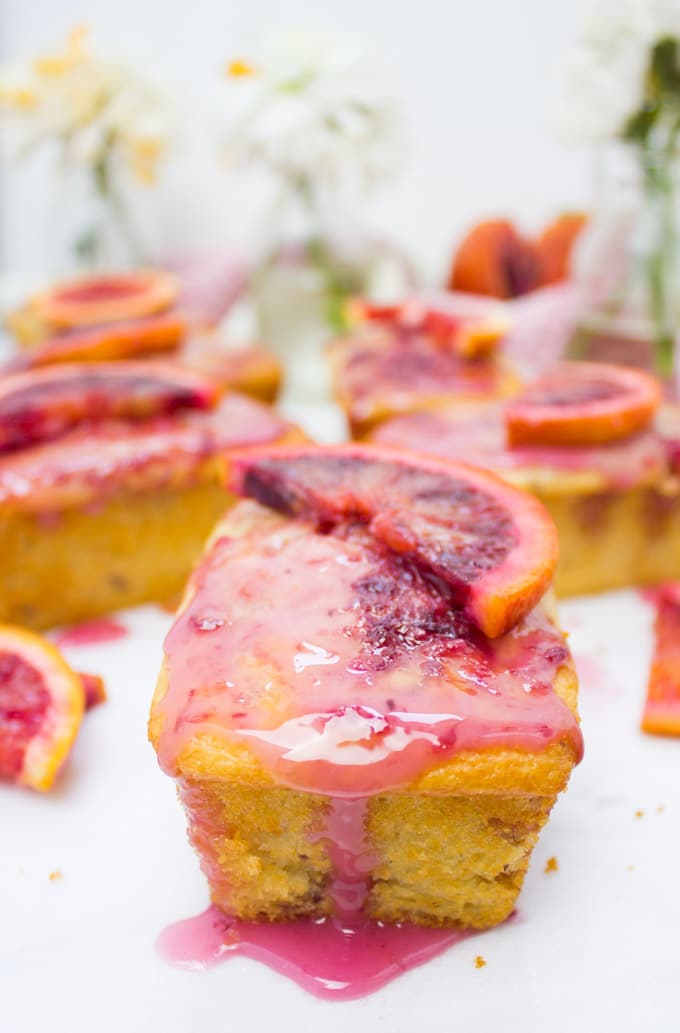 I probably shouldn't spoil this gorgeous orange cake post by telling you the endless joys of motherhood I go through. However, it wouldn't really be fair would it?! lol. Ok jokes aside. I say this all the time and here I go again. Motherhood has changed my life. Completely. Obviously to the better, BUT, to reach that better phase, it took SO much learning! Learning love at another level. Learning compromise that doesn't feel like what it is. Accepting, learning patience, tolerance, discipline and so much more.
In theory, it seems like you can read all about it and teach yourself in a blink how to be that Mom. But in reality, it's not. And you've probably heard this before–it gets easier as you go. This one is true. You finally reach a stage where it feels less like work or compromise, it just feels natural. It feels like you. And it seems like that person you used to be before this massive transformation is almost unknown to you. Was that really me?! What was I thinking, what was I doing, why on earth did I live like this?!lol
Now how about some orange cakes for Mother's Day! This year, I'm so lucky to spend Mother's Day with my Mom 🙂 She's probably my biggest inspiration when it comes to food. She is a foodie at heart, she's got a creative mind of her own, and she's definitely the reason I've tasted so many flavors all through my life. Baking however, is not as close to her heart as it is to mine. That's why I'm taking over the orange cake baking this year, while she'll cook a light lunch.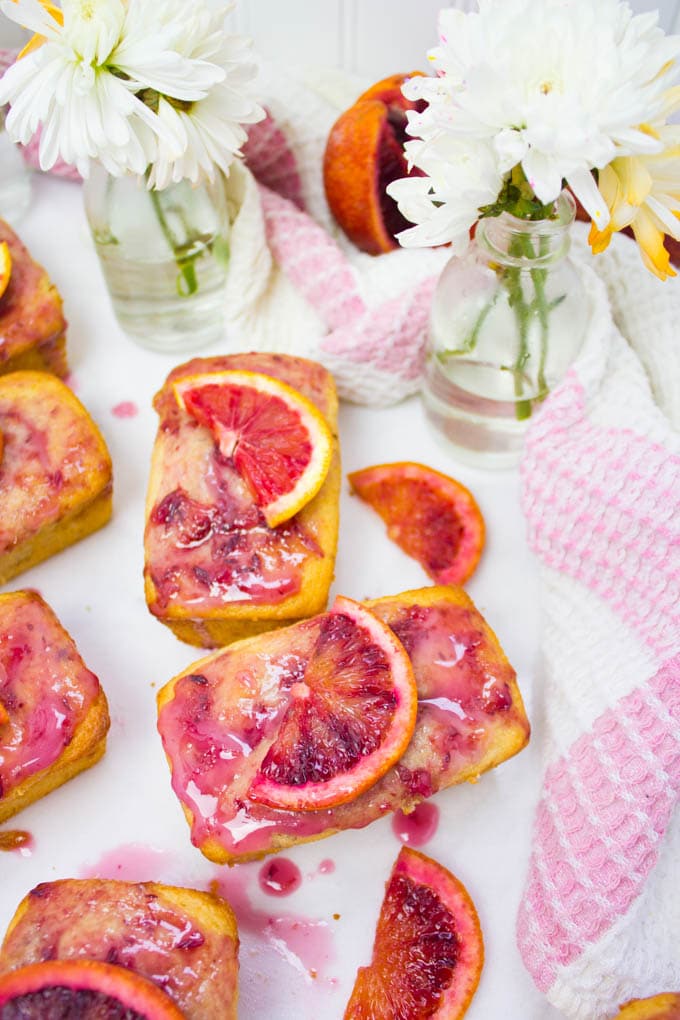 A few other of my favorite Mother's Day breakfast and brunch menu items are : these Baked Eggs in Sweet Potato Crusts, Chocolate Oatmeal Breakfast Bowl, Easy Smoked Salmon Platter, Mini Raspberry Cheesecakes, Banana Swirl Cinnamon Roll Pancakes and Strawberry Spinach Salad & Artichoke Soup Brunch.
Now can we get back to the orange cakes for a minute. Since I posted this Blood Orange Salad with Orange Dill Dressing, I've got a few e-mails asking me about the Sunkist brand I mentioned. I've shared their logo in the photo below. This is really not an ad or anything for that brand, nor this is a paid post, but I genuinely loved their citrus and wanted to share that with you guys! My memory of blood oranges has always been something sour and pink. Now my new love for blood oranges is about, sweet, juicy oranges with a hint of pink raspberry flavor. What a world of difference!
These simple blood orange cakes are made like a quick bread type batter. First of all, mix your dry ingredients in a bowl and your wet ingredients in another bowl. Then simply mix the two bowls together, scoop and bake in your pans. You can easily and totally make this into a large loaf pan, a 9″ circular pan or 8″ square pan. I just like mini cakes like that so they bake faster and look a touch more fancy for Mother's Day!
To glaze or not to glaze, the ultimate question. The orange cakes are sweet and tender as they are, I just love the glaze for an extra burst of blood orange flavor and touch extra sweetness. If I'm having these orange cakes with coffee or tea on any other day, I most likely wouldn't glaze. But just because I'm making them for something festive, I'm all for the glaze today! The glaze is simply confectioner sugar which is thinned out using blood orange juice. Go for the thickness you like, thin it out more using extra juice or thicken it out more using extra sugar.
I really hope you make those delights for yourself, your Mom, your sister, friend or anyone special this Mother's Day and don't forget to tag me when you do so I can check out your delicious goodies! Enjoy! 🙂
Easy Blood Orange Cakes And Glaze
Here's a straight forward recipe for Easy Blood Orange Cakes and Glaze that you'll need to make for Mother's Day! Delicious, most, tender and so quick! You can make a lemon version of this or blend lemon and orange together. All you need is a bowl and whisk and you're good to go! enjoy!
Ingredients
Wet Ingredients:
1

cup

of granulated sugar

Zest of 1 blood orange

1/4

cup

of blood orange juice

1/2

cup

of oil

2

eggs

1/2

cup

of buttermilk

1

teaspoon

of vanilla
Dry Ingredients:
1 3/4

cups

of all purpose flour

2

teaspoons

of baking powder

1/4

teaspoon

of baking soda

pinch

of salt
Blood Orange Glaze:
1

cup

of confectioner sugar

2 -3

tablespoons

of fresh blood orange juice

depending on how thin or thick you want the glaze to be
Instructions
Preheat your oven to 375 degrees. Lightly oil a mini loaf pan size, or an 8 inch cake pan, square round or a muffin pan.

In a large bowl, whisk the sugar, zest, juice, vanilla, oil, eggs and buttermilk until well combined.

In a separate bowl, mix the flour with baking powder and baking soda and salt.

Using a rubber spatula, gently fold the dry ingredients into the lemon mixture and pour into your preferred pan.

Bake (middle rack) for about 20-22 minutes until a toothpick inserted in the middle of the cake comes out clear or with just a few moist crumbs.

Remove from the oven and allow to cool for 10 minutes before removing it from the pan. Glaze the cake while still warm.

For the glaze: Whisk all ingredients in a small bowl until nice and smooth. Add a little more juice if you prefer a runny glaze or a little more confectioner sugar if you prefer a thicker glaze.
Nutrition Facts
Easy Blood Orange Cakes And Glaze
Amount Per Serving
Calories 299
Calories from Fat 99
% Daily Value*
Fat 11g17%
Cholesterol 28mg9%
Sodium 45mg2%
Potassium 121mg3%
Carbohydrates 49g16%
Protein 3g6%
Vitamin A 66IU1%
Vitamin C 3mg4%
Calcium 47mg5%
Iron 1mg6%
* Percent Daily Values are based on a 2000 calorie diet.