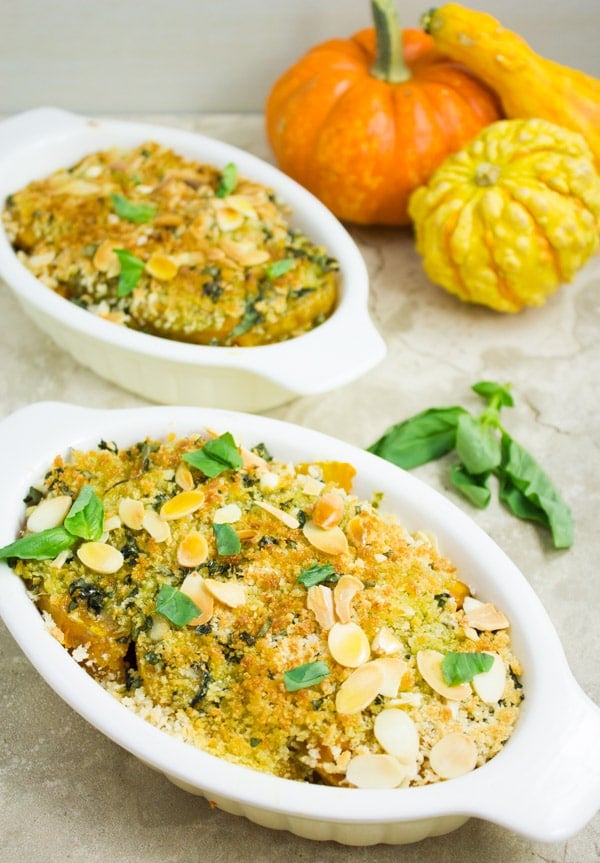 Happy Thanksgiving!! If you're a last minute person you'll be making this Easiest Roasted Butternut Squash Gratin Recipe! It's as simple and straight forward as can be, and it's super delicious and yummy as can be. A sweet tender basil pesto flavored roasted butternut squash with a basil crunch almond topping, all ready in 20 mins for a perfect side dish 🙂 Make the most of squash season, it goes by fast!
More Thanksgiving and Holiday goodness here. Love simple, light side dishes like this one. And even away from the Holiday season, a lovely roasted butternut squash gratin like this with a nice salad will always make a perfect lunch/dinner for me. Plus it's one of those make ahead, freezer friendly meals that make life easier. For today, I've based the flavor on basil and basil pesto, but as you know I always say—feel free to personalize this completely to your taste! And that's the beauty of food in my opinion, all you need is a technique or an idea, and go from there with the flavors you love ! 🙂
So I LOVE butternut squash. Just Love it. One of my favorite recipes using it has to be this amazing Mediterranean Pear Cinnamon Squash Soup (a Spanish Moroccan fusion recipe) and this pure comfort Squash Basil Amaretti Lasagna ( this recipe is one of my most popular at the cooking school! ). And with all that love, I will still mention that you can use any type of squash/pumpkin for the gratin. Actually, any type of veggie—that's how versatile it is.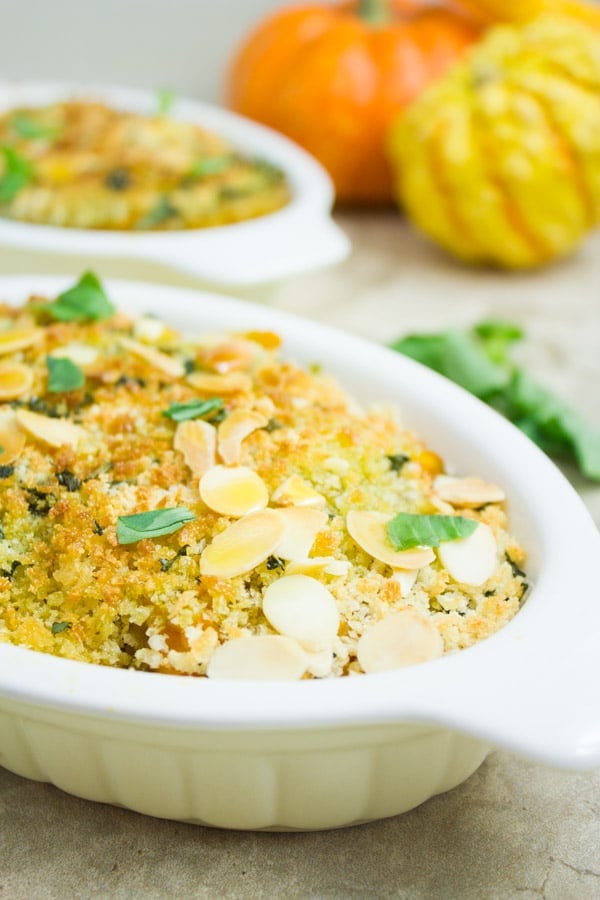 If you're not familiar with the term gratin, it's as simple as a baked *something* which could be veggies, eggs, fruits, meats..etc. topped with a crunchy crust. Some gratins involve a nice saucy mix (veggie, or veggies and meats) with a crunchy topping, while other gratins are a dry (no sauce) veggie (or veggie and meat) with a crunchy topping. Either way, it's a great contrast of textures—that soft and crunch contrast is unbeatable.
If you missed another favorite of mine—this Crunchy Sweet Potato Gratin recipe, you'll notice I make a simple flour topping rather than using breadcrumbs for a more intense flavor..almost feels like a dessert. You an absolutely try that topping with this roasted butternut squash gratin too. I'm going with a quicker breadcrumb topping today so you get a chance to see both options and compare.
I'll quickly share how this recipe comes together. I LOVE roasting the butternut squash first before assembling the gratin. I do this for a few reasons. First, I get a deeper sweeter more flavorful squash. Second I can roast a whole bunch of squash at the same time, then use some for the gratin, use the rest for s soup or just freeze it for a later day. And thirdly the gratins cook much faster when the squash is already roasted. That being said, you can very much make the roasted butternut squash gratin with raw fresh squash and have it all cook together in a one pot meal.
Once the squash is sliced and roasted (or not) you'll layer it in an oven safe dish—just as always I prefer making them in individual servings like this. They cook faster and feel more personal. But if I'm making this for a crowd, I would either make them in small ramekins or in a large 3 quart baking dish. Now I chose basil to flavor up the squash—it's totally up to you which herb you pick, I happen to love the basil and squash combo ( that basil squash lasagna opened up my eyes to this amazing flavor combo!). I drizzle a mixture of basil pesto and cream over the squash.
This basil mixture adds flavor and some creaminess to the squash. Then I top the roasted butternut squash with a combo of panic breadcrumbs, parmesan cheese, almonds and more fresh basil. A tiny drizzle of olive oil over that and they bake for just 8 minutes until the tops are nice and golden. One bite tastes like sweet squash, sweet basil, parmesan and basil crunchy breadcrumbs. Pair this with a salad, a roast/grilled type of meat or fish and it's a perfect meal!
These roasted butternut squash gratins can be prepared in advance. Squash can be roasted and kept in the fridge for unto 5 days and in the freezer for up to 3 months. The gratin assembled and ready for baking can be prepared 2 days in advance or frozen as it is for 2 weeks before baking (just bake for 5 mins longer). Or bake the gratin and when it's cooled down, freeze it and later reheat it in the oven. Super simple, easy and flavor packed food—Pure LOVE! Make these and enjoy 🙂 Have a Happy Thanksgiving!!
Easiest Roasted Butternut Squash Gratin
Ingredients
1

large butternut squash

, peeled, deseeded and sliced or cut up into the size you prefer

1/4

teaspoon

of salt

1

teaspoon

of olive oil

1/4

cup

of basil pesto

(ready made or this protein packed hemp seed basil pesto)

1/2

cup

of cream or half n half

pinch of salt

pinch of black pepper

1

cup

of panko bread crumbs

1

cup

of freshly grated Parmesan cheese

1/2

cup

of sliced almonds
Instructions
Preheat the oven to 425 degrees F. Spread the butternuts squash pieces in a single layer and season with salt and olive oil. Toss them well in the seasoning and roast the squash for 12 minutes until tender.

Use a large 3 quart oven safe dish or 6 ramekins ( 8 ounce capacity) or 10 ramekins (6 ounce capacity) and layer the squash slices or cubes at the bottom of the dish.

In a bowl mix the basil mixture ingredients and drizzle that over the squash evenly (it will not cover the squash entirely).

Sprinkle the Panko mixture over the squash and then bake the gratin for 8-20 minutes (depending on the size dish you chose) until the tops are golden and crunchy.

Serve and enjoy!