This shop has been compensated by Collective Bias, Inc. and its advertiser. All opinions are mine alone. #LeggoMyEggo #HearTheNews #CollectiveBias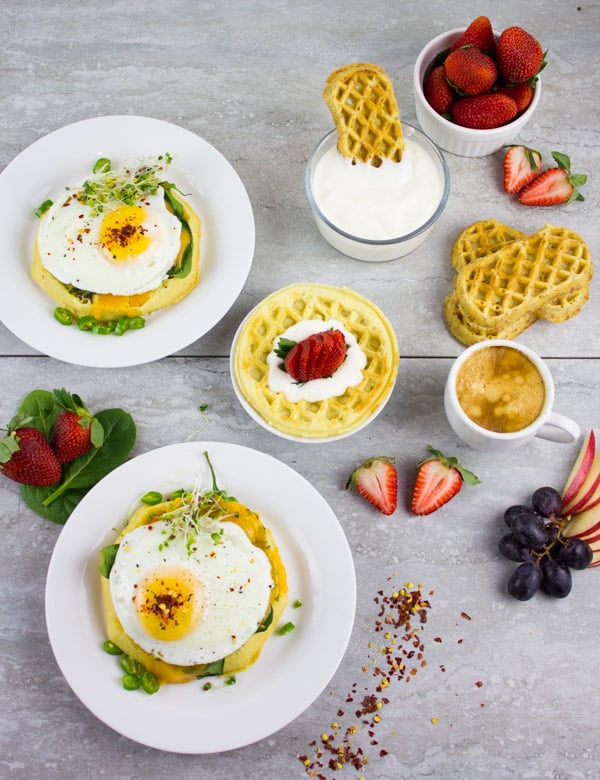 It's another breakfast recipe and if you absolutely LOVE your breakfast like me, then you're in for a treat! This Cheesy Spinach Egg Breakfast Waffle recipe has the best of both worlds! Tender fluffy flavorful waffles topped with a luscious herb spread, fresh spinach leaves, plenty of shredded cheese and a perfectly cooked egg! Every bite is a melody of flavors, textures and breakfast bliss!
YAAY for breakfast, a good breakfast can really make my day 🙂 And even in my craziest busiest mornings, I try to put a bit of effort to get a good breakfast for the kids and me. Weekends are something else. I LOVE our weekend breakfast table! LOVE sharing that moment with friends and love having weekend breakfast playdates for the kids 🙂 Now aside form weekends, you might've noticed I don't mention the hubby at all. Well it's because we rarely get to have breakfast on weekdays together.
Ever since we moved from the city, his commute has gotten so much longer. As a result, yesterday he didn't feel well and took the day off, so I decided to set up a sweet breakfast for two. Something I haven't done in a LONG time! This breakfast waffle and those cute little cinnamon wafflers put a big smile on his face, and put a fabulous start to our day! And then I felt guilty the girls were at school and didn't enjoy this yummy breakfast with us, so i made it again as IS for dinner—and were they ever so happy to get a fun dinner like that.
Add to that the fact that I pulled this whole table off in 15 minutes was like a dream! So as much as I would love to take full credit for it, I have to say I used some help. Some delicious good for you help 🙂 I heard that Eggo Waffles now have colors and flavors from natural sources, so I absolutely HAD to check them out! They taste just as delicious as homemade waffles—they're still made in waffle irons, and they're made with the same ingredients you would use at home. Exactly the same.
I headed off to my local Walmart and found myself staring at the breakfast freezer section. Literally staring at all the Eggo® Waffles varieties. Chocolate chip, blueberry, strawberry, thin, thick, buttermilk, strawberry shortcake (WOW), blueberry cobbler, brown sugar cinnamon roll, multigrain, confetti…and plenty more. I started dreaming of how I can have my special moment with every single flavor. That special moment was disconnected with kids nagging asking about their treat (since they help me grocery shopping, I offer a tiny treat from Walmart too). So I quickly picked up the Eggo thick and fluffy original, the Eggo Buttermilk waffles and those cute Eggo brown sugar cinnamon roll wafflers.
I always pick the Eggo original and thick waffles (or Eggo buttermilk/homestyle) to have more options on serving them—so savory or sweet work just as awesome. Since we're most of all, egg breakfast loving people, and breakfast waffle loving people, this recipe was a perfect match. Those sweet Eggo brown sugar cinnamon wafflers are perfect on their own and I loved them dipped in some creamy Greek vanilla yogurt—they feel like a real treat! Some fruit on the side, my favorite cup of espresso and it's breakfast perfection.
Quick How To
Here's how I make this breakfast waffle in a snap. As a start, it helps that the Eggo® waffles are all fully cooked and go straight from frozen to oven or toaster. So I spread the waffles with some herb flavored cheese (any flavor you like—herbs, veggies, scallions, or just plain is great! even butter is great!) Then I pile up some spinach (any type of green like arugula or kale works great here). If you like adding tomatoes, onions, roast veggies, then go ahead! Then I pile up plenty of cheese (again your favorite works well—even blue cheese, goat cheese, any!)
At that point the breakfast waffle heads straight to the oven for the cheese to melt and waffles to heat up. Meanwhile it's time to make favorite sunny side eggs (if you're into poached eggs, boiled eggs, scrambled eggs..any of them are delicious too!). Finally, a touch of chilli flakes, some sprouts (optional) and salt go over the eggs. Now grab your fork and cut through this fluffy tender breakfast waffle, taste all the delicious layers and ENJOY!! 🙂 PS—finally before I let you go with this must TRY recipe, I had to let you know that now you can Earn $2 when you purchase ONE Eggo® Breakfast Sandwich, Bacon or Sausage varieties only, 8 ct. box only at Walmart here !! SO go ahead to your local Walmart and start staring at the Eggo Waffles in the breakfast freezer section too! Pick your favorites 🙂 And you can always keep track with Eggo Waffles on social channels like Pinterest  and Facebook!
Enjoy!
Coupon! 
Recipe
Cheesy Spinach Egg Breakfast Waffle
Ingredients
Breakfast Egg Waffle:

2

Eggo Thick Original Waffles

( or homestyle or buttermilk)

2

tablespoons

of cheese spread

( plain or any flavor, or butter)

1/2

cups

of fresh spinach leaves

1/2

cup

of shredded cheddar cheese

( or any type of cheese)

2

or more fully cooked sunny side eggs

(or any type of eggs)

salt

, pepper and chilli flakes (optional)

Serving:

Fresh fruits

Eggo Brown Sugar Cinnamon Roll Wafflers

Greek Vanilla Yogurt for dipping
Instructions
Preheat the oven to 400 degrees F.

Take the Eggo waffles out of the freezer and spread it with the cheese spread of your choice.

Top with spinach leaves and shredded cheeses, then place the waffles on a baking sheet, and bake for 10 minutes until the cheese is melted.

Cook the eggs to your preference.

When the waffles are ready, place the cooked eggs on top and serve right away! Enjoy 🙂